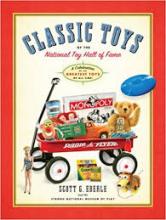 Classic Toys of the National Toy Hall of Fame was written by Scott G. Eberle and Strong National Museum of Play and was published in 2009 by Running Press Book Publishers. The book describes the classic toys that have been inducted into the National Toy Hall of Fame from 1998 to 2008. The American toys described include their histories with their inventors and how they were made as well as why they became so popular.
The National Toy Hall of Fame is a program of the Strong National Museum of Play located in Rochester, New York. For toys to be inducted into the hall of fame, they must meet several criteria including being widely recognized and generally respected over more than one generation. Each inductee must foster learning, creativity, or discovery through play. Nominated toys are reviewed each year by museum staff to verify they meet the criteria required and are then reviewed by a national committee of other experts in education, play, creativity, and innovation.
The first year (1998) saw eleven toys inducted into the newly-created hall of fame: Barbie, Crayola crayons, Erector Set, Etch A Sketch, Frisbee, LEGO, marbles, Monopoly, Play-Doh, the teddy bear, and Tinkertoy.
The six 1999 inductees included Duncan Yo-yo, the Hula Hoop, Lincoln Logs, Radio Flyer, roller skates, and View-Master. Five more toys were inducted in 2000 including the bicycle, jacks, jump rope, Mr. Potato Head, and Slinky.
Subsequent years lowered the number of inductees to two or three toys each year. They included: Silly Putty and Tonka Trucks (2001); the jigsaw puzzle and Raggedy Ann (2002); alphabet blocks and checkers (2003); G.I. Joe, the rocking horse, and Scrabble (2004); Candy Land, the cardboard box, and Jack-in-the-Box (2005); Easy-Bake Oven and Lionel trains (2006); Atari 2600, the kite, and Raggedy Andy (2007); and the baby doll, the skateboard, and the stick (2008).
The toys were a product of their times. The history of the teddy bear and its connection with President Theodore Roosevelt in the early 1900s is described at length. The game of Monopoly had its beginning during the Great Depression of the 1930s and offered players dreams of becoming wealthy. The polio epidemic of the late 1940s and early 1950s led to the creation of the game Candy Land devised by a polio victim who wanted to lighten the burden of the disease for young children who were often confined indoors. The Frisbee was first marketed as a flying saucer during the early 1950s' fascination and fear of reported UFO sightings. G.I. Joe was introduced as an action figure for boys in the 1960s during the Cuban missile crisis and the cold war struggles to empower them to pretend to be warriors or rescuers.
Toys designed to give children opportunities to engage in constructive play had their inspiration from early educational play theorists such as Friedrich Froebel, Johann Heinrich Pestalozzi, and Jean-Jacques Rousseau. These philosophers proposed that children learn best through playful, spontaneous experimentation, which was a radical thought in their day. Alphabet blocks, Lincoln Logs, LEGO, Erector Sets, Tinkertoy, Play-Doh, and Crayola crayons all promoted creativity and learning through constructive play.
The origins of many toys and games reach back hundreds of years including marbles, jacks, kites, rocking horses, jigsaw puzzles, and Checkers. Even though the cardboard box and the stick are not created toys or games, they provide hours of imaginative and creative play for children. The popularity of playing with dolls allowed the baby doll, Raggedy Ann and Andy, and Barbie to be included in the hall of fame.
Roller skates, bicycles, skateboards, jump ropes, and hula hoops along with Tonka trucks and Radio Flyer wagons continue to offer popular outdoor play activities for children. Board games such as Scrabble, Candy Land, Monopoly, and Checkers entertained families for hours, and the Atari 2600 was one of the first electronic games that changed how children and adults play games.
Etch A Sketch, Duncan Yo-yo, View-Master, Mr. Potato Head, Easy-Bake Oven, Slinky, Silly Putty, and Jack-in-the-Box all became iconic toys that continue to bring enjoyment to children.
While the book only describes the inductees through 2008, the National Toy Hall of Fame continues to induct toys every year.1
1. Eberle, Scott G. Classic Toys of the National Toy Hall of Fame. Philadelphia, PA: Running Press Book Publishers. 2009.