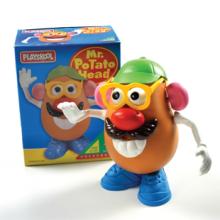 Mr. Potato Head is an iconic toy sold under the Playskool division for Hasbro. The simple concept of making funny faces by attaching plastic body parts to vegetables and fruits expanded over the years to become a worldwide franchise that includes the toy line as well as movie, television, and video game endeavors. Over its first sixty years more than 100,000,000 Mr. Potato Head toys had been sold in 30 countries, and in 2012 the toy line still had 365 parts in production.1
The idea for Mr. Potato Head stemmed from using parts of fruits and vegetables to make a "funny face man" to entertain young children. In 1949, George Lerner, a toy inventor from Brooklyn, tried to sell his idea of using food as toys to toy manufacturers, but was met with much resistance. Because people remembered the rationing of food and other materials during World War II, using food as a toy was seen as a waste of resources.
Eventually George was able to persuade a food company to use his concept in cereal boxes as a promotional tool by including body parts made out of plastic with pins for attaching to a potato. He sold the idea for $5,000, but still had confidence that the idea deserved greater exposure as a toy. In 1951, George showed his toy concept to brothers Henry and Merrill Hassenfeld, who had a small school supply and toy company named Hassenfeld Brothers, which was later known as Hasbro. When they decided to take a chance on the toy, they paid the cereal company $2,000 to stop production and another $5,000 for the rights to develop the toy themselves. They paid George $500 in advance and 5% royalties for every set of the parts that they sold.
Manufacturing of Mr. Potato Head sets began in 1952. The first sets sold included hands, feet, ears, two mouths, two pairs of eyes, four noses, three hats, eyeglasses, a pipe, and eight felt pieces in the shape of facial hair.2 They were sold to the public for $.98 with a "practice" Styrofoam potato in the set. Children were to use real potatoes and other vegetables to create funny faces.3
With the advent of television, Mr. Potato Head is credited with being the first toy advertised on television. Their marketing campaign changed the world of advertising on television with their promotion directed toward children rather than their parents.4 The toy was an instant success with the television campaign, and the company made more than $4 million in its first year alone.5
In 1953, Mrs. Potato Head was introduced with the family expanding to include Brother Spud, Sister Yam, and their pets, known as Spud-ettes. Accessories were added to use with the family that included a car, trailer, boat trailer, kitchen set, and stroller.6
Governmental regulations designed for child safety measures forced Hasbro to change the sharp points on the body pieces that were used to pierce the potatoes. Along with the negative feedback from parents about finding rotting potatoes in their children's rooms, in 1964 Hasbro added to their kits a plastic potato body with holes for inserting the body parts.7 Hasbro also complied with further child safety regulations in 1975 making the plastic body larger as well as manufacturing larger facial features and accessories to allow the toy to be safe for younger children.8
The appeal of Mr. Potato Head made him an ambassador for several good causes. In 1987, Mr. Potato Head was persuaded to give up his signature pipe to the U.S. Surgeon General, C. Everett Koop, and became the first "spokesspud" for the American Cancer Society's annual "Great American Smokeout" campaign. In 1992 on his 40th birthday, Mr. Potato Head determined to no longer be a "couch potato" and was awarded the President's Council for Physical Fitness special award. He and Mrs. Potato Head also jointed the League of Women Voters to help with their "Get Out the Vote" campaign in 1996. In 2005, Mr. Potato Head became the national "spokesspud" for the United States Potato Board.
Although production of Mr. Potato Head had continued through the years, being included in Disney's first Toy Story movie in 1995 and its subsequent sequels spawned a renewed interest in the toys.9 New toys were developed specifically for the Toy Story series as well as other productions including Darth Tater, Spud Trooper, Artoo Potato, and Chipbacca for the Star Wars series and Taters of the Lost Ark, Idaho Jones for the Raiders of the Lost Ark series. Sports teams and music groups have also had their own Mr. Potato Heads.10
The popularity of Mr. Potato Head expanded into additional toy categories including puzzles, creative play sets, and electronic hand-held, board, and video games. Non-toy companies also licensed the Mr. Potato Head image and name to make apparel, accessories, and novelty items.11
Mr. Potato Head was inducted into the National Toy Hall of Fame in 2000.12
1. Rocca, Mo. "Hot potato! Mr. Potato Head turns 60." CBS News. < https://www.cbsnews.com/news/hot-potato-mr-potato-head-turns-60/ > 25 Aug. 2017.
2. "Mr. Potato Head History – Who Invented Mr. Potato Head? History of Dolls. < http://www.historyofdolls.com/history-of-famous-dolls/mr-potato-head-history/ > 25 Aug. 2017.
3. "Mr. Potato Head." Retroland. < http://www.retroland.com/mr-potato-head/ > 25 Aug. 2017.
4. Op. cit., "Mr. Potato Head History – Who Invented Mr. Potato Head?"
5. Op. cit., Rocca, Mo.
6. Redmond, Jodee. "History of Mr. Potato Head." Lovetoknow. < http://toys.lovetoknow.com/History_of_Mr._Potato_Head > 25 Aug. 2017.
7. Op. cit., "Mr. Potato Head History – Who Invented Mr. Potato Head?"
8. Op cit., Redmond, Jodee.
9. "Mr. Potato Head Celebrates his Birthday with an Important Health Message." Wellness News. < http://weighing-success.blogspot.com/2011/04/mr-potato-head-celebrates-his-birthday.html > 25 Aug. 2017.
10. "Mr. and Mrs. Potato Head Then and Now." Toys 2 Remember. < http://www.toys2remember.com/2010/09/mr-potato-head-then-and-now.html > 25 Aug. 2017.
11. "Mr. Potato Head: Fascinating facts about the invention of Mr. Potato Head by George Lerner in 1952." Idea Finder. < http://www.ideafinder.com/history/inventions/mrpotatohead.htm > 25 Aug. 2017.
12. "Mr. Potato Head: Inducted 2000." National Toy Hall of Fame. < http://www.toyhalloffame.org/toys/mr-potato-head > 25 Aug. 2017.