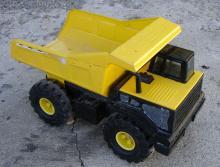 Tonka Corporation began in 1947 as Mound Metalcraft Incorporated. Founded in Mound, Minnesota by Lynn E. Baker, Avery Crounse, and Alvin Tesch, they first manufactured hat, tie, and shoe racks as well as gardening tools.1 That first year, Edward C. Streater of Streater Industries, Inc. approached the partners about manufacturing steel toys. Mound Metalcraft subsequently bought the tooling of the Streater designs. Alvin refined their designs, and they began manufacturing the #100 Steam Shovel and the #150 Crane and Clam from leftover materials.2
Though these toy trucks were a side line of their company, the partners exhibited them at the New York Toy Fair in 1947 under the name of Tonka, named after Lake Minnetonka, which their facility overlooked.3 The toys were manufactured out of 20-gauge automotive grade steel and thus were built to last, which appealed to the post-WWII consumers. That first year they sold 37,000 toy cranes and steam shovels, and Mound Metalcraft shifted their company's focus to manufacturing toy trucks.4
In the first few years, Tonka toy trucks were a variety of color combinations, and dump trucks, wreckers, semis, and box vans were added to the product line.5 This variety was featured in the first Tonka Toy catalog, which was printed in 1949.6
By 1955, the company had outgrown their old school house manufacturing site and the Mound Metalcraft name. They became Tonka Toys, Incorporated and moved to a new manufacturing facility along Lake Minnetonka. Growth was so great that a 50,000 square foot addition was soon added to their new facility.7 Over the next five years Tonka sales tripled.8
During the 1950s, the Universal Jeep was added to their product line. This 10" long, flat-fender steel jeep had many variations, including the U.S. Army version and the U.S. Air Force version.9
In 1961, Tonka Toys became a public company with the original partners retiring and being replaced by Gordon Batdorf and Russell Wenkstern. Both Gordon and Russ had been working at Tonka when they moved into their new positions.10 With this new management, by 1963 they were selling their toys overseas. They eventually had manufacturing plants in Canada and New Zealand and marketing organizations in England and West Germany.
For younger children, in 1963,Tonka introduced the Mini-Tonka, a line of smaller trucks. The following year, in 1964, they unveiled the Mighty Dump Truck, the beginning of their jumbo truck line. This Mighty Tonka line over the next seven years would expand to include 13 trucks, such as the Wrecker, Bulldozer, Grader, and Loadmaster.11 From 1973 to 1982 they added new types of vehicles to the Mighty Tonka line: the Rescue Vehicle, the Car Carrier, the Adventure Buggy, and the Winnebago. The Forklift and an Earth Mover were also added.
After the Mighty Tonka line was introduced in 1965, Tonka sales more than doubled over the next four years, going from $22 million to more than $45 million.12 And because the company was carefully run, the profit levels were high.
However, in 1968, Tonka reorganized based on recommendations from two consulting firms. They added a complex management structure which added new layers to its hierarchy and built a new corporate headquarters, which added distance between the management and the manufacturing. These changes created delays, stalled production, unresolved problems, and profit levels that dropped by 35 percent. As a result Gordon resigned and Russ worked to reverse some of the changes, especially concerning the management structure.
By 1974, Tonka was more stable, partly due to their diversification into manufacturing control valves, filters, motors, and pumps for farm and construction machinery. They had already acquired the Mell Manufacturing Company in 1964 and were producing barbecue grills under the label of Tonka Firebowl.13 In 1973, Tonka acquired Vogue Dolls and a maker of ceramic stains and glazes. They also had an agreement with the Smithsonian Institution for educational products.14
Russ retired and Tonka acquired a new top management team beginning in 1979 with Stephen Shank. Stephen moved production to Mexico and El Paso, Texas, and closed the Minnesota facility. Delays led to more losses, which led Stephen to hire four executives from Mattel in 1983. Soon afterwards, Tonka made an agreement with Bandai, a major Japanese toy maker, to market GoBots, a robot transformer toy. With television advertising, a comic book series, and eventually a television show, GoBots sold nearly $100 million in 1984.15
Tonka introduced the Pound Puppies in 1985, which soared their profits for two years before the cyclical nature of the toy market again dropped their profits. In 1987, Tonka acquired Kenner Parker Toys, which included Monopoly, Clue, Risk, Play Doh, Care Bears, Nerf Balls, and the Ouija board. By reviving Play Doh and their classic toy trucks and adding a miniature electric car to their products, Tonka was able to regain a stronger financial stability.
Early in 1991 Hasbro offered $490 million to acquire the company, and Tonka became a division of Hasbro, headquartered in Pawtucket, Rhode Island. Kenner and Parker Brothers were split into their own divisions within Hasbro as well. Over the next five years, Tonka's product line was upgraded to include lights and sounds to their trucks, toddler products, mini-die cast cars, the XRC radio-controlled vehicle series, the Super Sonic Power vehicles, and interactive computer games, such as the Tonka Raceway.16
For preschoolers, Chuck the Talkin' Truck, an interactive truck, was introduced in 1998. Later, Chuck was joined by other truck friends for the Chuck and Friends Series, though only Chuck moved by voice command.17
Tonka's manufacturing was moved to China in 1998, which signaled a shift also in using more plastic and less steel in the truck lines. This meant that some of the preschooler trucks are lighter for smaller hands, yet the Mighty Tonka Dump Truck is still built durable enough to last a lifetime.18
The Toughest Tonka Truck line was introduced in 2004 with the Toughest Mighty Dump Truck. Tonka built a life-size version of their new truck toy and initiated an annual holiday toy drive utilizing the classic yellow dump truck to pick up the donated toys. Two years later, a Loader and a Crane were added to the Toughest Truck line, in time for Tonka's 60th anniversary in 2007.
On March 28, 2001, Tonka Trucks were inducted into the National Toy Hall of Fame at the Strong National Museum of Play in Rochester, New York. The award recognizes toys that have "achieved longevity and national significance in the world of play and imagination."19 All of Tonka's 3,000 different toys that have been produced over the lifetime of the company can be seen at the Winifred Museum in Winifred, Montana.20
1. "Tonka History." ChooChooParts. < http://www.choochooparts.com/eBayStore/Images/Collectibles/tonka%20history.pdf > 23 March 2011.
2. "History of Tonka Toys." Antique Toys Today. < http://antiquetoystoday.com/history-of-tonka-toys > 23 March 2011.
3. "Tonka Corporation – Company Profile, Information, Business Description, History, Background Information on Tonka Corporation." Reference for Business: Company History Index. < http://www.referenceforbusiness.com/history2/65/Tonka-Corporation.html > 4 February 2011.
4. "Tonka Toy History." eHow. < http://www.ehow.com/about_5050071_tonka-toy-history.html > 23 March 2011.
5. Op. cit., "History of Tonka Toys."
6. Op. cit., "Tonka History."
7. Op. cit., "History of Tonka Toys."
8. Op. cit., "Tonka Corporation."
9. "How to Collect Tonka Vehicles." eHow. < http://www.ehow.com/how_11296_collect-tonka-vehicles.html > 23 March 2011.
10. "Mr. Tonka, Russ Wenkstern." ChooChooParts. < http://www.choochooparts.com/eBayStore/Images/Collectibles/MrTonka.pdf > 23 March 2011.
11. "About Tonka." Hasbro. < http://www.hasbro.com/tonka/en_us/history.cfm > 23 March 2011.
12. Op. cit., "Tonka Corporation."
13. White, Paul G. "Tonka Toys – The Toy Company Review." ArticleSnatch. < http://www.articlesnatch.com/Article/Tonka-Toys---The-Toy-Company-Review/1953080 > 23 March 2011.
14. Op. cit., "Tonka Corporation."
15. Ibid.
16. Op. cit., "Tonka Toy History."
17. "Tonka Toy Trucks." Squidoo. < http://www.squidoo.com/Tonka-Toy-Trucks > 23 March 2011.
18. Op. cit., "Tonka Toy History."
19. "Brief Tonka History." Tonka Toy Trucks. < http://100megsfree3.com/lonestar/history.htm > 27 Jan. 2011.
20. Op. cit., White, Paul G.