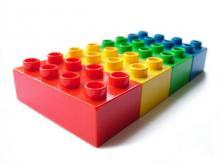 Ole Kirk Kristiansen, a carpenter in Billund, Denmark, expanded his business in 1932 by making and selling wooden toys. He named his toy business "Lego" from the Danish words "leg godt," which means "play well."1 Selling his toys door to door, Ole augmented this toy line with household items, such as ladders and milking stools. After World War II and a fire which destroyed his factory, Ole restructured his family toy business and built a new factory. By 1947 the LEGO Billund Toy Factory, Ltd. manufactured nearly 150 kinds of carved wooden toys.2
At this time LEGO Billund began experimenting with the newly available plastics, though that was unpopular with retailers and customers. Modifying the plastic Kiddicraft Self-Locking Bricks invented by Hilary Page, LEGO Billund introduced the Automatic Binding Blocks in 1949.3 This new toy was not well received and many orders were returned.
Ole's son and second in command, Godtfred, listened to the complaints of toy buyers in 1954 and decided to invent a comprehensive toy system that would encourage creativity. Of all the 200 toys that LEGO Billund manufactured at that time, he chose the Automatic Binding Blocks to be the basis for this system. At that time the blocks represented only 5% of their sales.4
In 1955, Godtfred renamed the blocks the "Lego System of Play." He manufactured them in bright red, yellow, white, and blue and packaged them with supporting items, such as street signs, cars, and trucks. He also promoted their new product with extensive advertising and personal sales meetings with toy retailers. This time the blocks were not returned; instead, the retailers were calling for more.
Two years later, in 1957, after further testing with children, LEGO Billund created the current design of the LEGO block which held together more firmly and could be used in any configuration. With this interlocking design, LEGO Billund began marketing outside of Denmark and Germany. LEGO® blocks quickly spread throughout Europe and from there began to expand to Africa, Asia, Australia, South America, and North America.5
Ole retired in 1956 and Godtfred became the senior officer in their family business that was becoming a multinational corporation. Kjeld Kirk Kristiansen, Godtfred's son, would become the second in command and oversee much of this global expansion in the 1960s and 1970s.
Though LEGO Billund was still manufacturing wooden toys, the plastic LEGO blocks were where the company was expanding. In 1960, a factory fire destroyed the wooden toy production and LEGO Billund decided not to rebuild. At this point LEGO Billund focused all their resources on the plastic LEGO blocks. By 1963, all LEGO blocks were molded in acrylonitrile butadiene styrene (ABS),6 with an accuracy of .001 mm, which facilitated the universal interchangeability on which they built their marketing.7
During the 1960s, LEGO Billund began releasing themed play systems centered on space, airplanes, and trains, which included their own rails and a 4.5v motor for the locomotive.8 To showcase their products, LEGO Billund used 42 million LEGO blocks to build LEGOLAND, a theme park in Billund, which opened in 1968.9
By 1969, LEGO Billund expanded their market into the preschool arena by manufacturing the interlocking DUPLO® blocks, which were double the regular sized blocks.10 DUPLO blocks were designed to be interchangeable with the smaller LEGO blocks and thus lead the child from one system to the next as they grew.
The Samsonite Corporation purchased the rights to market LEGO products in North America in 1961. By 1973, they decided they were going to focus on consumer durables instead of toys. The LEGO Group re-acquired the rights and established LEGO Systems, Inc. in Brookfield, Connecticut. Two years later they set up manufacturing in Enfield, Connecticut, and within the year were manufacturing and selling one third of all LEGO blocks worldwide.
By this time, in 1976, LEGO Billund was split into five sister companies: INTERLEGO A/S (later known as LEGO Group) over international management and coordination, LEGO System A/S over European manufacturing and sales, LEGO Systems, Inc. over North American sales and manufacturing, LEGO Overseas A/S over sales in all other countries, and LEGO Future ApS over product development.
In order to create a more efficient management system, the leadership of INTERLEGO was headed by Vagn Holck Andersen, their first and only outsider president.11 This lasted for five years until 1979, when Kjeld was designated as president of INTERLEGO and the day to day operations of LEGO company was again controlled by the Kristiansen family.
During this time, to facilitate creative role playing, LEGO introduced their first figures in 1974. These "yellow" people slowly evolved over thirty years until in 2003 they began to have more authentic skin coloring.12 The introduction of the LEGO Technic line in 1977 was a move to expand their market to include older children. These sets included gears, gearboxes, pulleys, and beams to create more complex configurations.13
Beginning in 1984, LEGO Group partnered with Media Laboratory at the Massachusetts Institute of Technology (MIT) to integrate the physical and virtual worlds of play. From this came LEGO Technic Computer Control in 1986, which led the way to the computer-controlled LEGO robots, LEGO MINDSTORMS, introduced in the 1990s. LEGO Group collaborated with the nonprofit group FIRST (For Inspiration and Recognition of Science and Technology) to create the FIRST LEGO League. These tournaments involve teams of children designing their own robots and participating in scientific and mathematical/technical projects. They also prepare a solution to that year's challenge question.14
The patent on the LEGO block design expired in 1981, which led to many companies copying the blocks. One of the largest, TycoToys, Inc., launched their Super Blocks in 1984, which LEGO Group fought unsuccessfully in both the United States and Hong Kong courts.
The 1990s brought further virtual achievements, themed sets, such as LEGO Star Wars and LEGO Indiana Jones, and a line of LEGO Systems colored to appeal to girls. They also opened more theme parks made of LEGO blocks: LEGOLAND Windsor near Windsor Castle in 1996 and LEGOLAND California in Carlsbad in 1999. This trend continued with LEGOLAND Deutschland opening in 2002 in Gunzburg, Germany. In 2005, they sold these parks to Merlin Entertainments Group.15
After decades of marketing only LEGO toy systems, the 1990s brought an expansion of their market to related children's products, such as books, clothing, and children's room décor. The trend continued in the twenty-first century with video games, films, television, magazines, and board games. They also operate retail stores in North and South America and Europe.16
LEGO Group introduced the BIONICLE universe in 2001 and created a new toy category: constraction, a combination of construction toys and action figures. With this new line, LEGO Group developed a complete story line through physical products and an online universe. This line was replaced by Hero Factory in 2010.17
In 2000, the LEGO brick was named the "Toy of the Century" separately by both the Fortune Magazine and the British Association of Toy Retailers. In terms of sales, LEGO Group is ranked as the world's fourth largest toy manufacturer.18
With a vision of "inventing the future of play," LEGO Group seeks to "inspire and develop children to think creatively, reason systematically and release their potential to shape their own future."19 They believe that "free play is how children develop their imagination – the foundation of creativity."20
1. "Lego A/S." Funding Universe. < http://www.fundinguniverse.com/company-histories/Lego-AS-Company-History.html > 29 June 2011. p. 2.
2. Ibid.
3. "Lithgow, Adrian. "The Ghost that is Haunting Lego Land." Mail on Sunday. 26 July 1987 reproduced on Hilary Page Toys. < http://www.hilarypagetoys.com/history.php?his_id=5 > 14 July 2011.
4. Op.cit., "Lego A/S."
5. Op.cit., "Lego A/S."
6. Lego. Manufacture." Wikipedia. < http://en.wikipedia.org/wiki/Lego > 29 June 2011.
7. "Company Profile: An Introduction to the LEGO Group, 2010." LEGO. p. 8. Print.
8. Ibid.
9. Op.cit., "Lego A/S."
10. Op.cit., "Company Profile."
11. Op.cit., "Lego A/S."
12. Op.cit., "Company Profile."
13. Op.cit., "Lego A/S."
14. Op.cit., "Company Profile."
15. Op.cit., "Company Profile."
16. "Lego." Wikipedia. < http://en.wikipedia.org/wiki/Lego > 29 June 2011.
17. Ibid.
18. Op.cit., "Company Profile."
19. "Mission and Vision." LEGO. < http://aboutus.lego.com/en-us/group/vision.aspx > 29 June 2011.
20. "The LEGO Brand." LEGO. < http://aboutus.lego.com/en-us/group/legobrand.aspx > 29 June 2011.