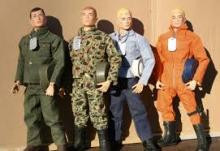 G.I. Joe is considered to be the first action figure to enter the toy market. The name refers to the nickname given soldiers in World War II meaning Government Issue Joe. As the first doll-like toy marketed specifically for boys, the first G.I. Joe action figures were just under 12 inches tall and had moveable joints to allow for posing in different stances. A variety of accessories were marketed to be used with the action figures, and the first-year sales figures topped $16 million opening a new market niche.1
The Barbie doll introduced in 1959 by Mattel was a runaway success. Mattel capitalized on the marketing idea of offering a product that included accessories to boost continued sales. Stan Weston, a merchandiser and friend of the Mattel owners, Elliot and Ruth Handler, was influenced by them as he sought for properties to represent. His strong interest in the military led Stan to imagine military figures that could be promoted as toys for boys. Meeting Don Levine, Vice President of Product Development for Hasbro, at the annual Toy Fair of 1963 led to subsequent meetings pitching the idea to Hasbro. Hasbro paid Stan $100,000 for his idea, and the G.I. Joe line of action figures was launched in1964.2
Within the first two years of production, G.I. Joe sales produced nearly 66 percent of Hasbro's profits. The patented designs carefully promoted safety, durability, and cost-effective manufacturing, and the moveable joints with 19 points of articulation and the high-quality of the product were key to the early success. The first figures introduced under the G.I. Joe brand represented the four branches of the armed forces: Rocky the Moveable Fighting Man (Army), Skip (Navy), Ace Fighter Pilot (Air Force), and Rocky (Marine). Each figure included basic fatigues, boots, cap, and a dog tag, with the packaging showing additional uniforms and accessories that could be purchased.3
Hasbro expanded the initial action figures to include an African-American soldier in 1965, an astronaut and soldiers from other countries in 1966, and an action girl nurse in 1967. The social climate of the times with the Vietnam War and racial discord reflected in the decline in sales of the G.I. Joe line in the late '60s.4 Hasbro responded by relaunching the toys in 1970 as a team of adventurers rather than military men. The new figures for the Adventures of G.I. Joe received lifelike hair and beards, moveable eyes, and hands that had a "kung-fu" grip that enabled them to hold objects.5 In 1975 the figures were given lifelike upper bodies and chests.6 The figures evolved into a line of superheroes in 1976 that included fantastic elements like the chrome-plated Bulletman and the bionic limbs of Atomic Man. These superheroes battled aliens from outer space.7 The superhero line was not well received, and by 1978, the G.I. Joe line was retired for a time.8
During this time the price of oil had skyrocketed making the increased expense for making plastic too high to pass on to the consumer to continue making action figures as large as they had been made. The popular Star Wars line of action figures made by Kenner, a rival toy company, were smaller in size. Recognizing the popularity of the little green army men that were small as well, Hasbro chose to make the next version of the G.I. Joe 3 3/4 inches high to save on the rising cost of plastic.
Without a movie to tie into the new launch of G.I. Joe like Kenner had with Star Wars, Hasbro teamed up with Marvel Comics to produce a series of comic books they advertised on television. The comic book storyline produced a seven-member paramilitary strike team that combated a terrorist organization called COBRA. The initial line of G.I. Joe: A Real American Hero action figures was launched in 1982 with nine figures: Breaker, Flash, Grunt, Rock 'n Roll, Scarlett, Short-Fuze, Snake Eyes, Stalker, and Zap. Seven vehicles made up the original toy line and included an additional four figures: Clutch, Grand Slam, Hawk, and Steeler. Two COBRA figures were also released.
The first-year sales greatly exceeded expectations, and the G.I. Joe designers expanded the line with significant improvements to their action figures and vehicles. Swivel joints at the biceps to allow them to hold rifles more realistically were given to the second line of action figures. The detail on the second line of vehicles was ramped up as well.
The Marvel comic book series was a huge success, and by 1985, issues were beating out The Amazing Spider-Man and X-Men in sales. To capitalize on the increased interest in G.I. Joe, Marvel Productions and Sunbow Productions co-produced the G.I. Joe cartoon series first airing in 1983. To combat the perception that the cartoon series was just a half-hour commercial for the toys, a small public service announcement was added at the end of every cartoon episode. The PSA was designed to teach a lesson to children and would typically feature a member of the G.I. Joe team helping a group of children or giving a word of encouragement. Once the children understood the lesson, they would always say, "Now I know!" and the G.I. Joe would respond, "And knowing is half the battle." In 1987 the success of the cartoons encouraged Hasbro to release G.I. Joe: The Movie as a video for purchase rather than as a theatrical release. With concerns about producing a 90-minute war movie for children, Hasbro chose to make the movie with a science fiction theme fighting a fantastic enemy.
The Real American Hero toy line ended in 1994 after twelve years on the market. G.I. Joe-related toy lines continue to be offered, but none have been as successful as those sold in the 1980s.9
G.I. Joe was inducted into the National Toy Hall of Fame in 2004. It was noted that by late 2004, Hasbro had sold more than 400 million G.I. Joe figures since the toy's debut 40 years earlier.10
1. Farr, Daniel. "G.I. Joe." Encyclopedia of Play in Today's Society. Rodney P. Carlisle, editor. Los Angeles, CA: SAGE Publications, Inc. 2009. p. 270.
2. Weston, Jay. "My Brother Invented 'G.I. Joe.' Really!" The Huffington Post. 12 Oct. 2012. < http://www.huffingtonpost.com/jay-weston/gi-joe-doll-inventor_b_1962061.html > 30 March 2017.
3. Stamp, Jimmy. "Now You Know the History of G.I. Joe. And Knowing Is Half The Battle." Smithsonian.com. < http://www.smithsonianmag.com/arts-culture/now-you-know-the-history-of-gi-joe-and-knowing-is-half-the-battle-11506463/ > 3 April 2017.
4. Op. cit., Farr.
5. Fletcher, Dan. "A Brief History of G.I. Joe." TIME. < http://content.time.com/time/nation/article/0,8599,1915120,00.html > 3 April 2017.
6. Op. cit., Farr.
7. Lammie, Rob. "A History of G.I. Joe: A Real American Hero." Mental Floss. < http://mentalfloss.com/article/62636/history-gi-joe-real-american-hero > 3 April 2017.
8. Op. cit., Fletcher.
9. Op. cit., Lammie.
10. "G.I. Joe. Inducted 2004." National Toy Hall of Fame. < http://www.toyhalloffame.org/toys/gi-joe > 5 April 2017.