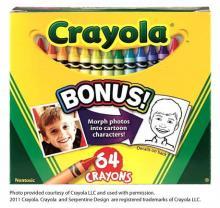 Crayola began as Peekskill Chemical Works in upstate New York where they ground, packaged, and distributed charcoal and lamp black. Joseph W. Binney founded Peekskill in 1864 and was joined by his son, Edwin Binney, and nephew, C. Harold Smith, in 1880 when he established the headquarters in New York City.1 They were in the business of pigments: black from charcoal and lamp black and a red iron oxide paint often used on barns.
Five years later when Joseph retired, Edwin and Harold formed the partnership Binney & Smith and pursued the newly developing intense black pigment being discovered from natural gas deposits in Pennsylvania. Called "carbon black," this pigment would revolutionize printing, graphic arts, newspaper printing, paint finishes, and the automobile tire industry. Binney & Smith (B&S) was active in the development, production, and sales of carbon black in the areas where natural gas deposits were being discovered.
Over the next 15 years, Edwin managed the company's finances, expanded their United States market through developing more applications for carbon black and other pigments, and formed business alliances. Harold traveled throughout the world as a gifted salesman and promoted "the new American gas carbon."
Their successes led to the incorporation of B&S in 1902 in Easton, Pennsylvania. The company had two main divisions: the Pigment Division with carbon black products, and the just now emerging Crayon Division. The Pigment Division was centered in New York and received a major thrust forward with the 1911 request from B.F. Goodrich Company for one million pounds of carbon black a year. Goodrich had found that the English "Silverton" tires were more durable and theorized that was due to the small amount of B&S carbon black that was mixed in to turn the typically white tires a distinctive gray. This led Goodrich to experiment and they found that the carbon black bound the rubber particles together to a greater degree and considerably prolonged the life of the tire. Decades later these longer lasting black tires would be recycled by shredding them for playground surfacing products.
B&S formed the Colombian Carbon Company to meet Goodrich's annual order and developed a way to package the carbon black into pellets that eliminated the dust problem of the product in its dry form. Eventually, in 1955, Colombian bought the B&S Pigment and Dispersion Divisions, which ended B&S's involvement in the carbon black industries.
In 1900, the Crayon Division began with using an old stone mill near Easton to grind scrap slate that was mined nearby. This was the base of an improved slate pencil and the opening of the educational market for B&S. Responding to the teachers' needs, they experimented with an "extrusion process to 'weight' dust particles" and created a white dustless chalk that would not crumble.2 Two years later, in 1904, the An-Du-Septic chalk won a gold medal at the St. Louis World Exposition.
Another teacher request was for quality, affordable colored crayons. As a step toward that goal, B&S created a black crayon that wrote well on all kinds of surfaces. For this quality, it was called Staonal, meaning "Stay-on-all". Then, in 1903, they introduced crayons in 16 different colors made from synthetic, non-toxic pigments which were, color-wise, on par with the expensive, imported crayons available at that time. Alice, Edwin's wife, coined the phrase "Crayola" from combining the French word for stick of color and the word for the oily nature of the base wax.3 The eight stick box sold for five cents, while the 16 stick box sold for ten cents.
Ten years later, in 1913, B&S introduced the Crayola Rubens crayons, the Perma Pressed sharpen-able fine art crayons, and the Artista brand paints for artists and art students. They also were a founding member of the Crayon, Watercolor, and Craft Institute that was formed in 1936 to promote product safety in art materials. To further assist teachers, in 1948, B&S began in-school teacher workshops to introduce ways of using the Crayola products in the classroom.
The next year, in 1949, B&S introduced the 48 stick box, and the Crayola 64-crayon box with the built-in sharpener came out in 1958. The use of crayon rotary molds in 1976 greatly facilitated their manufacturing process.4
Expanding into another medium of pigments, B&S acquired Permanent Pigments, the makers of Liquitex acrylic paints in 1964. And, in 1977, B&S acquired the manufacturing rights to a different creative medium: Silly Putty, which had been a war-time experiment to try and replace rubber. Continuing to expand in the art and educational market, Crayola markers and craft & activity kits were added the following year.
During this time of product expansion, B&S also expanded their geographical markets to include England, Canada, Mexico, France, Germany, Belgium, Netherlands, and Luxembourg. In England and Canada this occurred with the buyout of the Cosmic Crayon Company, headquartered in Bedford, England, where they continued to maintain a manufacturing facility. They would eventually add manufacturing facilities in Canada, Mexico, and Germany as well as expanding the facilities in Easton, Pennsylvania, which then became corporate headquarters.
In 1984, Binney & Smith, Inc. became a wholly owned subsidiary of Hallmark Cards Inc. of Kansas City, Missouri. As such they continued to "bring hands-on products to creative personal development and fun to consumers."5 Dream-Makers, a school art education program, was introduced that same year. Three years later, in 1987, B&S began offering washable markers and colored pencils and later, in 1989, they acquired manufacturing rights for Magic Markers.
For B&S's 90th anniversary in 1993, they added 16 more colors to their stock of 80 colors and created the Crayola 96 Big Box. Those 16 new colors were named by customers in a contest that generated nearly two million name suggestions in an 8 month period of time.
Expanding into the art of models, model kits, and accessories, B&S acquired Revell-Monogram in 1994. To celebrate and showcase their products, in 1996 they opened The Crayola FACTORY, a 20,000 square foot visitors' center where kids of all ages can create, see how crayons and markers are made, learn the history of Crayola, and participate in interactive projects.6 That same year a landmark milestone was reached when the 100 billionth Crayola crayon was produced.
Continuing to focus on art products, in 1998 B&S introduced the Portfolio Series, a line of art products for older students. The next year they added the ColorWonder No-Mess markers. Then, after 36 years, in 2000, B&S sold their Liquitex brand of acrylic paints to Col-Art. The next year they sold the Revell-Monogram model business to Alpha International.
In recognition of Crayola's cultural impact, in 1998, the Smithsonian Institution's National Museum of American History included in their permanent collection in the Division of Cultural History a 1958 Crayola 64-crayon box and a collection of 20th century advertising.7 That same year, the U.S. Postal Service included a commemorative stamp of the original eight Crayola box in their "Celebrate the Century" program. Also in 1998, Crayola was inducted into the first annual list of the Strong's Museum National Toy Hall of Fame. 11 Oct. 2021." href="#footnote8_lmmbqxn">8
In 2000 Silly Putty turned 50 years old and it was added to the Smithsonian Institute's Material World collection,and in 2001 it was inducted into their Toy Hall of Fame.
For over a 100 years, Binney &Smith, Inc. products were commonly known as Crayola products worldwide. Only recently, in 2007 did the Crayola name become official.9
1. "Binney & Smith Inc. - Company Profile, Information, Business Description, History, Background Information on Binney & Smith Inc." Reference for Business Company History Index. 4 Feb. 2011.
2. Ibid.
3. "craie" (chalk or stick of color) + "ola" (from oleaginous, the oily characteristic of liquid petroleum before it is distilled into a paraffin), Ibid.
4. "History Timeline." Crayola. 13 Feb. 2011.
5. Op.cit., "Binney & Smith Inc. - Company Profile."
6. "The Crayola Factory, a Hands-on Discovery Center." Crayola. 13 Feb. 2011.
7. Op. cit., "Binney & Smith Inc. - Company Profile."
8. "Inducted Toys." The Strong Museum of Play. < https://strong-wp.prod.fruition.net/exhibits/toy-hall-of-fame/inducted-toys/ > 11 Oct. 2021.
9. "Crayola Profile." 13 Feb. 2011.