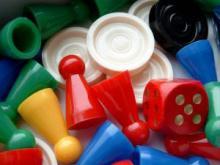 Milton Bradley, lithographer and inventor, formed the Milton Bradley Company in 1860 in Springfield, Massachusetts. Having the only lithograph machine in Massachusetts outside of Boston, Milton was busy with free lance orders but was looking for a more stable base for his business. After playing an old English board game, Milton designed an American version called The Checkered Game of Life, produced several hundred copies, and sold all of them in a few days in New York City. This sparked a fad and Milton sold 40,000 copies that first year and thereafter focused his business on games.
With the advent of the American Civil War, Milton saw the interest in games fade until he created the idea of a small kit of games for the soldiers to play during periods of inactivity. His kit included chess, checkers, backgammon, dominoes, and his Checkered Game of Life. The kits were sold directly to the soldiers as well as charitable organizations who distributed them to the soldiers.
On this solid basis, Milton continued to produce games and puzzles, such as word games, trivia knowledge games, biblical games, traditional games, rebus-based games, and an early type of Monopoly called "The Way to Make Money." Additionally, Milton researched and codified the rules for croquet that was included with his croquet sets. Those rules became the standard in America.
In 1869, Milton focused his company toward education after hearing the philosophy of Friedrich Froebel and the resulting kindergarten movement. Froebel maintained children became educated through their early creative play. In support of these theories, Milton began producing "gifts," geometric wooden playthings. He also carefully chose six specifically hued pigments (red, orange, yellow, green, blue, and violet) to produce colored papers and paints. These colors remained the standard for the next century and a half.
Milton's success with games monetarily carried his interest in supporting the new kindergarten movement. However, with the 1870 recession, his partners were no longer willing to support these extra costs. Milton chose to continue his support of the kindergarten movement and his friend, George Tapley, bought out the partners and became president. This left Milton free to invent new games and educational materials.
This foresight paid off by the early 1900s. Kindergartens were spreading across the United States and the teachers were buying Milton's art supplies, multiplication sticks, toy money, movable clock dials, story books, school furniture, and educational games. Milton Bradley Company's education department went from operating at a loss to being a major source of earnings for the company.1
During this time, Milton continued to produce games, especially parlor games and jigsaw puzzles. When Milton died in 1911, the company was temporarily led by Ralph Ellis before it was co-chaired by Milton's son-in-law Robert Ingersoll and George's son, William Tapley. By 1920, Milton Bradley Company had five manufacturing sites in Springfield.
Without Milton inventing new games and with the aging of their factories, the company declined throughout the 1920s, the 1930s, and into the 1940s. There were two bright spots: the acquisition of the game portion of McLoughlin Brothers and Milton Bradley's new game "Easy Money" that was popular during the Depression.2
To avoid bankruptcy, James J. Shea took over the presidency in 1941. Refinancing and literally burning old inventory in "Shea's big bonfire," James began renovating manufacturing plants and finding profitable products. All three products the company offered were war related: a universal joint for the landing gear of fighter planes which James had designed, gun stocks that used their woodworking shop, and a revised Milton Bradley Game Kit for Soldiers. By selling over $2 million worth of game kits during World War II, the company once again became stable through games.
In the 1950s James replaced the wartime products with teaching aids such as phonetics games and new games such as Candy Land, Rack-O, Chutes and Ladders, and their older games that were reissued with updated formats. Instead of fearing the effects of television, James led the company in 1959 to utilize its popularity with the release of "Concentration," based on a television game show. Sales of Concentration, one million copies in eight months, set a new record in the industry.3
Milton Bradley's centennial year was celebrated with a new game that echoed the Checkered Game of Life from a hundred years earlier. Game designer Reuben Klamer had been challenged to come up with a game for their anniversary. While touring their archives he became inspired by Milton's concept of a game about life. He designed a whole new game with modern decision paths and choices, an integrated spinner, and a three dimensional format.4
The new game, The Game of Life, became a classic in America such that in 1981 The Smithsonian Institution in Washington, D.C. made it a permanent part of their Archives of Family Life.5 Sales were strong from the beginning and have continued over the next 50 years, during which time more than 50 million copies were sold.6
Over the years The Game of Life has been updated, released in more than 20 languages, formatted for an electronic edition, and offered in many thematic editions such as The Game of Life: A Jedi's Path.7 In 2009, a 50th special anniversary edition was released, and in 2010 The Game of Life was inducted into the National Toy Hall of Fame.
In 1968, James retired and his son James Shea, Jr. became president of Milton Bradley. Three years later in 1971, a new type of game, one in which the whole body is involved, came with the introduction of "Twister."8 Again, utilizing television, Twister's widespread popularity began with Johnny Carson and Eva Gabor playing the game on "The Tonight Show."9
By the early 1970s, Milton Bradley had manufacturing facilities in Holland, England, France, Germany, and a new office and manufacturing plant in East Longmeadow, Massachusetts. During this time in 1972, they acquired the E.S. Lowe Company, known for their dice game, Yahtzee.
Just as the challenge of the 1950s was the competition of television, so the challenge of the 1970s and 1980s was the popularity of the electronic games. Milton Bradley's first foray into this new genre came with the 1977 release of Simon, an electronic version of the parlor game "Simon Says."
After a failed attempt to develop their own video game system in 1983, they were the target of a hostile takeover attempt by the British conglomerate Hanson Trust in 1984. With another potential attempt forming, Milton Bradley agreed to be acquired by Hasbro for $360 million. The merged companies became Hasbro Bradley Incorporated, with Stephen Hassenfeld of Hasbro as president and CEO and James as chairman of the board.10 However, this arrangement lasted for only a few months before James resigned, Milton Bradley became a Hasbro division, and, in 1985, the company was renamed Hasbro, Inc.
Though owned by Hasbro, Milton Bradley retained its brand name and by 1988 was providing about 20 percent of Hasbro's sales. The following year Hasbro acquired Coleco Industries which added Scrabble to the Milton Bradley Division product line. With the acquisition of Tonka Corporation in 1991, the game maker Parker Brothers was added, which included the game of Monopoly. The following year these two game makers, Milton Bradley and Parker Brothers, were merged into the Hasbro Games division and the game manufacturing was largely consolidated to the Milton Bradley East Longmeadow site.11
The 1990s brought new games, such as Gator Golf, Crack the Case, Mall Madness, Scrabble Up, and the Star Wars Millennium Falcon 3D puzzle in conjunction with the re-release of the Star Wars Trilogy. Hasbro began releasing CD versions of Monopoly in 1995, followed by Risk, Scrabble, Battleship, and Playskool-brand games in 1996.12 Milton Bradley also began sponsoring The National Scrabble Championship and The World Scrabble Championship, which draws players from 25 countries.
During this time in 1995, Hasbro was approached by Mattel, the largest toy company in the world, about merging. After months of negotiations, Hasbro's board voted unanimously to turn down the offer. As of 2011, Milton Bradley Company, as the Hasbro Game Division, produces 30 of the 50 best-selling games as well as puzzles, educational activity toys, and skill and action games.
1. "Milton Bradley Company – Company Profile, Information, Business Description, History, Background Information on Milton Bradley Company." Reference or Business Company History Index. < http://www.referenceforbusiness.com/history2/14/Milton-Bradley-Company.html > 4 Feb. 2011.
2. McLoughlin Brothers had been the largest game manufacturer in the United States. "Milton Bradley, Description." < http://boardgamegeek.com/boardgamepublisher/20/milton-bradley > 20 Feb. 2011.
3. Op. Cit. "Milton Bradley Company – Company Profile."
4. "The Game of Life." National Toy Hall of Fame. < http://www.toyhalloffame.org/toys/game-life > 20 June 2012.
5. "Hall of Fame Inductees." Toy Industry Association. < http://www.toyassociation.org/AM/Template.cfm?Section=home&template=/CM/HTMLDisplay.cfm&ContentID=5409 > 30 July 2012.
6. Arneson, Erik. "Reuben Klamer – The Game of Life." About.com. < http://boardgames.about.com/od/designerinterviews/a/reuben_klamer.htm > 20 June 2012.
7. "Reuben Klamer." Board Game Geek. < http://boardgamegeek.com/boardgamedesigner/1260/reuben-klamer > 20 June 2012.
8. "Hasbro, Inc. - Company Profile, Information, Business Description, History, Background Information on Hasbro, Inc." Reference for Business Company History Index. < http://www.referenceforbusiness.com/history2/5/Hasbro-Inc.html > 4 Feb. 2011.
9. Op. cit., "Milton Bradley Company – Company Profile."
10. Op. cit., "Hasbro, Inc. - Company Profile."
11. Op. cit., "Milton Bradley Company – Company Profile."
12. Op. cit., "Hasbro, Inc. - Company Profile."