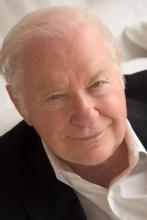 Reuben B. Klamer invented or designed more than 200 toys, including 46 games, the most famous of which was the The Game of Life.1 He felt that "the best playthings for children are simple, with shape, structure and form appropriate for their developmental stage. Great toys fire children's imagination and can be played with in many creative ways. Watching kids play is a superior education and inspiring itself – do it often!"2
Born in Canton, Ohio, Reuben later earned a Bachelor of Science degree in 1944 from the Fisher College of Business at Ohio State University in Columbus, Ohio.3 He also pursued studies in engineering at the University of Michigan. After college and after serving in the Navy, Reuben started his own advertising agency in Los Angeles called The Klamer Company. One evening at a dinner party, Reuben was introduced to a vice president of the Ideal Toy Corporation, who spent the whole evening talking about toys.4 Reuben became enamored by his tales and decided to enter the toy industry and went to work for him at Ideal. He later went to work for Eldon Industries where he became product development and sales manager for the toy division, which he helped to create.
In 1951, he attended his first New York City Toy Fair with products to sell, only to find the only commercial space available was a glass shelf in a showroom in the toy building on 200 Fifth Avenue.5 That was his beginning. By 1959 Reuben had his own office on Rodeo Drive in Beverly Hills before it became a fashion center. The following year he founded Reuben Klamer & Associates.6
One of Reuben's first ideas was to approach Milton Bradley Company about creating an art center to feature their crayons and finger paints. They weren't interested but challenged him to create a game to celebrate their upcoming 100 year anniversary. While wandering through their archives, Reuben saw the board for Milton Bradley's The Checkered Game of Life, which launched the company in 1860. Inspired by the word "Life," Reuben sketched the rudiments of a new game featuring life decisions, an integrated spinner, and a three dimensional format. He then turned to Bill Markham, an artist, to draw up the design.
Reuben's new version that he called The Game of Life was unveiled at the 1960 Toy Fair and endorsed by the popular television host Art Linkletter. Sales were strong from the beginning and continued over the next 50 years, during which time more than 50 million copies were sold.7 Recognizing how The Game of Life had been integrated into American cultural life, in 1981 the Smithsonian Institution in Washington, D.C. made it a permanent part of their Archives of Family Life.8
Over the years The Game of Life has been updated, released in more than 20 languages, formatted for an electronic edition, and offered in many thematic editions such as The Game of Life: A Jedi's Path.9 In 2010, a 50th special anniversary edition was released by Hasbro, who had acquired Milton Bradley in 1984. That same year The Game of Life was inducted into the National Toy Hall of Fame10 and Hasbro published a booklet, The Game of Life: An Inventor's Chronicle, to celebrate the game and the inventor.11
Previous to The Game of Life, in 1958 Reuben had created a Hula Hoop version, the Spin-a-Hoop, which was known as the Art Linkletter Hoop due to his endorsement. Reuben's first toy license was for Moon Rocks, which was manufactured by Hasbro. In 1963, Ideal Toy Corporation marketed Reuben's Gaylord the Walking Dog, which was named the "Best Toy of the Year" in the United States and France.
Also in the 1960s, Reuben's design of Dolly Darlings (1965) was launched by Hasbro and the Zoo-it-Yourself (1966) was marketed by Tupperware. During the same period Reuben had a breakfast appointment with senior vice-president of Tupperware who was expecting a new toy design, which he didn't have yet. As he approached the restaurant, Reuben finally had an idea for a preschool toy, which he sketched for the executive on a paper napkin. That idea became the Busy Blocks, which Tupperware sold for more than 30 years and in 50 countries.12
Later in 1983, Reuben relocated his office to La Jolla, California and renamed his business to be the Reuben Klamer Toylab. Prior to that he also spent some time in Hawaii teaching Creative Technology at the University of Hawaii's Creative Development Center in Kona.13
Perseverance is one of the attributes which brought Reuben success. This was dramatically seen in his 1-2-3 Roller Skate design which earned 21 rejections before it was accepted by Fisher Price in 1983 and introduced in 1984, and it has remained on the market ever since. The other attributes that Reuben suggests make a successful toy inventor are inspiration, sense of humor, and an "appreciation for the happenstance of serendipity."14
On a general note, Reuben is also credited with pioneering the use of polyethylene, an unbreakable plastic, in toys. For these numerous contributions to the toy industry, he was inducted into the Hasbro Inventor's Hall of Fame in 2000 and the Toy Industry Hall of Fame in 2005. Additionally, he received the 2009 Toy and Game Inventor Expo (TAGIE) Lifetime Achievement Award.15
Besides his specific achievements, Reuben is acknowledged for "his gift for anticipating and capitalizing on trends, his talent for developing consumer 'must haves' across a broad spectrum of categories and his ability to work in a variety of media."16
1. Levy, Herb. "An Interview with Reuben Klamer." Gamers Alliance. < http://www.gamersalliance.com/reubenklamer.htm > 20 June 2012.
2. Couzin, Mary. "Reuben Klamer on Success, Careers and The Game of Life." Global Toy News. June 17, 2011. < http://www.globaltoynews.com/2011/06/reuben-klamer-on-success-careers-and-the-game-of-life.html > 20 June 2012.
3. "Celebrating Alumni: But for Ohio State..." OSUAA. < http://www.youtube.com/watch?v=uqKF1oLKYXE > 29 July 2012.
4. Op.cit., Levy.
5. Op.cit., Couzin.
6. "Hall of Fame Inductees." Toy Industry Association. < http://www.toyassociation.org/AM/Template.cfm?Section=home&template=/CM/HTMLDisplay.cfm&ContentID=5409 > 20 June 2012.
7. Arneson, Erik. "Reuben Klamer – The Game of Life." About.com. < http://boardgames.about.com/od/designerinterviews/a/reuben_klamer.htm > 20 June 2012.
8. Op.cit., "Hall of Fame Inductees."
9. "Reuben Klamer." Board Game Geek. < http://boardgamegeek.com/boardgamedesigner/1260/reuben-klamer > 20 June 2012.
10. "The Game of Life." National Toy Hall of Fame. < http://www.toyhalloffame.org/toys/game-life > 20 June 2012.
11. Op.cit., Arneson.
12. Op.cit., Couzin.
13. Op.cit., Levy.
14. Op.cit., Couzin.
15. Op.cit., Arneson.
16. Op.cit., "Hall of Fame Inductees."