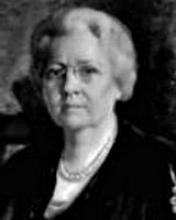 Patty Smith Hill (1868-1946) was a leader in the Kindergarten movement and an advocate of the value of free play in the education of young children. Although the theory and methods of Friedrich Froebel were accepted in most kindergartens at the time, Hill studied the work of other leading educators, such as G. Stanley Hall, John Dewey, and Francis W. Parker, and challenged the practice of following Froebel's methods explicitly. Her work established the foundation for the modern kindergarten in America today.
Hill was born near Louisville, Kentucky, where her father was a Presbyterian minister. Dr. William Hill founded Bellewood Female Seminary, and his wife, Martha, was tutored privately in a college-level study but was not given a formal degree, because she was a woman.1 Patty Smith Hill and her siblings were given much freedom to enjoy outdoor play and experiment with building materials, such as bricks, boards, and other materials, found at their father's carpenter shop at the seminary.2
Hill's parents encouraged their children to be independent thinkers and to pursue professions. Hill graduated from Louisville Collegiate Institute in 1887 and joined the Louisville Kindergarten Training School under the direction of Anna E. Bryan. Encouraged by Bryan to experiment with alternative classroom procedures, Hill developed her philosophies of using free play in the classroom to facilitate learning. Hill eventually became principal and supervisor of the school upon Bryan's departure, and her innovative ideas about early childhood education became nationally well known.3
For twelve years as Hill continued her work at the Louisville Kindergarten Training School, she also studied with many of the leading educators of the time. She investigated the research in the field of child psychology under G. Stanley Hall at Clark University and later studied with John Dewey at the University of Chicago. She also spent summer months studying with Colonel Francis W. Parker and Luther Gulick, the father of the U.S. playground movement.4
In 1892, Hill was a founding member of the International Kindergarten Union (IKU). Hill was an active participant in conferences and held meetings with other kindergarten directors to encourage new thought in the early childhood education field. She spoke on alternative methods of interpretation of Froebel's idea, suggesting that educators should study his theory, but not blindly accept his methodology.5 She also engaged her students' parents in lectures about the educational value of play, the individuality of training based on sensory and motor types, and the causes of children's activities.6
In 1905, Hill was invited to join the faculty at Teachers College at Columbia University. Dean Earl Russell chose Hill for her innovative thought to challenge the strong Froebelian teachings by other faculty members. Her alternative ideas were slow to be accepted until John Dewey became the head of Columbia University's Department of Philosophy, and Edward Thorndike became the head of Teachers College. By 1910, Hill was made ahead of the College's Department of Kindergarten Education and a full professor by 1922.7
John Dewey's principles of education influenced Hill greatly, especially his theories of progressive schools and moral education. She felt that children needed socialization and free play to develop their full potential, and her classrooms were filled with toys, such as cars, trucks, pots, pans, play money, and other loose parts, to help children understand their world and engage in pretend play.
Contrary to Froebel's use of block play with his "gifts," Hill developed a new set of blocks, which became known as "Patty Smith Hill blocks." She felt Froebel's constructive blocks were too small for small children to easily manipulate, and Hill's blocks were more than 16 times larger than those used by Froebel. They were meant to be played with on the floor to build structures large enough for children to play with and engage in dramatic play. Children needed to use large muscles and physical strength to move the large blocks, and they often required cooperation between two children to build structures, which encouraged social play. The blocks were also unique at the time because they used a peg, hole, and groove system, which kept the blocks in place. Hill's blocks inspired Caroline Pratt, another early childhood educator, who developed her own blocks that she called unit blocks.8
Collaborating with psychologist Agnes Rogers, Hill developed a list of 84 desired kindergarten habits toward which instruction should be directed called "Tentative Inventory of Habits." These guidelines were used at the Horace Mann School at Teachers College as well as the Laboratory School at The University of Chicago and other schools across the country. She also wrote several books applying these principles to specific fields, such as music, art, writing, language and literature, behavior, and science.9
After her retirement from Teachers College in 1935, Hill became involved with the Federal Emergency Nursery Schools Program. This was a federally funded program that supplied money for salaries for teachers, nurses, dieticians, parent workers, and doctors. Hill used these funds to finance a neighborhood nursery school called Hilltop for six years until the funding ran out. Her Manhattanville Project, a collaborative plan to rehabilitate the Manhattanville area of New York City, was a joint effort of Columbia University, Teachers College, Union Theological Seminary, Jewish Theological Seminary, and Julliard School of Music.10
Besides her long career in early childhood education, Hill is also known for a song that has become one of the best-known songs in America. Along with her sister, Mildred, who was also a kindergarten teacher and an accomplished musician, in 1893, she wrote the words to the song, "Good Morning to All." The original song was meant as a welcome to start the school day, but it has since become more famous as the song "Happy Birthday to You."11
1. Swanson, Elizabeth A. "Patty Smith Hill 1938." Kappa Delta Pi. < http://www.kdp.org/meetourlaureates/laureates/pattyhill.php > 8 Dec. 2011.
2. Wellhousen, Karyn and Judith Kieff. A Constructivist Approach to Block Play in Early Childhood. Florence, KY: Wadsworth Publishing. 2000. p. 10.
3. Op. cit., Swanson.
4. Op. cit., Swanson.
5. "Patty Smith Hill." New World Encyclopedia. 2 Apr. 2008. < http://www.newworldencyclopedia.org/entry/Patty_Smith_Hill?oldid=680255 > 8 Dec. 2011.
6. Op. cit., Swanson.
7. Op. cit., "Patty Smith Hill."
8. Op. cit., Wellhousen and Kieff.
9. Op. cit., Swanson.
10. Op. cit., Swanson.
11. Cech, John. "Happy Birthday to Patty Smith Hill." Recess! The World of Children's Culture Every Day. < http://www.recess.ufl.edu/transcripts/2005/0325.shtml > 8 Dec. 2011.