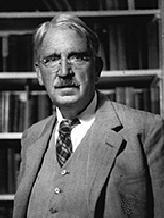 John Dewey was one of the most significant educational theorists of the early twentieth century. He was a philosopher, social reformer, and educator who explored the ideas of experience and reflection, democracy and community, and environments for learning.1 His philosophy of pragmatism was central to the Progressive Movement in schooling. His concept of education promoted meaningful activity in learning for children and participation in classroom democracy rather than rote memorization and authoritarianism of teachers. He argued that curriculum should be relevant to students' lives, and learning by doing and the development of practical life skills were crucial. He was a strong proponent of infusing an understanding of democracy and community into each child's experience.2
John Dewey was born on October 20, 1859, in Burlington, Vermont. After attending public schools in Burlington, he enrolled at the University of Vermont at the age of 15. While there, he was exposed to evolutionary theory, which had a life-long impact on his thinking, impressing upon him the importance of focusing on the interaction between the human organism and its environment when considering questions of psychology and the theory of knowledge. His teacher of philosophy, H.A.P. Torrey, had a profound effect on his philosophical development.3
He began his teaching career after graduation in 1879 in Oil City, Pennsylvania, where he taught high school for two years. He returned to Burlington to teach at a high school near his home and continued his studies in philosophy with H.A.P. Torrey. With his increasing interest in philosophy, Dewey enrolled at Johns Hopkins University in 1882 and studied under George Sylvester Morris and G. Stanley Hall. Upon receiving his doctorate from John Hopkins, he was hired as an assistant professor at the University of Michigan. He met and married his wife Harriet Alice Chapman in Michigan in 1886. He left Michigan for the University of Minnesota where he was a professor of philosophy in 1888, but returned to the University of Michigan a year later where he taught for another five years.4
While at the University of Michigan, Dewey wrote his first two books: Psychology (1887) and Leibniz's New Essays Concerning the Human Understanding. (1888). During this time he met philosopher James Hayden Tufts, with whom he would later write Ethics (1908).5 In 1894 Dewey followed Tufts to the University of Chicago where he was made head of the philosophy department. He also served as director of its School of Education and published several books and articles on education and philosophy while there, including The School and Society (1899), which became a classic among progressive educators. Dewey was intrigued by the relationship between the individual and society and was committed to a democratic outlook. He established a laboratory school to test his theories that education could integrate learning with experience. The University Elementary School, which was also known as the Laboratory School, attracted parents to enroll their children where the curriculum emphasized the child instead of the subject matter and the learning process was to be as important as what was taught. However, disagreements with administrators lessened Dewey's control of the curriculum, and he resigned his post in 1904.6
He was quickly offered a position at Columbia University in New York in the Department of Philosophy, where he spent the rest of his professional life until his retirement in 1931. With his interest in education and philosophy, he published many more important works including Democracy and Education (1916), which was perhaps his most important work in the field. He was a lecturer and a prolific writer and frequently contributed to popular magazines such as The New Republic and Nation, commenting on contemporary issues, including women's suffrage and the unionization of teachers. He continued to work throughout his retirement until his death in 1952.7
John Dewey held the philosophical view of the theory of inquiry throughout his career where he was interested in how species survived in their environment. He believed that a living organism interacts with the environment, develops an understanding of it, and then adapts to the situation to exist. Dewey furthered this idea with his theory of learning that became known as social behaviorism. His essay, "Reflex Arc Concept in Psychology" written in 1869 suggested that the reflex arc combines the sensory stimulus, central connection, and the motor response as working together as one. Thus in learning, a person focuses on something, then decides what to do, and acts on that decision.
He extended his ideas to use with his students at the Laboratory School in Chicago. He gave them a hands-on experience balancing between philosophy and natural science. This approach became known as pragmatism. At the school the teachers would present real life problems to the children and then guide them to solve the problem by providing a hands-on activity to discover the solution. Dewey believed children should experience school as being in a community with responsibilities and activities that mirrored their everyday home life. Building, cooking, and sewing activities were used to teach reading, writing, and math applications. Children were challenged with problems that they would solve through their trial and error efforts to prepare them for life.8
In 1897 Dewey published his famous declaration concerning education, "My pedagogical creed." In it he gave his beliefs on what education is, what the school is, the subject matter of education, the nature of the method, and the school and social progress. Some of the statements he made included his beliefs that:
Education is life long and comes through the stimulation of the child's powers by the demands of the social situations in which he finds himself.
The educational process includes psychological and sociological influences that are equally important.
Education must begin with a psychological insight into the child's capacities, interests, and habits, and then be trained to make full use of the tools he has in the situations given him in life.
The school is primarily a social institution that represents present life as real and vital to the child as that which he carries on in his home and neighborhood.
Home life activities should be integrated into school life as a form of community life.
Learning to perceive life as a community assists moral training as children learn to work with each other in unity.
The subject matter of education centers around the social life of the child and school subjects should be integrated into the child's own social activities.
The method utilized should be based on the child's own nature, power, and interests.
The teacher must have continual and sympathetic observation of the child's interests to determine what he is ready to learn and what materials will work best.
Education is the fundamental method of social progress and reform.9
1. Smith, Mark K. "John Dewey on education, experience and community." Infed.org. < http://infed.org/mobi/john-dewey-on-education-experience-and-community/ > 17 Nov. 2016.
2. "John Dewey (1859-1952)." PBS Online. < http://www.pbs.org/onlyateacher/john.html > 17 Nov. 2016.
3. Field, Richard. "John Dewey (1859-1952). Internet Encyclopedia of Philosophy. < http://www.iep.utm.edu/dewey/ > 17 Nov. 2016.
4. "John Dewey." Biography.com. < http://www.biography.com/people/john-dewey-9273497 > 17 Nov. 2016.
5. Op. cit., Field.
6. "John Dewey: Philosophy and Education." The University of Chicago Centennial Catalogues. < https://www.lib.uchicago.edu/projects/centcat/fac/facch08_01.html > 17 Nov. 2016.
7. Op. cit., Field.
8. Hickman, Peggy. "John Dewey." Psychology History. < http://muskingum.edu/~psych/psycweb/history/dewey.htm > 17 Nov. 2016.
9. "John Dewey: My pedagogical creed." Infed.org. < http://infed.org/mobi/john-dewey-my-pedagogical-creed > 17 Nov. 2016.