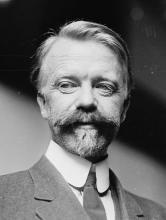 Luther Halsey Gulick gave significant leadership and promotion to the playground and recreation movements of the early 1900s. With most of his time involved in the fields of physical education and hygiene, he liked to take ideas and thoughts, develop them further, put an organization together to bring the ideas to fruition, and then turn the leadership over to others while he moved on to another set of ideas.1
Dr. Gulick was born on December 4, 1865 in Hawaii, the fifth child of Congregationalist missionaries. For fifteen years he lived abroad in Hawaii, Spain, Italy, and Japan until the family returned to America in 1880. Over the next five years he bounced between studying at Oberlin College's preparatory department in Oberlin, Ohio and Hanover High School in Hanover, New Hampshire. He was plagued by heart problems and chronic headaches until he found a solution through physical exercise at the Sargent School of Physical Training in Cambridge, Massachusetts in 1885.2
By the beginning of 1886, Dr. Gulick was the physical director of the Jackson, Michigan YMCA, but he soon decided he needed more education. That fall he joined the class of medicine at New York University, where three years later he was awarded his medical degree.3
While studying medicine, he directed the physical education of the School for Christian Workers (now the YMCA) in Springfield, Massachusetts, and thus he continued his passion for melding his strong spiritual beliefs with teaching physical activity. Calling his educational philosophy "muscular Christianity,"4 Dr. Gulick focused on physical education goals that included "bodily symmetry, muscular strength and control, endurance, agility, grace, courage, self-possession, and expression."5
Dr.Gulick supervised the spread of his physical education program at the YMCAs of the United States and Canada and trained new physical education teachers in this program. He also challenged the current standard for physical education teachers by requiring teachers to be men of strong character and testimony.6 The same year that he finished his medical degree, in 1889, the International Convention of the YMCA in Philadelphia, Pennsylvania officially adopted his physical education program.7 He also became a published author with his book Physical Measurements and How They Are Used.
As director over the YMCA Physical Education teachers in 1891, Dr. Gulick challenged James Naismith, a physical education teacher in Springfield, to create an indoor team sport for the winter season. James invented basketball by first using an elevated peach basket, a ball, and a court. Dr. Gulick assisted James with refining the rules and promoting the new game. In 1895, he became the chairman of the Basketball Rules Organization8 and the chairman of the Basketball Committee of the Amateur Athletic Union. Nearly 50 years later, in 1959, Dr. Gulick was inducted into the Naismith Memorial Basketball Hall of Fame for his contribution to the sport.9
Another enduring icon, the YMCA Spirit-Mind-Body Triangle Logo, was created by Dr. Gulick in 1891 to characterize in his words, "Man's essential unity – body, mind, and spirit – each being a necessary and eternal part of man being neither one alone but all three."10 Within the YMCA, Dr. Gulick's contributions were being recognized, and he was appointed as the secretary for the Physical Education Department of the International Committee of the YMCA, a position he held for sixteen years.
Outside of the YMCA, he was the editor of Physical Education (1891-1896), the secretary for the American Association for the Advancement of Physical Education from 1892-1893, the editor for Association Outlook (1897-1900), and the editor of American Physical Education Review (1901-1903).
After thirteen years in the YMCA organization, Dr. Gulick left in 1900 to be the principal of Pratt High School in Brooklyn, New York. Three years later he became the Director of Physical Education for all the schools in New York City, supervising a staff of 36. To further support youth athletics, he created the Public School Athletic League, which acted independent of the Board of Education. Also in 1903, Dr. Gulick became the president of the American Physical Education Association.
The following year, in 1904, he received international recognition for his Physical Training Lectures at the St. Louis Exposition. That same year he published Physical Education by Muscular Exercise and created the Public School Physical Education Society. The following year he founded the Academy of Physical Education and became president of the Public School Physical Training Society.11 Also in 1905, Dr. Gulick formed a Girls' Branch of the Public School Athletic League, which focused largely on folk dancing. Later he would author The Healthy Art of Dancing (1910) and assist in founding the American Folk Dance Society (1916).
Dr. Gulick's influence in the physical education, hygiene, and recreation fields soon expanded beyond the schools. In 1906 and 1908, he served on the Olympic Games Committee for the Athens and London games respectively. During this time he published two more books, The Efficient Life (1907) and Mind and Work (1908).
In the field of hygiene, he lectured at the New York University, consulted at the New York Hospital concerning deformities and joint diseases, and was a delegate to the 2nd International Congress on School Hygiene in London, England in 1907. He was also a founding member of the American School Hygiene Association, edited the Gulick Hygiene Series, and co-authored Medical Inspection of Schools (1907) with Leonard Ayres. Beginning in 1908, he headed the Russell Sage Foundation Department of Child Hygiene, which promoted school medical inspections.12
As Director of physical education of New York City schools, in 1905, Dr. Gulick began discussing a national playground organization with Dr. Henry S. Curtis, the Director of the school playgrounds in New York City. Together they appealed to Joseph Lee, an early promoter and author concerning playgrounds, to lead this endeavor. When he declined because of his work with another recreation organization, Dr. Gulick and Dr. Curtis gathered delegates and organized the Playground Association of America (PAA) on April 12, 1906 at a YMCA in Washington, D.C. Lee later generously supported the PAA with a check for $25,000.
Dr. Gulick's leadership furthered the playground movement as noted by Howard S. Braucher: "His personal qualities were such, his ability as a speaker, his vividness of description at private interviews, his unfailing enthusiasm, all were such that the new movement made a very great appeal to the country. Dr. Gulick in public addresses carried the gospel of play to a great many audiences."13
He also knew the publicity value of associating with important people. Accordingly, when they organized, they elected President Theodore Roosevelt as honorary President and Jacob Riis, a well known journalist and reformer, as honorary Vice-President. The following day they were received by the President at the White House as a show of his support.
On a more functional level, Dr. Gulick was elected as President and Dr. Curtis became the Secretary/Treasurer of the PAA. Their focus was on assisting local municipalities in developing leaders who would then create and support a play and recreation plan specific to their local needs. They were interested in quality, sustainable programs that would continue to fulfill the playground needs of their area. During the four years that Dr. Gulick served as president, the number of cities in America with playgrounds grew from 90 (1907) to 531 (1910).14 Though he retired in 1910, he continued on the Board of Directors until 1917.
Beginning in 1907, Dr. Gulick chaired the Playground Extension Committee at the Russell Sage Foundation in New York City. He continued in this position and as director of Child Hygiene until 1913, when his health began to fail.
Dr. Gulick foresaw the need to broaden the scope of the playground movement to include healthy recreational options for all ages. In light of this belief, he assisted in the formation of the Boy Scouts of America in 1910. That same year, working with his wife Charlotte, Dr. Gulick began developing a similar program for girls, the Camp Fire Girls (now known as Camp Fire USA). He became President when they incorporated in 1912 and served until just before he died in 1918. The Gulicks also founded a boys' summer camp, Camp Timanous, and a girls' summer camp, Camp Wohelo, near Raymond, Maine.15
During World War I in 1918, Dr. Gulick chaired the YMCA's International Committee on Physical Recreation of the War Work Council. In France he surveyed American soldiers concerning their recreational needs and hygiene. He was in the midst of organizing YMCA recreational workers for overseas military assistance when he died on August 13, 1918.
Dr. Gulick's contributions to the playgrounds of America was underscored by his final book, A Philosophy of Play, which was published shortly after his death.16 His final writings were widely read and further advanced the recreation movement and America's understanding of play. In recognition of his achievements, five years after his death, the American Alliance for Health, Physical Education, Recreation and Dance (AAHPERD) began giving an annual Luther Halsey Gulick Medal. This is their highest honor and is awarded to distinguished leaders in health, physical activity, and recreation. Note: AAHPERD is now known as SHAPE America.17
1. Butler, George D. Pioneers in Public Recreation. Minneapolis, MN: Burgess Publishing Company, 1965. p. 55.
2. "Luther Gulick (1865-1918)." American Education. < http://american-education.org/972-gulick-luther-18651918.html > 19 Jan. 2012.
3. Op.cit., Butler. p. 55.
4. Berg, Ellen L. "Gulick, Luther (1865-1918)." Encyclopedia of Children and Childhood in History and Society. < http://www.faqs.org/childhood/Gr-Im/Gulick-Luther-1865-1918.html > 17 Feb. 2012.
5. Winter, Thomas. "luther halsey gulick." infed. p. 4. < http://www.infed.org/thinkers/gulick.htm > 19 Jan. 2012.
6. Op.cit., Butler. p. 62.
7. Op.cit., Winter.
8. "Luther Gulick (1865-1918)." Spalding's Muscle Building. < http://www.sandowplus.co.uk/Competition/Spalding/Muscle%20Building/mb-1-1-a.htm > 19 Jan. 2012.
9. "Luther Gulick." Hoopedia, National Basketball Association. < http://hoopedia.nba.com/index.php?title=Luther_Gulick > 15 Feb. 2012.
10. Hill, Marci. "Leisure: A Historical Perspective: Sample Paper." Parks and Recreation Management Program, Northern Arizona University. < http://www.prm.nau.edu/prm220/historical_perspective_sample_pa.htm > 15 Feb. 2012.
11. Op.cit., Winter.
12. Op.cit., Berg.
13. Op.cit., Butler. p. 56.
14. Op.cit., Winter.
15. Op.cit., "Luther Gulick." Hoopedia.
16. Op.cit., Butler, p. 61.
17. Op.cit., Winter.