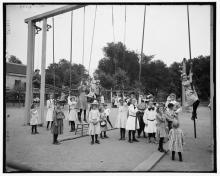 The playground movement in America began as an answer to the industrial revolution realities of crowded cities and long work days. Hand-in-hand with the settlement houses being formed in the late 19th century, the playground movement sought to save the poor, immigrant, and homeless children from unhealthy crowded tenement neighborhoods. The reformers believed that "supervised play could improve the mental, moral, and physical well-being of children."1 They also felt that "recreation not only benefited (the) individual but also transformed a nation of alien immigrants, or downtrodden, unhealthy factory workers, into cohesive, healthy, population of citizens working for common good or ready to defend their country."2
Though there were scattered attempts at play areas during the 1800s, beginning with a German-style outdoor gymnasium in Salem, Massachusetts in 1821, the playground movement did not begin until the sand gardens in Boston in 1885. Dr. Marie Zakrzewska, who was visiting Berlin, wrote to Kate Gannet Wells, the chairman of the executive committee of the Massachusetts Emergency and Hygiene Association, concerning children playing on large piles of sand in public parks. Within the year, Boston had a sand pile, which was enthusiastically received by the local children.3
The following year two more sand piles, known as sand gardens, were added to church yards. By 1887, there were ten sand gardens with matrons paid to supervise, and tools for digging and blocks for building were provided. Twelve years later in 1899, there were twenty-one sand gardens in Boston, with twenty of those located in school yards.
In 1881, prior to the sand gardens, the Boston Parks Department had constructed and operated the Charlesbank Outdoor Gymnasium for boys and men. A decade later they constructed a similar gymnasium for girls and women. With a system of both gymnasiums and sand gardens, Philadelphia, New York, Providence, Brooklyn, Baltimore, Newark, Worcester, Chicago, and Portland sent representatives to Boston prior to 1898 to consult with leaders concerning the development of their own play systems.4 Soon other cities, such as Pittsburgh, Milwaukee, and San Francisco, joined in the movement and playgrounds began to spread across the continent.
At this time the cities were developing "model playgrounds" which were defining what a playground could include. In 1894, Jane Addams' Hull House in Chicago included a supervised playground with sand piles, building blocks, organized sports areas, swings, and a piece of playground equipment called a Giant Stride. In Philadelphia both indoor and outdoor facilities provided year round play with ice skating rinks and a race, hoop, and bicycle track. Boston's Franklin Field and New York's Seward Park included extensive gymnastic equipment.
This model playground stage grew into the small parks stage where trees, shrubs, lagoons, walks, grass expanses, and carriage drives were added to the playgrounds. Jacob Riis, a reformer and journalist, called them "breathing places."5
By 1900 the playground movement reformers realized that besides creating moral citizens, play and playgrounds had educational value. In the neighborhoods where a supervised playground was located, children were more attentive and diligent in classes, physical health increased, and both truancy and lawless behavior decreased.6 These positive results encouraged the involvement of schools in creating play spaces. In New York City there were thirty-one school playgrounds, including kindergarten tents and roof gardens.
Playgrounds and the playground movement continued to evolve. Beginning in 1905, their purposes expanded to include recreation for all ages. Social, aesthetic, and civic activities were added, such as dances, musical programs, dramatics, public forums, and elections. During this recreation stage, the Playground Association of America was formed in 1906, and it also evolved into the broader focused Playground and Recreation Association of America by the mid 1910s.
The "civic art and welfare" stage emerged in 1912. Now the movement expanded to include all recreation activities in the community including the commercial recreation of theaters, pageants, festivals, and concerts. What was once a movement centered on playgrounds now expanded to include all forms of recreation.7
During World War I the next stage became the "community service" stage in 1918 with the recreational activities of the War Camp Community Service project. More than six hundred communities organized recreational resources for the military and in the process experienced more fully the value of recreation.
After the war, these communities desired to continue the recreation opportunities and thus the "neighborhood council" stage emerged by 1920. Citizens became involved in the play and recreation needs of their neighborhoods and were able to continue and expand on the war camp concepts of recreation.
As the playground movement matured, it also became more structured. "The trend in the movement was from free play to directed play, from self-selected games to organized games, from a focus on individual satisfaction and rewards to group rewards, including public recognition and team and school trophies."8
The impact of the playground movement can be seen in the statistics: in 1909, 336 cities had 1,535 playgrounds; in 1948, 1,917 cities had 13,520 playgrounds – an increase of 880% in less than 40 years. Over the same time period, funding increased from $1,353,114 to $96,000,000 and paid play leaders grew from 3,756 to 48,548.9
1. Bachrach, Julia Sniderman. "Playground Movement." Encyclopedia of Chicago. < http://www.encyclopedia.chicagohistory.org/pages/976.html > 6 April 2012.
2. Anderson, Linnea M. "'the playground of today is the republic of tomorrow': social reform and organized recreation in the USA, 1890-1930's." infed. < http://www.infed.org/playwork/organized_recreation_and_playwork_1890-1930s.htm > 6 April 2012.
3. Frost, Joe L. A History of Children's Play and Play Environments. New York, NY: Routledge, 2010. p. 94.
4. Op.cit., Frost. p. 96.
5. Op.cit., Frost. p. 97.
6. "The Playground Movement in America and its Relation to Public Education." Educational Pamphlets, No. 27. London: England, 1913. p. 6. < http://archive.org/details/playgroundmoveme00wood > 6 April 2012.
7. Op.cit., Frost. p. 98.
8. Op.cit., Frost. p.103.
9. Butler, George D. Pioneers in Public Recreation. Minneapolis, MN: Burgess Publishing Company, 1965. p. 99.