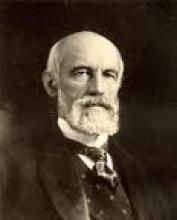 G. Stanley Hall was the leader in establishing psychology as a science and a profession in America in the late 19th century. He was also known as the "father of adolescence" for his scholarship, lectures, and writings concerning the importance of this time of childhood. Hall's resulting focus on the child study movement and educational reforms led him to identify play as the means "for making children and adolescents moral and strong."1 Later in his life, Hall wrote concerning the economic, intellectual, and social isolation of the elderly.
Born in Ashfield, Massachusetts on February 1, 1844, Hall was named after his father Granville, a farmer who also served in the Massachusetts legislature. In his home education and religion were encouraged which led him to teaching school in 1860 when he was just 16 years of age. Two years later, Hall enrolled at the Williston Seminary in Easthampton, Massachusetts. However, after one year he transferred to Williams College in Williamstown, Massachusetts where he formed Junto, a literary club, before graduating in 1867.2
Moving to New York City, Hall enrolled in the Union Theological Seminary and briefly served as a pastor before traveling to Germany to study theology and philosophy. Upon his return, Hall earned a master's degree from Williams College in 18703 and began teaching literature and philosophy at Antioch College in Yellow Springs, Ohio. While there he read Wundt's Physiologische Psychologie (1874) and turned his focus from philosophy to the new field of psychology.
In 1876 Hall entered Harvard in Cambridge, Massachusetts to study and research with H.P. Bowditch and William James. Two years later in 1878 he earned a Ph.D. in psychology, which is considered the first American Ph.D. awarded in psychology. Without a professorship, Hall chose to continue studying physiology psychology and education under Wundt and other psychologists in Leipzig and Berlin, Germany.4
When he returned to American in 1880, he gave a series of public lectures on education, first at Harvard and Williams College and then at Johns Hopkins University in Baltimore, Maryland. At this time Hall also began his writing career with the publication of Aspects of German Culture published in 1881.5
Beginning in 1882, Hall became a lecturer of psychology and pedagogy at Johns Hopkins University. Two years later he became a professor, which was one of the first chairs in the field of psychology in America. While there he established one of the first research laboratories of psychology (1883) and founded the American Journal of Psychology (1887).6
When Clark University was being formed to focus on scientific research, Hall was named the first president in 1888 and given the task of "creating a school modeled on Germany's scientific research centers."7 He remained president and professor of psychology at Clark for 32 years until he retired in 1920. As he was establishing the university, Hall was also further establishing the field of psychology, including the new field of educational psychology. In 1892 he founded the American Psychological Association, which he led as president for the next 32 years.8
A personal tragedy, the accidental asphyxiation of his wife and daughter in 1890, left Hall with his young son to raise.9 Fourteen years later in 1904, Hall published his two volume study entitled Adolescence: Its Psychology and Its Relation to Physiology, Anthropology, Sociology, Sex, Crime, Religion, and Education. This landmark work was based on his theory that child development "recapitulates" or mimics on a small scale the larger scale of human evolution. Influenced by Charles Darwin's theory of evolution and Haeckel's recapitulation theory, Hall expanded these ideas into the child study movement, educational reform issues, and the playground movement.
In a forward of George E. Johnson's Education By Plays and Games (1907), Hall highlighted the importance of play in education by recommending that "parents, intelligent teachers, and open-minded educational leaders" utilize "the great motive power of the play instinct to give increased efficiency to instruction and to learning."10
As an influential and popular educator, lecturer, and writer he assisted in shaping American psychology thought and research in the early 20th century. Some of the over 400 books and articles he authored include the 1883 publication of "The Contents of Children's Minds," the 1911 Educational Problems, and the 1917 Jesus the Christ in the Light of Psychology.11 He also founded the Pedagogical Seminary in 1891, which is now the Journal of Genetic Psychology, the Journal of Religious Psychology in 1904, and the Journal of Applied Psychology in 1915.
In 1909 Hall organized a significant international conference, known as the Clark Conference, at which 175 psychologists gathered. Carl Jung and Sigmund Freud were featured speakers, making this the only time that Freud lectured in America. Also at this conference Freud was honored with an honorary degree from Clark University.12
After becoming President Emeritus of Clark University in 1920, Hall published the Morale and Recreations of a Psychologist (1920) and Life and Confessions of a Psychologist (1923). However, it is his volume on aging, Senescence: The Last Half of Life, published in 1922 that has been called "prophetic" in detailing the "crisis of aging" in the 20th century.13 Two years later Hall died on April 24, 1924 at the age of 80.
1. "G. Stanley Hall (1844-1924) – Adolescence, Education, Boys, and Play." StateUniversity. < http://education.stateuniversity.com/pages/2026/Hall-G-Stanley-1844-1924.html > 26 Nov. 2012.
2. Grezlik, Amy. "G. Stanley Hall." Psychology History. < http://www.muskingum.edu/~psych/psycweb/history/hall.htm > 26 Nov. 2012.
3. "Dr. G. Stanley Hall Biographical Note." Clark University, Archives and Special Collections. < http://www.clarku.edu/research/archives/hall/bio_note.cfm > 26 Nov. 2012.
4. Parry, Marion. "G. Stanley Hall: Psychologist and Early Gerontologist." American Journal of Public Health, July 2006: 96(7): 1161. < http://www.ncbi.nlm.nih.gov/pmc/articles/PMC1483855/ > 26 Nov. 2012.
5. Op.cit., "Dr. G. Stanley Hall Biographical Note."
6. Op.cit., Parry.
7. "Father of Psychology Born, February 1, 1844." Mass Moments. < http://www.massmoments.org/moment.cfm?mid=39 > 26 Nov. 2012. Note: Clark University is located in Worcester, Massachusetts.
8. Beins, Barney. "A Brief Biographical Sketch of G. Stanley Hall." updated 19 Dec. 2003. < http://www.ithaca.edu/beins/gsh/gsh_bio.htm > 26 Nov. 2012.
9. Beins, Barney. "A Brief Biographical Sketch of G. Stanley Hall." updated 19 Dec. 2003. < http://www.ithaca.edu/beins/gsh/gsh_bio.htm > 26 Nov. 2012.
10. Hall, G. Stanley. Introduction. Education By Plays and Games. By George Ellsworth Johnson. Boston: Ginn & Company, 1907. p. xiv.
11. Op.cit., "G. Stanley Hall (1844-1924)."
12. Op.cit., "Father of Psychology Born, February 1, 1844."
13. Op.cit., Parry.