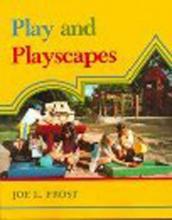 Joe L. Frost, EdD, Parker Centennial Professor Emeritus, University of Texas at Austin, has more than 50 years experience in research and teaching. Joe Frost has authored books and articles on the subject of play, playgrounds, safety, children's poverty, and  play and child development.1
One of his books, Play and Playscapes, was published in 1992 by Delmar Publishers Inc. Developed primarily as a textbook for college and university students, the book addresses the nature and value of play and developmentally appropriate play environments for children.
The first three chapters of his book tackle issues involved with play theory, child development, and contemporary misunderstandings about play. Play theorists, such as Friedrich Froebel, Jean Piaget, Sigmund Freud, Erik Erikson, Johan Huizinga, Lev Vygotsky, Brian Sutton-Smith, and many others are noted as their theories relate to children's play. Developmental issues, such as culture, social class, and social, cognitive, motor, and language development are examined as they relate to play. Play is described as the chief vehicle for the development of these abilities in young children. Distinctions between work and play, gender differences, and the effects of television, war toys, and aggression are discussed.
Chapter 4 describes the various types of play behaviors, such as functional play, constructive play, symbolic play, sociodramatic play, and games with rules and recommends procedures for studying the rich relationships between outdoor play environments and play behavior.
Chapters 5, 6, and 7 trace the historical evolution of American playgrounds from the early 1800s to the 1990s, describing the early outdoor gymnasium, the sand garden, kindergartens, and public schools and parks. Information is given to aid in creating playgrounds - preparing and selecting the site and built equipment and natural features. Many innovations and their designers are studied showing the move toward more natural environments and play equipment components that provide higher levels of play value.
Playground safety is addressed in Chapters 8 and 9 describing the history of playground safety from the early 1900s to the development of safety standards and guidelines for playgrounds and playground equipment. Playground injuries are described along with safety remedies, such as playground surfacing, supervision, and maintenance.
Specific types of playgrounds are described in Chapters 10, 11, and 12. Infant-toddler play environments, adventure playgrounds, and all-inclusive environments for children of all abilities have become more accepted as trends in the playground industry.
The final chapter describes the role of adults in children's play. Adults may dominate play and destroy its spirit on the one hand, or keep hands-off on the other. Child-initiated free play needs little adult intervention, but adults can facilitate play in ways that promote the development of cognitive and social skills. The importance of free, unstructured play for child development is emphasized and cautions are expressed about common tendencies to make play and playgrounds risk-free.2