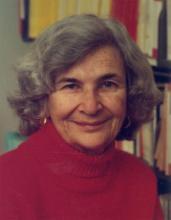 Dorothy Singer is a research scientist, professor, consultant, and author who focuses on early childhood development, the effects of television on youth, and the importance of imaginative play.1 She believes that "play is crucially important to children's intellectual, social, emotional, and physical development" and is seeking to "reintroduce play and joyful learning into our schoolrooms and our living rooms."2
Dorothy began her education at Hunter College of The City University of New York where, in 1948, she earned a bachelor of arts degree in Humanities. She continued her education at New York University where she earned a masters degree in Psychology in 1952. After working as a clinical psychologist for children of a variety of abilities, Dorothy continued her education at Teachers College at Columbia University in New York City. In 1966, she received her Doctor of Education degree in School Psychology.3
As a school psychologist, Dorothy worked with both high needs children and normal kindergarten children where she utilized play therapy. Beginning in 1967, Dorothy was a consultant and researcher for a variety of agencies and companies, including co-directing the research project, Imaginative Play of Preschool Children, with Jerome Singer in 1971.
Dorothy became an Associate Professor and later Chair at Manhattanville College in Purchase, New York in 1968. Four years later, in 1972, she was named the William Benton Professor of Psychology at the University of Bridgeport in Bridgeport, Connecticut. She taught there for 18 years, during which time, in 1974, she was named an Outstanding Educator in America. Also during this time, Dorothy was a visiting lecturer at the College of New Rochelle's School of New Resources in 1973 and at Yale University in 1974.
In 1974, Dorothy became a senior researcher in both the Psychology Department and at the Child Study Center of Yale University. Dorothy was also the Co-Director of Yale University Family Television Research and Consultation Center. Currently the Center  is affiliated with the Zigler Center Electronic Media and Families Unit, a part of Yale's Child Study Center.4 She also was on the Poynter Fellowship Committee. This committee sponsors conferences with outstanding journalists and editors to assist Yale students and faculty in understanding the media and "its role in contemporary culture."5
Prior to this time, in the 1980s, Dorothy had served and chaired on the American Psychological Association's Committee on Films and Media and their Public Information Committee. She had previously been acknowledged as a Fellow of the American Psychological Association and of several divisions, including the Media Psychology Division.6 Later, in 2004, Dorothy received the Distinguished Scientific Contribution to the Media award from this division of the American Psychological Association.
As an author of academic and popular press books, journal articles, and journal reviews, Dorothy has written extensively on child development, the importance of imaginative play, the effect of television and media on child development and play, and the connection between play and learning. She has authored or co-authored over twenty books including Partners in Play: Parents, Teachers and Preschoolers (1977), Television, Imagination and Aggression: A Study of Preschoolers (1981), The House of Make Believe: Children's Play and the Developing Imagination (1990), Playing for Their Lives: Helping Troubled Children Through Play Therapy (1993),7 and Children's Play: Roots for Reading (2004), which was included on CHOICE's Outstanding Academic Title list.8 Her newest book is Handbook of Children and the Media (2012). She has also written approximately 200 articles for professional journals and mainstream media.
In 2005, Dorothy joined with Roberta Michnick Golinkoff of the University of Delaware and Kathy Hirsh-Pasek of Temple University to host the Play=Learning Conference at Yale University. They advocated that "play is the work of childhood, providing children with the opportunity to maximize their attention spans, master number concepts, prepare for reading, learn to get along with peers, cultivate their creativity, and work through their emotions." Noting with concern the trend to reduce play time, they maintained that unstructured play "is a necessary ingredient for learning the social skills that serve as the bedrock for children's success in school."9 At the conference, each speaker recommended research based policies for the reintroduction of play. In 2006, she co-edited the corresponding book Play=Learning: How Play Motivates and Enhances Cognitive and Social-Emotional Growth.
Over the years, Dorothy has consulted with government agencies in France, China, and Puerto Rico; media entities such as Nickelodeon Cable Network and Columbia Broadcasting System; television and film projects; and many toy companies including K'NEX, LEGO, Fisher-Price, Inc., Learning Curve Toys, PlayMobil Toy Company, and Lamaze toys. She has been on the Alliance for Childhood Advisory Board, the American Journal of Play Editorial Advisory Board, the American Association of Children's Museums board, and the Prevention Task Force of the State of Connecticut Commission on Children, to name just a few. Dorothy is also involved with The Association for the Study of Play.
In recognition of her achievements, in 2006, Dorothy received the Distinguished Alumni Award from the Teachers College of Columbia University. In 2009, she was awarded the Distinguished Lifetime Contributions to Media Psychology from the American Psychological Association.10
1. "Dorothy G. Singer." A Mandate for Playful Learning in Preschool. < http://www.mandateforplayfullearning.com/about.html > 15 Nov. 2011.
2. "Play=Learning Conference." Play=Learning. < http://udel.edu/~roberta/play/press.html > 15 Nov. 2011.
3. "Dorothy G. Singer, Ed.D." Email to Playground Professionals. 16 Nov. 2011.
4. "Dorothy Singer, Ph.D." Edward Zigler Center in Child Development & Social Policy. < http://childstudycenter.yale.edu/zigler/people/dsinger.aspx > 15 Nov. 2011.
5. "Poynter Fellowship." Yale Office of Public Affairs and Communications. < http://opac.yale.edu/poynter.aspx > 16 Dec. 2011.
6. Op.cit., "Dorothy G. Singer, Ed.D."
7. Op.cit., "Dorothy G. Singer, Ed.D."
8. Op.cit., "Dorothy G. Singer."
9. Op.cit., "Play=Learning Conference."
10. Op.cit., "Dorothy G. Singer, Ed.D."