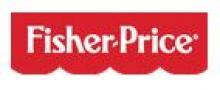 Herman G. Fisher, Irving L. Price, Irving's wife Margaret Evans Price, and Helen M. Schelle founded Fisher-Price in 1930 in East Aurora, New York. Their mission was to produce toys with "intrinsic play value, ingenuity, strong construction, good value for the money, and action."1
Margaret, a children's author and illustrator, designed their initial line of 16 wooden toys, which they displayed at the International Toy Fair in New York City in 1931. Included were three metal push-pull toys, which were based on Margaret's book characters:2 Granny Doodle, Doctor Doodle, and Snoopy Sniffer. These three became signature toys for Fisher-Price.3
Fisher-Price grew slowly during the Depression Era. By the 1950s they were expanding their line of wooden toys with plastic toys, such as the Corn Popper in 1957 and the Rock-A-Stack in 1960. Other classic Fisher-Price toys include the Snap Lock Beads, Shape Sorter, Chatter Telephone, the Bubble Mower, and the Little People.4 The Little People line began in 1959 and was produced through 1990 when there was a significant safety design change to prevent children from swallowing the small characters. These chunkier Little People were redesigned again in 1997 to give the Little People arms and legs for the first time.5
As a means to test product ideas, Fisher-Price established their Play Lab in 1961, which grew out of the Herman's practice of observing children's reactions to toys during their development.6 This on-site research children testing facility was one of the first in the industry.
Herman retired as president of Fisher-Price in 1966 and was replaced by Henry Coords. In 1969, when Quaker Oats Company purchased the company, their sales were above $30 million. At that time other cereal companies were also acquiring toy companies since they had the same target market for advertising.7 That next year a major print ad campaign aimed at parents ran in Family Circle, Women's Day, Ladies' Home Journal, Good Housekeeping, and Parents. By 1976 they were advertising during children's television programs and had acquired the license rights to the Sesame Street characters.
Dolls were added to their product line in 1974 and the Adventure People and Series was introduced in 1975. By then Fisher-Price had the majority of their products for the preschool market and had diversified into two emerging markets: children aged four to nine years old and infants. In the early 1980s, with birth rates rising, they refocused on their preschool products.
In the 1980s Fisher-Price bought the license rights for the Walt Disney Productions cartoon Gummi Bears and produced related stuffed animals, puzzles, and figures. They also introduced the stuffed animal Puffalumps, the Magic Vac, and the Toddler Kitchen.  A new division of Fisher-Price was formed in 1982 with their audiovisual products, such as the phonograph, tape recorder, and the AM-FM radio with a sing-along microphone. In 1987, they added the video camcorder for children, which they advertised largely towards fathers through television and print ads in such magazines as Life, Newsweek, People, and Sports Illustrated.8
Fisher-Price, by 1989, had four main product lines: Infants Products Group, which included infant and juvenile furniture; Traditional Products Group, which included their preschool toys; Promotional Products Group, which included the camcorder system; and the International Business that focused on Canada and Europe.
With rising competition in the preschool market and the high cost of the promotional products, Fisher-Price needed to restructure to stay profitable. Ronald Jackson, who replaced Henry as president in 1990, accomplished that by reducing the work force, manufacturing plants, distribution centers, and advertising. They also moved some production lines overseas.
Fisher-Price became independent of Quaker Oats in 1991 and was listed on the New York Stock Exchange that same year. Two years later they were named the 1993 Vendor of the Year by Discount Store News, the award given by the discount retailing chains. They were also ranked 5th in Total Research Corporation's 1993 Equitrend survey of brand quality.
That same year they merged with Mattel, and James A. Eskridge replaced Ronald as president.9 As a wholly-owned subsidiary their infant and preschool products contributed about one-fourth of Mattel's sales in 1994. With Mattel's global marketing and distribution, Fisher-Price increased sales in Mexico, Italy, Germany, and Spain.10
Expansion in 1994 led to new lines in outdoor play yard toys, games, dolls, and electronic learning toys – all focused on the preschool market. In 1996, they joined up with Compaq Computer Corporation to produce home computers for young children. They also introduced the Power Wheels battery operated ride-on toy, which was recalled in 1998. Rescue Heroes, action figures for preschoolers, were introduced in 1998.
During this time, James was replaced for a brief time by Byron Davis. Then with Mattel's acquisition of Tyco in 1997, Gary Baughman, the CEO of Tyco became president of Fisher-Price.11 After Mattel's restructuring in 1999, Fisher-Price Brands came to also include Mattel's preschool products and Tyco Preschool products.
Neil Friedman became president over this expanded Fisher-Price and coordinated between the Fisher-Price headquarters in East Aurora, the Fisher-Price Friends in New York City, and Mattel's headquarters in El Sequndo.12 Fisher-Price now held the licensing rights to Blue's Clues, Sesame Street, Disney characters, and Winnie the Pooh. They also added Tyco's Magna Doodle and View Master products.
Fisher-Price's philanthropic programs, which are under Mattel Children's Foundation, include Special Olympics, United Way, and various causes in nearby Buffalo, New York. They also fund the Fisher-Price Playground Project, which has designed and installed 20 playgrounds in western New York.
1. "Our Creed." Fisher-Price Human Resources. < http://www.fisher-price.com/us/hr/aboutus.asp > 27 Jan. 2011.
2. "Fisher-Price History & Classics Toys." Fisher-Price-Toy. < http://www.fisher-price-toy.com/fisherpricetoy/?p=58 > 12 April 2011.
3. "Vintage Fisher Price Toys." Antique Antiques. < http://www.antique-antiques.com/antique-Fisher-Price-toys.shtml > 16 April 2011.
4. "History of Fisher Price, Fisher Price Classic Toys." About.com. < http://toys.about.com/od/a/fpclassictoys.htm > 12 April 2011.
5. "The Grand and Glorious History of Little People." This Old Toy. < http://www.thisoldtoy.com/l_fp_set/t-people-history.html > 16 April 2011.
6. "Fisher-Price Play Lab Celebrates 50 Years of Joy-Filled Discoveries." Fisher-Price Play Lab. < http://www.fisher-price.com/%5Cmedia%5Cassets%5Cpress_releases%5CPlay%20Lab%2050th%20Press%20Release_FINAL.pdf > 17 April 2011.
7. "Fisher-Price Inc. - Company Profile, Information, Business Description, History, Background Information on Fisher-Price Inc." Reference for Business: Company History Index. < http://www.referenceforbusiness.com/history2/50/Fisher-Price-Inc.html > 4 Feb. 2011.
8. Ibid.
9. "Our Story." Fisher-Price Human Resources. < http://www.fisher-price.com/us/hr/aboutus.asp > 27 Jan. 2011.
10. Op.cit., "Fisher-Price, Inc."
11. "Fisher-Price, Inc." Novelguide.com. < http://www.novelguide.com/a/discover/cps_01/cps_01_00102.html > 17 April 2011.
12. "Our Locations." Fisher-Price Human Resources. < http://www.fisher-price.com/us/hr/aboutus.asp > 27 Jan. 2011.