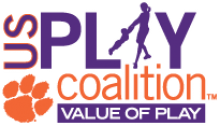 The 2011 Conference on the Value of Play was held February 6-9, 2011, at Clemson University's Madren Conference Center. The US Play Coalition is a partnership to promote the value of play throughout one's life. It consists of individuals and organizations that recognize play as a valuable and necessary part of a healthy and productive life.
The over 200 attendees represented a very diverse group including people from the medical profession, health, education, child development, kinesiology, architecture, parks and recreation, manufacturers, professional organizations, parents, advocacy groups, and many other proponents of play.
This conference emphasized "the health and education implications of play, while still focusing on the role of parks and recreation in facilitating play for all."1 Two keynote speakers were medical doctors, who gave their perspectives from a medical standpoint of the need for play for all. Dr. Toni Yancey spoke on "Recapturing Recess: Structural Integration of Physical Activity Throughout the Day," suggesting that short fun bouts of medium intensity physical activity throughout the day produce medical benefits. Dr. Michael Suk spoke on "Prescription for Play? How the Medical Profession Intersects Play and the Outdoors." With his involvement with the U.S. Department of the Interior, Dr. Suk promoted the physical, cognitive, and social benefits of playing outdoors in nature. Both Dr. Yancey and Dr. Suk presented medical research findings on the benefits of play.
Keynote speaker, Penny Wilson, is a playworker from London who spoke on "Beyond Value." She suggested that a great motivator to help people understand the need for play is to ask them for their own play memories. Dr. Joe Frost spoke on "The Faces and Future of Play." He summarized several of the challenges for play including obesity, fragmented families, poverty, and use of nature environments.
The US Play Coalition is dedicated to promoting research in the field of play. During the Conference ten research proposals were submitted for review. Research seed grants of $3,000 were awarded to three of the proposals given to be used for further study. The grant recipients at the 2011 Conference were:
Olga S. Jarrett, Georgia State University, "Recess: What We Know and What We Need to Learn"
Matthew T. Bowers and B. Christine Green, University of Texas – Austin, "Deconstructing the Sport Experience: Understanding Variations in Context"
Matthew Browning, Yale University, "Measuring Possible Concerns About Bringing Children to Nature: A Study of People's Attitudes and Ecological Impacts from Unstructured Play"
With over 60 educational sessions offered, several hot topics covered were the challenges of urban play, natural outdoor environments for play, recess, all-inclusive play spaces, video gaming, childhood obesity, and the role of play in early childhood and elementary educational instruction. Several programs promoting exercise and play that held sessions were Playworks, Project Fit America, and High Five.
The US Play Coalition committees met during the Conference inviting interested people to join in their efforts. Ongoing efforts to advocate the value and need for play will continue to be the US Play Coalition's focus.2