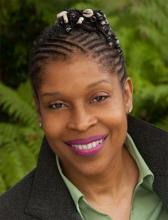 Antronette (Toni) Yancey graduated from Northwestern University, Evanston, Illinois, in 1979, where she was also the starting center for the women's basketball team. Her medical degree was earned in 1982 at the Duke University School of Medicine in Durham, North Carolina. She left her residency in psychiatry at Duke in 1984 and then practiced as a general practitioner in Durham and New York City.1
In 1990, Toni pursued a second residency in preventative medicine at the University of California in Los Angeles, California. She also earned a Master of Public Health degree from UCLA in 1991. After several years of research and teaching as an assistant professor at UCLA and associate professor at the Charles R. Drew University of Medicine and Science, in 1996, Toni became the Directory of Public Health for the City of Richmond, Virginia. For the two years she was in Richmond, she was also an associate clinical professor for the Department of Preventive Medicine & Community Health at the Virginia Commonwealth University.
By 1999, Toni became the founding Director of the Division of Chronic Disease Prevention & Health Promotion (CDPHP) for the Los Angeles County Department of Public Health.2 For a county of 9.7 million people, Toni managed programs on Physical Activity Promotion, Tobacco Control, Nutrition Education, and Injury/Violence Prevention.3
During her two years at CDPHP, Toni was also an adjunct associate professor at the UCLA School of Public Health. By 2004, she was an Associate Professor with tenure, and in 2007 she became a full Professor in the Department of Health Services. She was also the Co-Director of the UCLA Kaiser Permanente Center for Health Equity.4
Beyond her professional positions, Toni served on the Institute of Medicine Standing Committee on Childhood Obesity Prevention, the National Physical Activity Plan Coordinating Committee, and the California Department of Public Health Advisory Committee. She was on the Board of Directors for Public Health Institute, the Action for Healthy Kids, and the Partnership for a Healthier America, which is the non-profit formed to support Michelle Obama's Let's Move! campaign against childhood obesity.5
Toni published more than 125 scientific publications concerning her research in chronic disease prevention, adolescent health promotion, organizational practices, and policy changes. Since 2006 she had also been a public health commentator for KPCC, a local NPR affiliate.
Toni's book, Instant Recess: Building a Fit Nation 10 Minutes at a Time, was published in November of 2010. Seeking to counteract "sedentary behavior disorder," she promoted two 10-minute breaks or "recesses" daily.6 Calling her recesses the "aerobics of the 21st century," Toni suggested group walks, structured communal activity breaks, or just turning on music and moving.
Her research at the companies of L.L. Bean and Replacements, Ltd. showed that regular 5-10 minutes activity breaks increased productivity. In the schools, activity breaks have been linked to improved scores in math, spelling, and composition.7 With budget cuts in schools that have led to limited physical education and outside recesses, this was a significant finding which supported the importance of activity and community play.
Stating that physical activity is necessary for brain development and that young boys tend to be more active learners, Toni noted that college enrollment for young men of color was only 30% compared to 70% for young women, paralleling the cuts to physical education in the schools.8
Instant Recess was written primarily to the decision-makers in the schools and corporate world and proposed that it pays in short-term and long-term scenarios to fit exercise into the daily routine through increments suitable for the available time, space, and occasion.9
Toni was a strong advocate for play and was a keynote speaker at the US Play Coalition Conference on the Value of Play held in February of 2011 at Clemson University in South Carolina.
At the Weight of the Nation Conference held in May of 2012 in Washington, D.C. the Centers for Disease Control and Prevention awarded Toni with the Community Mobilization Award for her Instant Recess approach.10
Toni Yancey died on April 23, 2013 at the age of 55 after a year-long battle with cancer. 7 May 2013." href="#footnote11_gb4z7p0">11
1. "Curriculum Vitae." < http://www.toniyancey.com/about_files/AKY_CV_20Jan11.pdf > 17 Jan. 2011.
2. "Biography of Toni (Antronette K.) Yancey, MD, MPH." US Play Coalition Conference on the Value of Play. 2011.
3. Op.cit., "Curriculum Vitae."
4. Ibid. Note: UCLA Kaiser Permanente Center for Health Equity was formerly known as the Center to Eliminate Health Disparities.
5. Op.cit., "Biography of Toni (Antronette K.) Yancey, MD, MPH."
6. Brody, Jane E. "It's Time for Recess: Just Keep on Moving." New York Times. 22 Nov. 2010. < http://www.toniyancey.com/ITM_NYT_112210.html > 17 Jan 2011
7. Ibid.
8. "Toni Yancey." Interview by Travis Smiley. Aired 22 Oct. 2010. http://www.pbs.org/wnet/travissmiley/archive/201010/20101022_yancey.html?vid=1621460909#video> 10 April 2011.
9. Katz, David. "Exercise: The Fitness Paradox in America." The Huffington Post. 29 Nov. 2010. 10 April 2011.
10. "CDC recognizes obesity prevention and control initiatives with Pioneering Innovation awards." The Wall Street Journal. MarketWatch. PR Newswire. < http://www.marketwatch.com/story/cdc-recognizes-obesity-prevention-and-control-initiatives-with-pioneering-innovation-awards-2012-05-09 > 15 May 2012.
11. "Get Up and Move to Honor Toni Yancey: Nationwide Instant Recess." Prevention Institute. < preventioninstitute.org/press/calendar/event/458.html > 7 May 2013.