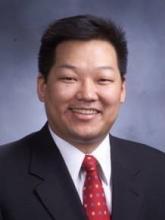 Michael Suk began his academic career with a Bachelor of Arts Degree in African-American History from Carleton College in 1990. From there he simultaneously earned a medical degree from the University of Illinois College of Medicine (1997) and a law degree and a masters of public health degree from Boston University School of Law and School of Public Health (1995) with a special certificate in health care law.1 Michael's residency training was in orthopaedic surgery and his fellowship was in orthopaedic trauma.
Even before completing his medical degree, Michael was elected to the Board of Trustees of the American Medical Association in 1994, achieving the distinction of being the first medical student and the first Asian-American to be so honored.2 He served one year as a Trustee and has since served as a member of the AMA Council on Medical Service, the Chair of the AMA's Resident and Fellows Section, and a member of the American Medical Political Action Committee.
Michael was chosen in 2003 as a White House Fellow and as such served as Special Assistant to Secretary Gale A. Norton of the U.S. Department of the Interior. For a year, Michael coordinated five Interior bureaus "which manage 1 in 5 acres of land in the United States and that collectively receive nearly 500 million visitors each year."3 Drawing on his background of public health, Michael developed an initiative to link public health and recreation. He also co-authored with Secretary Norton the law review article, "America's Public Lands and Waters: Gateway to Better Health?"
As a White House Fellow, to support President George W. Bush's HealthierUS, Michael organized Get Fit with US and has spoken to over 100 organizations on the importance of increasing personal fitness and becoming healthier. He was invited to speak at the TIME/ABC Summit on Obesity in 2004 and to be a panelist on the Kellogg Foundation Thought Leaders Gathering on Obesity.
In support of his belief that "simple outdoor activities such as hiking, biking and camping on public lands and waters can serve as a gateway to a healthier lifestyle," Michael was a Senior Advisor on Health and Recreation for the National Park Service.4 Currently he is on the Board of Directors of America on the Move and the American Hiking Society and is a member of the National Forum on Children and Nature that is sponsored by the Conservation Fund.
In 2004, Michael became an Associate Professor of Orthopaedic Surgery at the University of Florida and the Associate Director of the Orthopaedic Residency Program. Michael supervises the musculoskeletal trauma education of medical residents at the Shands Medical Center of Jacksonville, Florida, a Level I trauma center. Additionally, as Division Chief of Orthopaedic Trauma and Associate Director of the University of Florida & Shands Regional Trauma System, he coordinates orthopaedic care between the multiple medical and surgical disciplines.5
At the US Play Coalition Conference on The Value of Play held at Clemson University in 2011, Michael was a keynote speaker on the subject, "Prescription for Play? How the Medical Profession Intersects Play and the Outdoors." Dr. Michael Suk is a strong advocate for play and presented medical research findings on the benefits of play, especially playing outdoors in nature. Michael is a member of the Steering Committee for the US Play Coalition.
1. "Michael Suk Biography." US Play Coalition Conference on The Value of Play 2011. Keynote Speaker, 8 Feb. 2011.
2. "Michael Suk." LinkedIn. < http://www.linkedin.com/pub/michael-suk/4/246/232 > 3 Dec. 2010.
3. "Michael Suk, M.D." Time. < http://www.time.com/time/2004/obesity/speakers/suk,html > 3 Dec. 2010.
4. Op. cit., "Michael Suk Biography."
5. Op. cit., "Michael Suk Biography."