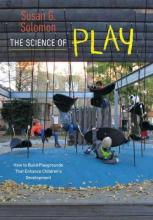 The Science of Play: How to Build Playgrounds That Enhance Children's Development was written by Susan G. Solomon and published by University Press of New England in 2014. The book uses recent data from the behavioral sciences to demonstrate how to design innovative, multifunctional spaces to allow children to take risks, experience failure but also have a chance to master difficult tasks, learn to plan and solve problems, exercise self-control, and develop friendships.
Dr. Solomon wrote this book as a companion volume to her book American Playgrounds: Revitalizing Community Space published in 2005, where she exposed the heavy emphasis on safety that dumbed-down America's playgrounds. This second book offers a fresh look at the American playground with bold strategies to improve it. The goal of the book is to offer urban policy-makers, designers, educators, and parents new criteria for designing children's outdoor spaces based on established and emerging information that integrates science and design. Playspaces particularly in Europe and Japan are highlighted that demonstrate progressive designs that meet current scientific thinking. Chapters in this book expose different values missing in most playgrounds: risk, mastery, executive function, friendship, possible exposure to nature, and rough and tumble play.
The book seeks to define the issues involved with today's playgrounds in Chapter 1 – The Problem. Concerns about costs and liability have driven playground design with the emphasis on safety regulations, which has often resulted in risk-avoidant equipment that does not meet the needs of children. Fencing and safety surfacing have emerged as standards in playgrounds from injury statistics that don't differentiate between serious injury and broken limbs. Parents have become overprotective, which often leaves children feeling vulnerable and less empowered. Playground reformer Lady Allen of Hurtwood famously noted: "It is better to risk a broken leg than a broken spirit. A leg can always mend. A spirit may not."1 The chapter concludes with examining the history of American playgrounds and how the cultures of America, Europe, and Japan affect children's experiences of vulnerability or confidence.
Chapter 2 – Risk and Independence deals with the value of risk taking for child development. Risk taking for children involves their desire to achieve fast speeds, ascend to great heights, be able to get lost, use potentially harmful tools, play near dangerous areas, and rough and tumble play. Experiencing scary situations that end in mastery are both beneficial and pleasurable to children. Assessing and managing risk is an important life skill for children that can further their increasing independence. Adventure playgrounds and playgrounds in Japan and Europe that promote risky play for children are described.
The by-products of taking risks are discussed in Chapter 3 – Failing and Succeeding. Children cannot demonstrate competence in risk-free situations, since they can only do what they have already learned to achieve. To realize mastery and a sense of personal achievement children need to attempt challenges with unclear outcomes to give them the opportunities for failure and mastery. Most American playgrounds have removed risky challenges and rarely provide opportunities for children to fail and then overcome their limitations. This chapter describes the benefits of tree climbing, net climbing, domes, and other unexpected play pieces that provide challenges for gaining mastery.
In Chapter 4 – Executive Function, the development of children's neurocognitive functions are explored. Executive function "involves self-control, delayed gratification, and the ability to ignore distractions, stay on task, and forgo impulsive behavior."2 It also involves doing several things at once, making mental connections, and being intellectually flexible. Play situations that allow for developing executive function include adventure playgrounds and playing with loose parts that generally require cooperation with others.
The need for children to have relationships with others is discussed in Chapter 5 – Friendship. Children need friends "for companionship, for exchanging fears and dreams, for learning to share and compromise, and for challenging each other physically and creatively."3 Childhood friendships promote independence and understanding of others. Recess serves as a good time for social skills to be developed, however, the decrease in recess time inhibits children's social development as well as their academic progress. Intergenerational play allows children to learn to interact with adults, and public spaces can be designed to inspire intergenerational play including places that encourage involvement with teenagers.
Chapter 6 – Nature and Exploration describes the natural playground movement identifying its best practices and its shortcomings. Advocates for nature play champion the benefits of playing in a natural setting and getting dirty, allowing children to enjoy free play while exploring wooded areas. Sand and water play are easily incorporated into natural playgrounds. However, some playgrounds that have been promoted as natural playgrounds have manufactured pieces that have been made to look like natural elements. The desire to get American urban children into natural settings has been a challenge to accomplish.
In Chapter 7 – Paths, the need to pursue new paths and policies in order to create better play areas is suggested. There are three types of fear that must be overcome: parents who are genuinely fearful about their children's safety; parents who don't believe their children are capable of making good choices and protecting themselves; and the unfounded fear of strangers. Altering perceptions and attitudes toward risk is a monumental challenge, but the book describes the huge advances that have been made in Britain beginning in the late 1990s that led to the public accepting the idea of risk-benefit analysis as a means for implementing play environments. The Royal Society of Prevention of Accidents has adopted the motto: "As safe as necessary, not as safe as possible."4
The book closes with a section entitled Conclusion / Paradigms. A call to rethink America's approach to outdoor play spaces suggests that play sites must "permit cautious risk taking, allow for failure and success, activate working memory, encourage problem solving, enhance friendships by being open and welcoming, and maybe include some vigorous aerobic exercise"5 for children. Also advocating for multigenerational play, four areas for improvement discussed are the street, the town square, the park, and the urban plan, and examples are given of successful uses of these spaces. The author culminates her thoughts with a quote from Lady Allen of Hurtwood from her book, Planning for Play: "A playground that is not attractive to children is a waste of land and money."6
The book contains an extensive list of notes that annotate the author's research as well as a large selected bibliography of suggested works for further reading.