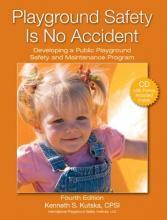 Playground Safety Is No Accident: Developing a Public Playground Safety and Maintenance Program was first published by the National Recreation and Park Association (NRPA) in 1992 through their National Playground Safety Institute (NPSI) and the Park District Risk Management Agency (PDRMA). The 2nd edition, printed in 1998, reflects the updated ASTM International (ASTM) F1487 Standard Consumer Safety Performance Specification for Playground Equipment for Public Use.
In the 1998 edition, Ken Kutska, Kevin Hoffman, and Tony Malkusak combined their areas of expertise in this manual of information, tables, and forms to "provide the practical tools to improve maintenance procedures and help to identify and eliminate safety problems on the public playground."1
Ken began formulating a playground safety inspection checklist in 1985 with other like-minded Park Operations Managers. This began as a group project for the members of their special interest section of the Illinois Park and Recreation Association (IPRA). At that time he was the Director of Parks and Planning of the Wheaton Park District. The origins of the book evolved from Ken's initial development of his agency's playground safety inspection and maintenance program. This manual was in demand from fellow park managers throughout Illinois.
It was during the development of his agency's safety program that he first recognized there was a need for more than just ongoing play area inspections. He realized every play area needed first and foremost to be evaluated for compliance to the current best practices, standards and/or guidelines in force at the time.
The first audit form actually evolved from the incomplete efforts of the Massachusetts State Comprehensive Injury Prevention Program (SCIPP). The project stopped when the initial funding ran out. Soon after Ken received permission to use what information they had compiled and he completed the first audit form and several other parts of the first playground safety program. He soon became inundated with requests for copies of his program. It was the time and cost associated with copying and mailing the manuals that led him to have it printed and distributed by the Illinois Conservation Park and Recreation Foundation (ICPRF) as a fundraiser for the Foundation. A year later the Park District Risk Management Agency (PDRMA) group asked that it be revised and expanded to include other topics. This brought Kevin Hoffman's experience and knowledge to the next phase of the book's evolution.
While Ken's experience came out of the parks and recreation field, Kevin's background came from the area of industrial safety management. He has been the Risk Manager at four Illinois park districts and achieved the Associate in Risk Management (ARM) from the Insurance Institute of America in 1991. At the time Playground Safety Is No Accident was published, Kevin was the Director of Loss Control Services of the PDRMA, which is an Illinois state intergovernmental risk management agency that was responsible for developing park playground safety programs for their members' 1000 playground sites.2
Tony Malkusak began as a Landscape Architect in Wheaton while working for Ken's department. He later moved to another agency where his experience in playground environment designs, inspection audits, and staff training grew. He has worked with the New Jersey Park and Recreation Association's statewide Safety Audit and Access Program, which inspected 250 playgrounds for compliance with the ASTM and U.S. Consumer Product Safety Commission (CPSC) guidelines. Tony's contribution to this effort was the development of an Audit Short Form. This form was intended to cover all the changes in the current ASTM Standards and CPSC Guidelines since the 1998 second edition.
All three contributors have been involved with the ASTM F15.29 Subcommittee on public playground equipment that developed the first voluntary industry standard for performance safety requirements for public playground equipment.
The first half of Playground Safety Is No Accident covers how to develop a public playground safety program that includes safety audits, equipment replacement plans, playground inspections, signage, and the formation of a safety team. All these areas are covered with suggested outlines, checklists, applicable blank forms, and samples of completed forms. Additionally, there is a section on compiling playground documentation as well as the investigations, the report forms, and the follow up necessary for playground accidents or incidents.
The second half of the manual is equally split between an appendix of blank playground inspection forms and an extensive case study of how all of these playground safety policies and procedures come together in a real situation. There are also other examples of compliance inspection forms.
Written for school districts, child care facilities, public health departments, cities, counties, and state and federal park and recreation agencies, both public and private entities have utilized these tools to develop or strengthen existing playground safety inspection and maintenance programs.
The 3rd edition was completed by the National Recreation and Park Association in 2006 with only minor corrections based on standards and guidelines changes.
The 4th edition of this book was completed in 2008, when Ken authored a major revision of the book. He expanded on topics necessary for creating a public playground safety inspection and maintenance program. A glossary of terms, user testimonials, and some additional content originally written for the PDRMA playground maintenance course by Monty Christiansen and Steve Plumb were added.
The audit form was completely revised in the 4th edition to closely follow the teachings of the Certified Playground Safety Inspector (CPSI) Course and the risk assessment process for ranking non-compliant playground conditions based upon a 5 level priority ranking system. The main focus of the assessment process is being placed upon addressing all Priority 1 and 2 Safety Concerns while over time addressing all non-compliant conditions. The audit also includes a new section to assist in the owner's initial ADA/ABA Accessibility Guidelines assessment of a public playground. This section has become even more important with the recent approval of the 2010 Standard by the Department of Justice which creates an enforceable minimum design requirement for an accessible play area. The new Audit Inspection Form includes updated citations based on either the ASTM F1487-07ae1 Standard or the 2008 CPSC Handbook. An expanded example of an agency's site history file was added in the appendices along with a sample California Compliance Inspection Form created by David Spease that addresses the California Law for initial public playground inspection requirements.3
1. Kutska, Kenneth S., Kevin J. Hoffman, and Antonio C. Malkusak. Preface. Playground Safety Is No Accident: Developing a Public Playground Safety and Maintenance Program. 3rd ed. Arlington, VA: The National Recreation and Park Association, 2002. ix.
2. Ibid. About the Authors. vii.
3. Kutska, Kenneth S. Emailed information to Playground Professionals. 28 March 2011.