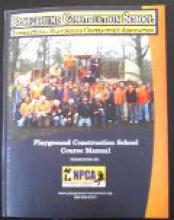 Presented by the National Playground Contractors Association Inc (NPCAI) and written by Curtis and Nicole Stoddard, the Playground Construction School Course Manual is a course manual which covers start to finish details of constructing a playground as well as information on support organizations, safety standards, and business regulations. A professional playground installer himself, Curtis Stoddard understands that "the installer is the final link in the playground process. Every playground builder has the responsibility to build the playground according to manufacturers' specifications, industry safety guidelines, and ethical standards."1
Defining the value of play as that of "building strong bodies, strong minds, and strong communication skills in our young children," the authors see play equipment structures and their surroundings as a service to society.2 Some of the ways they serve include providing a place for building physical strengths, offering sensation experiences such as "swinging, sliding, or spinning," and challenging and motivating children in their development. They also provide an aesthetically beautiful gathering place for "families, friends, and neighbors."3
Written in 2005, Playground Construction School Course Manual provides not only a brief history of playgrounds and playground equipment in America, but also a more detailed history of the development of safety and manufacturing standards for playgrounds. These standards began in 1981 with the U.S. Consumer Products Safety Commission's (CPSC) Public Playground Safety Handbook, which is included in Appendix I. That handbook was followed in 1988 by the ASTM International (ASTM) standards for manufacturing and installing playground equipment.
In the early 1990s, to understand and implement these new standards, playground equipment manufacturers began holding training classes. At the Landscape Structures, Inc. Installer Forum the idea to form a trade organization for playground installers led to the creation of the National Playground Contractors Association (NPCA) in 1997.4 The Americans with Disabilities Act (ADA) had recently included playgrounds in the federal laws concerning access for those with disabilities – adding another layer of requirements for playgrounds.
Stoddard, one of the six playground contractors that formed the NPCA, noted that the NPCA's main purpose was to promote playground construction as "a legitimate professional trade."5 Acknowledging that 10% of all playground equipment accidents are due to faulty installation, the NPCA also promoted playground safety for both the construction team and the children who enjoy the resulting playground.6
In chapter two, nine organizations that are "working to improve the playground industry, playground equipment, playground safety, and the value of play" are highlighted in detail.7 These organizations that represent the "past, present, and future of the playground industry" include CPSC, ASTM International, ADA, National Playground Safety Institute (NPSI), International Play Equipment Manufacturers Association (IPEMA), National Program for Playground Safety (NPPS), National Recreation and Park Association (NRPA), Today's Playground Magazine, and Slyde the Playground Hound.
The balance of the manual involves guidelines for playground construction beginning with the pre-construction challenges and progressing through working with blueprints and general contractors, unpacking and inventorying playground parts, utilizing instruction manuals, illustrating quality installation techniques, discussing the use of large and small scale job tools, emphasizing the importance of and types of protective surfacing, and outlining the final details in completing a playground installation job. Concerning all phases of construction, there is a chapter dedicated to jobsite safety for the construction team and the curious public.
For reference, the manual include a Resource List, sample business forms, common formulas and conversion tables, and a chapter on the individual U.S. state regulations for playground contractors and state contact information.
In conclusion, Playground Construction School maintains that "The diligence of all stakeholders in the playground industry; manufacturers, owners, builders, caretakers, users, and their respective associations, will ultimately ensure that playgrounds are enjoyed safely" and of these stakeholders "installers are an integral part."8
1. Stoddard, Curtis and Nicole Stoddard. Playground Construction School Course Manual. Salt Lake City, Utah: International Playground Contractors Association, 2005. p. 72.
2. Op.cit., Stoddard. pp.1-2.
3. Op.cit., Stoddard. p. 2.
4. Op.cit., Stoddard. p. 6. Note: The NPCA was later renamed the International Playground Contractors Association (NPCAI).
5. Op.cit., Stoddard. p. 10.
6. Op.cit., Stoddard. p. 9. Quoting Kutska, Ken. "Playground Maintenance: Rudiments and Recommendations for the Next Generation." in Proceedings: Playground Safety 1999 – An International Conference.
7. Op.cit., Stoddard. p. 12.
8. Op.cit., Stoddard. p. 37.