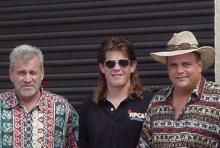 The National Playground Contractors Association Inc (NPCAI) is a non-profit organization started in February of 1997 in order to provide a support program and set standards for playground construction professionals. Originally the National Playground Contractors Association (NPCA), the organization was founded by six playground contractors: Dave Antonacci, Mike Baker, Paul Cullins, Mike Egan, Laz Gonzales and Curtis Stoddard They organized the 501(A), elected officers, and wrote the mission statement of the NPCA, which read, "A nationwide partnership formed to contribute to the advancement of the playground building industry by promoting playground installation as a legitimate contracting profession."1
In 2003, the NPCA was changed to the National Playground Contractors Association Inc, so they could admit playground contractors worldwide to the organization. Headquartered in Harrisburg, PA, the Board of Trustees, which is comprised of thirteen volunteers from the industry, governs and is accountable for fiscal responsibility as well as the direction of the organization.
The NPCAI has established three basic standards for professional playground installers. A NPCAI member must:
Be licensed as required in the area in which they are working.
Carry the appropriate liability and workers' compensation insurances - NPCAI provides members with an in-house liability insurance program.
Be certified by the National Playground Safety Institute (NPSI).
In their effort to promote playground safety and to advance playground construction as a legitimate trade, the NPCAI offers a newsletter and a qualified contractor program.
As an affiliated service to their members, NPCAI runs a three-day course entitled Recreation Installation Specialist Course and Certification, which is a comprehensive course focusing on the knowledge and skills need to be an effective Playground Installer. Some of the topics covered are: jobsite safety, reading blueprints, installation techniques, and job completion procedures.2