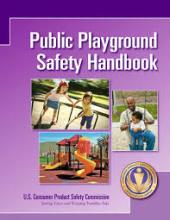 The Public Playground Safety Handbook, also known as Publication #325, was published by the U.S. Consumer Product Safety Commission (CPSC), most recently in November 2010. It was first published in 1981 under the name A Handbook for Public Playground Safety. The recommendations in the handbook are focused on playground-related injuries, and they continue to be updated as innovations in technology result in new playground equipment and surfacing practices. They have also been revised to comply with ASTM International (ASTM) standards as they have been published and revised.
With the aim to minimize playground injuries and promote greater safety awareness, the publication of this handbook is designed to give guidelines to those concerned with public playground safety. This includes childcare personnel, school officials, parks and recreation personnel, equipment purchasers and installers, playground designers, and others involved with children's playgrounds. Though these guidelines are not mandatory, some state and local jurisdictions may require compliance with this handbook as well as ASTM voluntary standards. Also some insurance companies, risk managers, and others may require compliance at a particular playground site.
These guidelines are designed for public playground equipment for use by children ages 6 months through 12 years in the playground areas of commercial locations, institutions, multiple family dwellings, parks, restaurants, resorts and recreational developments, schools, and other areas of public use. They are not intended for amusement parks, sports or fitness equipment intended for those over 12 years, soft contained play equipment, constant air inflatable play devices for home use, art and museum sculptures, equipment in water play facilities, or home playground equipment.
When designing or evaluating a playground for safety, the handbook recommends considering each individual piece of playground equipment as well as the layout of the entire play area. The installation and maintenance of protective surfacing under and around all equipment is crucial to minimize head injuries due to falls. The CPSC has estimated that over 200,000 emergency room-treated injuries occur annually, and falls are the most commonly reported injuries. Other hazards generally found with playground equipment include head entrapment, protrusions, sharp edges, and crush or shear points.
Section 2 General Playground Considerations outlines important factors to consider when planning a playground, such as travel patterns of children to and from the playground, accessibility challenges, shading needs, and slope and drainage. The layout of a playground must address the following needs: accessibility, age separation, conflicting activities, sight lines, signage, and supervision. Guidelines are given for age appropriate equipment, and equipment not recommended for the use on public playgrounds is noted.
One of the most important factors in reducing the likelihood of life-threatening head injuries is providing good shock absorbing surfacing under and around playground equipment. The handbook guidelines for appropriate surfacing addresses any material tested to ASTM F1292 including unitary surfaces and engineered wood fiber as well as pea gravel, sand, shredded/recycled rubber mulch, wood mulch (not CCA-treated), and wood chips. Guidelines for proper installation of these materials are given. Inappropriate surfacing for public playgrounds includes asphalt, carpet not tested to ASTM F1292, concrete, dirt, grass, and CCA-treated wood mulch.
To promote safety, equipment materials and installation guidelines detail the necessary considerations regarding durability and finish, hardware, metals, paints and finishes, and equipment built of wood.
Section 3 Playground Hazards provides a broad overview of general hazards that should be avoided on playgrounds including crush and shearing points; entanglement and impalement; entrapment; sharp points, corners and edges; suspended hazards; and used tires.
Crush and shearing points can cause injury by parts moving relative to each other or to a fixed part during normal use, such as a seesaw. Projections on equipment should not be able to entangle children's clothing or be large enough to impale, which could include protruding bolts, S-hooks, and C-hooks. Head entrapment could lead to strangulation and death. Sharp points can cause serious lacerations, and wood parts should be free from splinters. Guidelines to avoid suspended hazards and tripping hazards are given. Used tires that are recycled as playground equipment or shredded for protective surfacing may be hazardous.
Section 4 Maintaining a Playground contains information about maintenance inspections, repairs and replacements of equipment parts, maintaining loose-fill surfacing periodically, and record keeping. A general checklist to use as a guide for frequent routine inspections of public playgrounds is included in Appendix A.
Specific recommendations are given in Section 5 Parts of the Playground for platforms, guardrails, and protective barriers; access methods to play equipment; and major types of playground equipment. Specific measurements are given for platforms, guardrails, and protective barriers as well as access methods, such as ramps, stairways, ladders, and climbers, based on the age of the child using the playground.
The major types of playground equipment and recommended measurements for them include balance beams, climbing and upper body equipment, log rolls, merry-go-rounds, seesaws, slides, spring rockers, swings, and composite structures. Fall height and use zones measurements are given for each.
The handbook concludes with Appendix B, which gives testing methods for determining safety issues of playground equipment with step by step procedures to follow.1
1. Public Playground Safety Handbook. Bethesda, MD: U.S. Consumer Product Safety Commission. 2010.