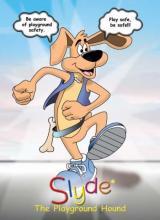 Slyde the Playground Hound is a character created by Curtis Stoddard to teach playground safety awareness to children ages 2-12 years of age. As a playground contractor, Curtis observed that, "For all the strides the playground industry had made for manufacturing and installing playgrounds that are safe, there was still a lack of understanding about the inherent dangers of playgrounds by the users, children."1
Slyde the Playground Hound began as a partnership between Curtis Stoddard and Darrell Harris of Harris Publishing, who is the publisher of Playground Magazine, a quarterly periodical of the playground industry. Today Slyde's business name is Playground Hound, LLC headquartered in Ashton, Idaho, and is owned by Nicole Stoddard.
For the responsible adults associated with playgrounds and children, Playground Hound, LLC offers the elementary school age classroom kit, a quarterly playground safety awareness newsletter, safety information, Slyde event announcements, and numerous safety articles. Additionally, Slyde as a seven foot high mascot can make a personal appearance through the I SPY SLYDE™ Costume Rental Program.
The Slyde classroom curriculum teaches children to be aware of existing dangers that can be life threatening, such as entanglements, falls, and entrapments. Lessons in the curriculum are aligned to state standards for health, language arts, and math from Pre-K to 2nd grade.
As aids to teaching, the classroom kit includes Slyde stickers and patches, coloring books, a board game, puzzle, a story book and a life-size poster of Slyde the Playground Hound reminding children on their way to the playground to "Play Smart, Play Safe."™
1. "School Safety in the Spotlight." Idaho Press, 31 Jan. 2003.