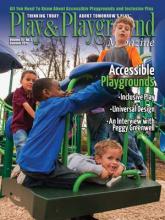 Play and Playground Magazine is an online publication dedicated to the needs and interests of those involved with children's play and the playground industry. Published quarterly by Playground Professionals LLC, the articles contained in the magazine offer a vast array of information regarding topics such as types of children's play, playground equipment and surfacing innovations, playground design, playground safety issues, and playground construction considerations.
The need of an industry magazine was the brainchild of Curtis Stoddard, a long-time playground contractor. He had helped form the National Playground Contractors Association Inc. (NPCAI) in 1997 with the purpose of promoting the needs of playground contractors and supplying them with the latest information concerning playground safety rules and building specifications. As Chairman of the Board of Trustees, Curtis directed the publication of The Play Book, a quarterly newsletter sent to the members to provide them with the latest news in the industry as well as helpful articles addressing the interests of the playground contractor.1
In the next three years as The Play Book took on more and more attributes associated with a magazine, Curtis saw the need for a magazine that had a broader reach to all those involved in the playground industry. He instigated talks between the NPCAI and Harris Publishing, Inc. with the idea. Harris Publishing had been in the magazine business for 30 years, and recognizing the need for a publication dedicated to the playground industry, the first issue of Today's Playground was published by Harris Publishing in March of 2001.2
Today's Playground was first published with six issues a year and contained articles written by industry experts with a wide range of topics including accessibility, water play, climbing, sports and fitness, playground surfacing, playground construction, new build projects, and playground safety. Curtis Stoddard wrote Curtis' Corner for nine years, and Monty Christiansen also wrote a monthly column for many years. Ken Kutska was a frequent contributor, who kept the readers up to date with the latest ASTM International (ASTM) standards on playground safety. The magazine issues also showcased playground equipment companies and their latest products in each issue, including annual Buyers' Guides and Resource Guides published in later years.
Industry associations concerned with playground safety contributed their latest news. These included NPCAI, the National Program for Playground Safety (NPPS), National Playground Safety Institute (NPSI), and International Play Equipment Manufacturers Association (IPEMA). The National Recreation and Park Association (NRPA) also published their upcoming Certified Playground Safety Inspector (CPSI) courses in each issue.
The December 2007 issue of the magazine introduced a new name, Playground Magazine. The focus broadened to even more areas of children's play, and included articles from renowned play champion Dr. Joe L. Frost about the many facets of play and the importance of play in children's lives.3
In 2013, Harris Publishing sold Playground Magazine to Playground Professionals LLC, a playground resource company owned by Curtis Stoddard. The magazine was a good fit for Playground Professionals, who already published an online encyclopedia called Play and Playground Encyclopedia, along with Play and Playground News Center and two directories listing playground manufacturers and local playground professionals, such as sales representatives, contractors, consultants, inspectors, and landscape architects.
Though initially available in print, the Winter 2013 issue announced that the magazine was now made available online to be read digitally on the Playground Professionals website. Archived issues are stored there as well to be accessed on the website at the reader's convenience.4
Desiring to broaden the scope of the magazine beyond the focus of playgrounds to include topics, such as nature play, adventure play, and neighborhood play, the name of the magazine was once again changed to Play and Playground Magazine in the Spring 2015 issue with the slogan, Thinking Today About Tomorrow's Play.5
In October 2015 Playground Professionals was sold to two of its employees, who continue to publish Play and Playground Magazine.
1. Bennett, Greg. "Safer Knowledge. NPCA Strives to Spread the Word on Safety." Today's Playground. November 2001. p. 34.
2. Harris, Mike. "Today's Playground Fulfills a Vital Role." Today's Playground. March 2001. p. 6-7.
3. Stockwell, Shannon Amy. Playground Magazine. December 2007. p. 6.
4. Watts, Rita. "What's Your Play Story?" Playground Magazine. Winter 2013. p. 6.
5. Stoddard, Curtis. "Did You Notice Our New Magazine Name?" Play and Playground Magazine. Spring 2015. p. 6.