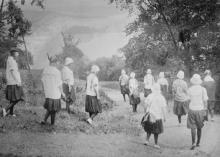 Camp Fire USA is a national youth development organization that serves boys and girls, with an emphasis on school-aged children. They include all children - regardless of race, gender, economic status, sexual orientation, or disability - in their mission to build "caring, confident youth, and future leaders."1
During the playground, recreation, physical education, and hygiene movements of the late 1880s, there was a growing interest in providing opportunities for girls and support for mothers and families. In 1898, Dr. Luther Gulick and his wife Charlotte established the Springfield, Massachusetts Mother's Club2 and Dr. Gulick also organized a Girls' Branch of the Public School Athletic League in 1905.3
With this background and interest, when Dr. Gulick assisted in forming the Boy Scouts of America in 1910, he and Charlotte extended a similar opportunity to young girls through the creation of Camp Fire Girls that same year. They began by accepting girl campers aged twelve years and older at Camp Wohelo on Sebago Lake in Maine.4 From there the program developed until they were officially organized on March 17, 1912, in Washington, D.C. The following year they expanded the program to include younger girls, ages six through twelve, who was called Blue Birds.5
Dr. Gulick chose the name "Camp Fire" because of the significance of the hearth as the center of the home and therefore of the community. Their purpose was to support the "spiritual ideals of the home under the new conditions of a social community," to "foster intimate relations between mothers and daughters by giving status and social recognition to the work of the Mother," to show that the daily activities in the home "are the chief means of beauty, romance, and adventure," and to assist in forming habits "for health and vigor, the out-of-door habit, and the out-of-door spirit."6
During the first five years, Dr. Gulick served as President and Charlotte was editor of their magazine, Wohelo. "Wohelo" is a composite word meaning work, health, and love and as such embodied the focus of Camp Fire Girls.7 Additionally, Charlotte headed the department of design, which established their costume, banners, and beads. In the fall of 1913, the Gulicks instituted a system of fees for the Camp Fire units such that the organization became self-supporting. By the beginning of 1914, there were 60,000 Camp Fire Girls in America, and by 1917 there were also Camp Fires in Canada, Japan, Siam (present-day Thailand), the West Indies, Panama, and Scotland.8
Dr. Gulick's social leadership had evolved from physical education in organized groups, to physical education in the schools, to providing playgrounds for physical activities, to providing recreational activities for all ages. By 1913, he was seeing that "we are organizing people rather than activities. Hence, it is hopelessly inadequate merely to establish playgrounds, parks, skating rinks, and dance halls. We must create social groupings that will carry the new social spirit, and we must preserve social groups intact."9 Hence his involvement with the Boy Scouts, the creation of the Camp Fire Girls, and his support of the family and home.
Originally the Camp Fire Girls had three levels of achievement: the Wood Gatherer, the Fire Maker, and the Torch Bearer. By completing the home and outdoor tasks, such as marketing one week on two dollars per person; trimming a hat; swimming one hundred yards; taking a dozen photographs, developing, and printing them; or tramping forty miles in any ten days, the girls advanced from one level to the next. Also, before becoming a Torch Bearer, the young girl would need to train at least three girls in some of the beginning skills.
During World War I in 1918, Dr. Gulick took a leave of absence from the Camp Fire Girls to lead the YMCA's survey of the recreational needs and hygiene of American soldiers in Europe. After traveling to France and overextending his energies in organizing recreational workers on the home front, Dr. Gulick died on August 13, 1918, at his camp on Lake Sebago.10
The first local Camp Fire Council was formed in 1918 in Kansas City, Missouri. With headquarters in New York City, the Camp Fire Girls continued to grow and evolve. During their 50th anniversary in 1960, they planted 2 million trees, built bird houses, and focused on conservation activities. Throughout the 1960s they expanded their focus to new skills and interests as well as new areas: the Metropolitan Critical Areas Project brought the Camp Fires to the inner cities.
In 1962, the Wohelo Medallion was initiated as Camp Fire's highest achievement award, analogous to the Eagle Scout award of the Boy Scouts. Those honored have completed a multi-year project that involved leadership, teaching, service, and advocacy.
Inclusion has been a major emphasis of the Camp Fire Girls. Accordingly, in 1975, they voted to include boys in all aspects of the program, renaming themselves the Camp Fire Boys and Girls.11 Programs were revised and renamed to appeal to all children. Their program now encompasses four core areas: Caring, Camping, Contributing, and Connecting.
Camp Fire Cares is a child care resource offering indoor and outdoor small group activities for children of all ages year round. Camp Fire Camps are day and overnight camps, travel programs, adventure challenges, and environmental education classes. They use outdoor activities to "stimulate their curiosity and desire to learn."12
Camp Fire Contributes engages youth in-service programs to address social issues and build skills. One of these programs, Teens in Action, which began in 1988, was expanded in 1999 and was codified in 2003 with the adoption of a national curriculum. The following year, the Wohelo Award's scope of participants was enlarged to include the high school aged Teens in Action members.
Camp Fire Connects are the youth, teen and family clubs which meet regularly and participate in recreational and educational projects. This includes the Community Family Club program launched in 2000 and the Little Stars pre-school program begun in 2005.
Now known as Camp Fire USA, they have been headquartered in Kansas City, Missouri, since 1977. By involving all children and their families, they have continued to fulfill Dr. Gulick's vision of creating and preserving social groups. This is reflected in their mission and theme: "Today's kids. Tomorrow's leaders."13
1. "Mission/Core Values." Camp Fire USA. < http://www.campfireusa.org/Mission_and_Core_Values.aspx > 17 Feb. 2012.
2. Berg, Ellen L. "Gulick, Luther (1865-1918)." Encyclopedia of Children and Childhood in History and Society. < http://www.faqs.org/childhood/Gr-Im/Gulick-Luther-1865-1918.html > 17 Feb. 2012.
3. Winter, Thomas. "luther halsey gulick." infed. < http://www.infed.org/thinkers/gulick.htm > 19 Jan. 2012.
4. Frost, Joe L. A History of Children's Play and Play Environments. New York, NY: Routledge, 2010. p. 77.
5. "History." Camp Fire USA. < http://www.campfireusa.org/History.aspx > 17 Feb. 2012.
6. Curtis, Henry S. The Play Movement and Its Significance. New York City, NY: The MacMillan Company, 1917. p. 272.
7. Op.cit., Frost. p. 77.
8. Op.cit., Curtis. p. 271.
9. Op.cit., Curtis. p. 273.
10. Op.cit., Winter. p. 2.
11. "Frequently Asked Questions." Camp Fire USA. < http://www.campfireusa.org/FAQs.aspx > 17 Feb. 2012.
12. "Camp Fire Camps." Camp Fire USA. < http://www.campfireusa.org/Camp_Fires_Camps.aspx > 17 Feb. 2012.
13. Op.cit., "History."