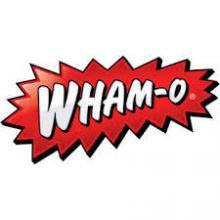 With over 60 years of producing consumer products designed for fun, play, and sport, Wham-O markets many recognizable brands of toys that continue to be enjoyed by children and adults alike. Many of their toys encourage physical activity, and they have become known as classic, well made toys.
Richard Knerr and Arthur "Spud" Melin founded Wham-O in 1948 while attending the University of Southern California. As falconers, they would use slingshots to fling bits of meat up to their falcons. They chose the slingshot to be their first product and named their company after the sound made when the slingshots were used. With advertising in Field & Stream magazine, they mailed slingshots, blowguns, and tomahawks to customers from their garage office.1
Meanwhile, Walter "Fred" Morrison and Warren Franscioni were developing a flying disc which was called a Whirlo-Way. By 1948 it was renamed the Flyin' Saucer due to the country's interest in UFOs. After Fred and Warren's partnership drifted apart, Fred further refined the design and named it the Pluto Platter.2 When Rich and Spud first saw what would become the Frisbee, they bought the rights in 1957 and marketed the Pluto Platter through college students, since the regular stores refused to sell it.3 After selling a million discs that first year, in 1958 they refined the design and renamed it the Frisbee.
That same year Wham-O introduced another classic toy: the Hula Hoop. After hearing that Australian children were using bamboo hoops in their exercise classes, Rich and Spud began manufacturing similar hoops out of Marlex, a lightweight, durable plastic recently invented by Phillips Petroleum.4 They introduced it at local playgrounds, demonstrating the "hula" like movements necessary to set the ring into action. Within four months, they had sold more than 20 million hoops and the company was struggling to keep the stores supplied. Eventually more than 100 million hoops were sold throughout the world.5
As the fad of the Hula Hoop was dying down, the popularity of the Frisbee was steadily growing with the added attraction of the Frisbee sports "Guts," "Ultimate," and "Frisbee Golf." Each of these sports had teams and official international competitions. Frisbee throwing competitions were also increasingly popular, such that by 1974 the World Frisbee Disc Championship was held in the Rose Bowl in Pasadena, California. These competitions were sponsored by the International Frisbee Association, which was a division of Wham-O.6 With new designs and models begin offered, Wham-O bought out many of these designs to hold 90 percent of the flying disc market.7
The Super Ball joined Wham-O's lineup of hit toys in 1965. Early in the 1960s Norman Stingley, a chemical engineer, compressed a synthetic rubber material under intense pressure to create a resilient ball that would rebound to unprecedented heights – bouncing about three times higher than a tennis ball.8 However, initially it fell apart quickly upon superball impact.
When Norman's employer, Bettis Rubber Company, chose not to buy his invention, Wham-O joined with Norman to refine the composition of the Super Ball. They eventually manufactured the Super Ball from polybutadiene with smaller amounts of sulfur which made a more durable ball.9 During the 1960s, Wham-O sold 20 million Super Balls until competitors crowded the market and Wham-O phased out their product.10
While they were refining the Super Ball in 1961, Wham-O introduced the Slip 'N Slide, a long sheet of plastic that sprayed hose water across the surface to allow children to "slip and slide" down the sheet's length. Other toys introduced in the 1960s included the Air Blaster which could send a "ball" of air 20 feet, the Limbo part kit which taught the limbo dance, the do-it-yourself bomb shelter which included plans and parts, and the Instant Fish which were chunks of mud that with water were suppose to spawn fish.11
Wham-O specialized in simple, outdoors-oriented products without age boundaries. They kept expenses down by keeping their products list small and contracting out the manufacturing, using their San Gabriel, California facility mostly for labeling and packaging. They also chose not to follow the trends into licensed toys or electronic toys like many toy manufacturers.
In 1982, Spud persuaded Rich to sell their controlling interest in Wham-O. After nearly selling to Hasbro for $16.8 million, they eventually sold to Kransco for $12 million. Kransco was a private San Franciscan company that manufactured toys and sporting goods.12
Two years later Kransco acquired the U.S. and Canadian rights to Hacky Sack, a foot juggling bag invented by John Stalberger, Jr. and Mike Marshall.13 This new sport was popular among college students and had been spreading through word of mouth. The Wham-O label, under Kransco, began selling Hacky Sacks in major chain stores, established official rules, and encouraged Hacky Sack competitions and events.14
The rest of the 1980s brought the Bubble Thing, a bubble wand that made gigantic bubbles, and the Roller Racer Sit Skate.15 Their steady sales of the Frisbees began to decline with new disc designs by other companies. For the first time, in 1991, the World Club Ultimate Championship used a non-Wham-O disc for the competition. At that time Wham-O had dropped to about 70 percent of the flying disc market.16
Kransco sold Wham-O to Mattel, Inc. in 1994. Three years later a group of investors bought Wham-O and Mattel's sports division to create the private company of Wham-O, Inc. Besides the toy lines of the Frisbee, Hula Hoop, and the Hacky Sack, they also had Mattel's bodyboard lines, Churchill swimfins, and Aviva water toys. Michael Cookson, the founder of Aviva, became Wham-O's president.17 One of their first acquisitions was a ball company in order to begin manufacturing the Super Ball again.
After 50 years of manufacturing and selling largely spring and summer outdoor products, Wham-O began to expand into the winter sports with a line of sleds, snow saucers, and Snowboogies, which were foam boards built like water bodyboards. In 2002, they acquired the Sledz brand of sleds and the Pro Body Boards from Earth and Ocean Sports. The next year they acquired Riva Sports, Inc., which manufactured snow sleds, saucers, snow boards, goggles, and snow gear. Also in 2003, they acquired Rocky Mountain, Inc. who manufactured inflatable tubes for both snow and water play.
Earlier, in 1998, Wham-O acquired Yes! Entertainment's girls' toy line, which included the Mrs. Fields Baking Factory and the Baskin-Robbins Ice Cream Maker. In the early 2000s, they also re-released their classic toys and about 30 new Frisbee designs.
In 2006, Wham-O was purchased by Cornerstone and is headquartered in Emeryville, California.18
1. "Wham-O, Inc." Funding Universe. < http://www.fundinguniverse.com/company-histories/WhamO-Inc-Company-History.html > 2 Aug. 2011.
2. McMahon, Jeff. "Where the Frisbee First Flew." The Ultimate Handbook. < http://www.ultimatehandbook.com/Webpages/History/histdoc.html > 28 July 2011.
3. Op.cit., "Wham-O, Inc."
4. "Inventor of the Week: Richard Knerr & "Spud" Melin." Lemelson-MIT. < http://web.mit.edu/invent/iow/hulahoop.html > 2 Aug. 2011.
5. Op.cit., "Wham-O, Inc."
6. "History of WFDF and Flying Discs." WFDF: World Flying Disc Federation. < http://www.wfdf.org/index.php?page=history/wfdf.htm > 14 Aug. 2011.
7. Op.cit., "Wham-O, Inc."
8. "Wham-O Super Ball – History." American Fads. < http://www.superballs.com/wham-o_superball_history.htm > 2 Aug. 2011.
9. Ibid.
10. Op.cit., "Wham-O, Inc."
11. "Wham-O's History." WHAM-O. < http://www.wham-o.com/history.html > 2 Aug. 2011.
12. Op.cit., "Wham-O, Inc."
13. Bellis, Mary. "Hacky Sack." About.com – Inventors. < http://inventors.about.com/library/inventors/blhackysack.htm > 14 Aug. 2011.
14. Op.cit., "Wham-O, Inc."
15. Op.cit., "Wham-O's History."
16. Op.cit., "Wham-O, Inc."
17. Op.cit., "Wham-O, Inc."
18. Op.cit., "Wham-O's History."