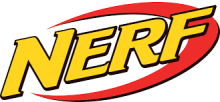 Advertised as the "world's first official indoor ball," the NERF ball has the distinction of being a safe option for throwing a ball indoors. Their advertising line was "Throw it indoors; you can't damage lamps or break windows. You can't hurt babies or old people." The NERF brand has expanded to include sports equipment, plastic guns that use foam darts and balls, and water guns that appeal to children and adults alike allowing multigenerational fun that encourages active play.1
The NERF ball was created by Reyn Guyer, who had already found success with his popular game of Twister that was manufactured and sold by Milton Bradley. In 1968 he and his creative team were working on a game they had called Caveman that included fake rocks cut from mattress foam. The game concept failed as a viable idea, but as they had thrown the fake rocks at each other while testing the game, they realized that the rocks could be formed into safe, soft balls that could be thrown indoors. Creating indoor sports games they named Muffball, Guyer proposed their new games to Milton Bradley, which declined to buy their concept. Guyer then took their concept to the staff at Parker Brothers, who readily welcomed the idea of the ball, but not the accompanying sports games. In 1969 Parker Brothers manufactured and marketed the newly re-named NERF ball and made it in four colors: yellow, orange, red, and blue. The NERF balls were a huge success selling more than 4.5 million balls in the first year alone.2
The NERF ball is made from a polyester resin that reacts with another compound in the presence of CO2, which results in a light polyurethane material.3 Many of the NERF products that were subsequently developed are poured into a mold allowing the carbon dioxide to create the material's signature air pockets.4
With the success of the NERF ball, Parker Brothers began its expansion of the NERF brand with an Indoor Flying Disk in 1970, which was made of the same lightweight material and measured 9 inches wide. The Super NERF Ball was released that same year with the ball size increased to 7 inches. One of their most popular early creations was introduced in 1972 as a backboard with a hoop for indoor free throws called NERFoop, which found its home in bedrooms, office cubicles, and dorm rooms across the country.5
For three years Parker Brothers had attempted to develop a foam football to add to the NERF brand without success. The NERF Football that was released in 1972 was actually created by famed Minnesota Vikings kicker Fred Cox and John Mattox. Seeking to create a backyard version of a goal post for children to use, they realized that a lighter ball than a regulation football should be used to avoid injury to children's legs. They succeeded in developing a full-sized football prototype of a foam ball using an injection-molding process to make a ball that was thick-skinned and denser than other existing NERF products. They soon decided to resize the football by about 25% to make the ball easier for children to grip and handle. The ball could be thrown or kicked like a real football. When the inventors presented their foam football and goal posts to Parker Brothers, the company once again was only interested in the ball.6
In 1973 the company diversified into foam vehicles. The NERF-Mobile cars and trucks were fast, and since they didn't scratch the furniture, they were popular with parents. 1976 saw the introduction of the NERF Air Launcher that fired a NERF Rocket into the air as well as the NERF Classic Fighter planes and NERF Glider. Through the 1980s a wide range of products were introduced including NERF Ping Pong, NERF Hot Shot Dragsters, NERF Boomerang, NERF Unidentified Floppy Object, and NERF Table Hockey among others.7
The first NERF gun, or "blaster," that led to what would soon become the core product of the NERF brand was the Blast-a-Ball that was a 2.5 foot hollow plastic tube with a handle that used a basic air pump action to shoot 1.75 inch yellow foam balls. Developed in 1989, it shot one ball at a time to distances up to 40 feet. The following year it was replaced by the Blast-o-Matic, which offered increased distance and more rapid reloading time.
The NERF product line came under new management when Hasbro bought Tonka in 1991, which had previously purchased Parker Brothers in 1987. Hasbro quickly expanded the NERF product line with crossbows, slingshots, and the first ever missile blaster in 1992. The Sharp Shooter was the first of a new line of products designed to integrate the newly manufactured NERF Missiles and NERF Darts that were 5-inch long foam tubes with fins that could be propelled at greater speeds and distance.8
The Master Blaster had two barrels, which could each handle four balls at a time and reach 37 feet. The Missilestorm was a compact, rapid-fire blaster that had a firing range of 43 feet. By 1993 the Arrowstorm was launched that had a turret the held six arrows and automatically rotated after each fire. The Arrowstorm required two hands to hold it and was the first of many larger blasters. Each year saw new blasters introduced in varying sizes and design.9 In 2002, Hasbro acquired Larami Toys and merged their SuperSoaker line of water guns with their NERF line.10
Gun play with soft darts that were seemingly indestructible was an instant success. With the increased demand for blasters that could offer more distance and more ammo capacity, Hasbro was challenged to develop new blasters to the line. In 2010 Brian Jablonski, a product design manager for NERF, was tasked to design blasters that could shoot darts that would travel 75 feet. This involved a combination of a new dart and different firing mechanisms. The new dart had a hollow stem and was made of soft blue foam and a rubbery orange tip concealing a mushroom-shaped thermoplastic squib of harder material. Different blasters use differing firing mechanisms. Some are based on air pressure and a spring-powered piston, while some have a pair of battery-powered spinning wheels that propel the dart down the barrel at a speed of 50 miles per hour. To allow for an increased dart capacity, Jablonski and his team of designers and engineers designed a carousel that allowed the user to rapidly switch between clips, which could then load as many as 144 darts at a time.11
As some of the blasters are designed to look more realistic than the earlier versions, the NERF guns feature colored barrels and triggers to meet a requirement of U.S. laws and NERF's self-imposed safety regulations.12
The appeal of the NERF products has continued over the decades with a cult-like following among some adults who grew up playing with the toy guns. By 2015, the NERF toy line was selling about $400 million a year, with half of the revenue generated outside of the United States.13
1. Brownlee, John. "Behind The Scenes At Nerf HQ And The Making Of The Slingfire Zombie Blaster." Fast Company. Co.Design. < https://www.fastcodesign.com/3026487/behind-the-scences-at-nerf-hq-and-the-making-of-the-slingfire-zombie-blaster > 6 Sept. 2017.
2. Winner, Tara. "Nerf Ball." Play Stuff Blog. National Museum of Play. < http://www.museumofplay.org/blog/play-stuff/2017/06/nerf-ball/ > 6 Sept. 2017.
3. Glass, Jeremy. "15 Things You Didn't Know About NERF." Thrillist. < https://www.thrillist.com/gear/15-awesome-nerf-facts-nerf-trivia-facts-and-history > 6 Sept. 2017.
4. Fagone, Jason. "How NERF Became The World's Best Purveyor of Big Guns for Kids." Wired.com. < https://www.wired.com/2012/09/how-nerf-became-worlds-best-purveyor-of-big-guns-for-kids/ > 6 Sept. 2017
5. "The Evolution of Nerf: Before The Blaster Came The Ball." Big Kid At Heart. < https://bigkidatheart.com/history-of-nerf-guns/ > 6 Sept. 2017.
6. Zorn, Marc. "Who Invented the Nerf Football." Vision Launch. < http://visionlaunch.com/who-invented-the-nerf-football/ > 6 Sept. 2017.
7. Op. cit., "The Evolution of Nerf: Before The Blaster Came The Ball."
8. "The History of the Nerf Gun." Nerfz.com. < http://nerfz.com/history-nerf-gun/ > 6 Sept. 2017.
9. Op. cit., "The Evolution of Nerf: Before The Blaster Came The Ball."
10. "A Brief History of Nerf Super Soakers." NerfGuns.net. < http://nerfguns.net/articles/a-brief-history-of-nerf-super-soakers/#.WbBt07KGOUk > 6 Sept. 2017.
11. Op. cit., Fagone.
12. Op. cit., Brownlee, John.
13. Rodriguez, Ashley. "All of the reasons Nerf is back on top this holiday season." Quartz. < https://qz.com/565931/all-of-the-reasons-nerf-is-back-on-top-this-holiday-season/ > 6 Sept. 2017.