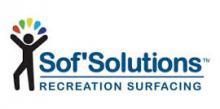 According the U.S. Consumer Product Safety Commission, 60-70% of all public playground equipment injuries are falls to the surface.1 Sof'Fall® was incorporated in 1992 in order to help alleviate this problem. They began to manufacture engineered, crushed, wood fiber, which would cushion the fall and be safer if children fell off of the playground equipment. This fiber is composed of softwoods and/or hardwoods, free of any bark or organic materials. Sof'Fall crushed wood is nontoxic and has been tested at the height of 13 feet in compliance with ASTM International Standard F1292 (Standard Specification for Impact Attenuation of Surfacing Materials Within the Use Zone of Playground Equipment). This fiber was tested as per ASTM PS-93 (Provisional Standard Specification for handicap accessibility on and around playground equipment), later changed to ASTM F1951. This crushed wood surfacing meets Americans with Disabilities ACT (ADA) accessibility criteria and provides a stable and slip resistant surface. The moisture content of Sof'Fall is very high, because it is made of virgin wood thereby enhancing its cushioning ability.
Sof'Fall was incorporated by Curtis Stoddard and Vern Garrett, because the ground covering currently used was either sand or pea gravel. Three years later Mr. Stoddard purchased the controlling stocks from Vern Garrett, and Nicole Stoddard became President of the company. The corporate office was moved to Ashton, Idaho.
In 1999, Elouise Bird purchased Sof'Fall Inc., and the company became a certified woman-owned business. She moved the headquarters to Draper, Utah, and continues in the company's operations and developments to the present time.
Under her leadership, in July 2005, Sof'Fall Inc. announced a new product, Sof'Bounce. This is an engineered rubber nugget to be used in surfacing playgrounds and is made from 100% recycled tires. It has fall protection up to 13 feet. Adding to the line of safety surfacing products, in November 2005, they introduced ADA accessible Sof'Splash. This is an interlocking mat placed over concrete that is slip resistant and anti-fungal. Because of these properties, it is used in spraygrounds, locker rooms, and splash pads.
Also in 1995, Sof'Fall Incorporated changed their name to Sof'Solutions Incorporated because of their growing line of products. Another new product added to the line in June of 2006 was the Sof'Shield Outdoor mat, and in August of that same year they introduced the Sof'Shield Indoor mat. These protective mats are to be installed over recycled foam and are composed of PVC material featuring overlapping and interlocking connections so that the mat is seamless. The outdoor mat is ADA accessible and has a fall protection of up to 12 feet. The indoor mat is also ADA accessible and has a fall protection of 6 feet. The indoor mat is also anti-fungal. These mats can be used either indoors or outdoors in recreational areas and are made of recyclable material. The mats come in 4, 6, 8, and 10 foot fall heights as tested according to ASTM F1292.
To prevent erosion and to retain grass on pathways, in 2007 Sof'Solutions created Sof'Path. This product is made of PVC and is used in recreational areas, walking and fitness trails, and golf courses. Sof'Shield Renew was introduced to bring durability to existing surfaces that have been poured in place. This product is the Sof'Shield Outdoor mat to be placed over existing surfaces and increases by 20% the fall height protection.
Sof'Solutions Incorporated announced in August 2009 that in an effort to reduce their carbon footprint and go "green," they will no longer manufacture their products with PVC, a polymer of vinyl chloride that when burned may release carcinogenic vinyl chloride molecules. They are now using Thermo Plastic Elastometer (TPE). TPE a polymer that can be extruded or molded and acts like thermo set rubber and is 100% recyclable.
The company is currently a member in good standing of the ASTM International (ASTM), the International Play Equipment Manufacturers Association (IPEMA), Women Presidents Organization, the California Parks and Recreation Society and the National Recreation and Park Association (NRPA). They are also affiliated with KaBOOM!, the non-profit organization that brings communities together to build playgrounds, the Canadian Standards Association (CSA), the United States Architectural and Transportation Barriers Compliance Board, and the National Program for Playground Safety (NPPS).
Although headquartered in Utah, currently Sof'Solutions Incorporated has representatives in all 50 of the United States as well as Canada, Mexico, U.S. Virgin Islands, and England.2