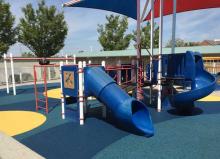 Poured in Place (PIP) is a unitary safety surfacing that is used for playgrounds, water parks, dog parks, sports and fitness facilities, and many diverse applications. Poured in Place is mixed and poured on-site in two layers using clean recycled rubber for the impact-absorbing cushion layer and recycled or virgin rubber manufactured specifically for the decorative wear layer.
It is a visually attractive, versatile, durable, and nonslip surfacing that minimizes the impact of falls to the surface and allows for ease of travel to meet Americans with Disabilities Act (ADA) guidelines.1 With many colors available, Poured in Place rubber offers the designer of the area endless options to incorporate school colors and mascots, outline games into the surface, and create themes with intricately-designed murals. Sound chips can also be embedded into the graphics on unitary surfaces to enhance the play value.2
The two poured layers use different materials and are poured to different thicknesses. The cushion layer uses styrene-butadiene rubber (SBR) that is a string-like shredded rubber made from recycled tires. The SBR is combined with a binder and installed with a thickness of 1.5" to 4" depending on the fall height requirements. The wear layer is comprised of small granules of rubber that are also combined with a binder and troweled smooth to a thickness of up to 1/2 inch. There are two types of rubber granules used for the wear layer: TPV (Thermoplasticvulcanizates) and EPDM (Ethylene Propylene Diene Monomer). Made from recycled tires, TPV has been treated with a combination of chemicals, paints, and dyes to provide its color. EPDM is made from virgin rubber. It is a more durable product and reduces wear better than TPV; however, the EPDM colors are more susceptible to fading as a result of UV exposure than TPV.
There are two types of urethane-based binders used to hold the Poured in Place together: aromatic and aliphatic. The aromatic binders, which are three times less expensive than the aliphatic binders, are more susceptible to UV rays. They tend to leave a yellowish tint on top of the surface, so darker colors are recommended to be used with aromatic binders. Aliphatic binders are clear and have a much higher resistance to UV rays and a higher bond strength. They are more stable in varying humidity and heat conditions during installation. Because the binders are sensitive to moisture and heat, PIP should never be installed when temperatures are below 50 degrees or above 90 degrees with the humidity never exceeding 85%.
Poured in Place should only be installed on top of a concrete slab that has cured for at least 28 days or on top of cured asphalt. Failing to follow the manufacturer's instructions carefully can result in having the product fail with visible seams and blemishes and poor bond strength. Under good weather conditions installed by an experienced professional, a Poured in Place surface could last 15 years when using a premium aliphatic binder or 10 years when using an aromatic binder. Shading the surface as well as proper maintenance and applying a cap coat of binder every two years extends the life of the surface.3
Poured in Place surfaces are relatively easy to maintain compared to other safety surfacing. A routine maintenance of sweeping, vacuuming, blowing off, or hosing the entire surface will remove any loose debris such as sand, dirt, leaves, tree sap, and bird droppings. A pressure washer may be used as well as all-purpose cleaners for heavily stained areas.4
The low-cost maintenance and the seamless finished product that allows for accessibility for mobility devices make Poured in Place a popular surfacing choice. However, the high installation costs and skilled installation required make PIP the most expensive option for safety surfacing.5
1. "Is Poured-in-Place Rubber Safety Surfacing Actually Safe?" Landscape Architecture. < http://www.landscapearchitecture.myindustrytracker.com/en/article/89830 > 28 Aug. 2017.
2. Spencer, Anne-Marie. "Surfacing – Play really can start from the ground up!" Playground Professionals. < https://www.playgroundprofessionals.com/news/playgrounds/surfacing-play-really-can-start-ground211 > 30 Aug. 2017.
3. "The Truth About Poured in Place Rubber Playground Surfacing." Playground Directory.net < http://www.playground-directory.net/articles/the-truth-about-poured-in-place-rubber-playground-surfacing-27.html > 28 Aug. 2017.
4. "No Fault Safety Surface (PIP) Outdoor Maintenance Guidelines." No Fault Sport Group. < http://nofault.com/Images/Interior/nfss%20outdoor%20maintenance%20guidelines%202015.pdf > 30 Aug. 2017.
5. Kennedy, Chad. "Playground Surfacing: Making Informed Choices from ADA to HIC Tests." Land Connections newsletter. Feb. 2016. Odell Engineering. < http://www.odellengineering.com/newsletters/2016-02/2016-02.html > 30 Aug. 2017.