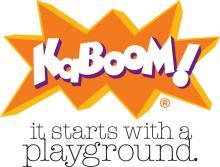 KaBOOM! is a national nonprofit organization founded in 1996 by Darell Hammond and Dawn Hutchison. Darell served as CEO for 20 years and led KaBOOM! with a collaboration of partners to build, open, or improve more than 17,000 playgrounds, engaged more than 1.5 million volunteers, and served more than 9 million children.
The name according to Darell refers to "an explosion of hope and opportunity and possibility and what can be."1 The vision of the organization was a great place to play within walking distance of every child. This was to be achieved through the partnering with communities and their leaders.
Darell's career path was unsettled between the corporate world and the nonprofit world. He studied politics and government at Ripon College, WI. His further studies took him to Northwestern University where he received a fellowship for Urban Studies. As he concentrated on "urban ills," this brought him to the conclusion that he wanted to focus on helping people and communities. He is based in Washington, D.C. The organization also has two additional locations: one in Chicago and one in San Mateo, California.
The organization brings businesses, individuals and communities together. With this team effort, KaBOOM! creates positive and sustainable changes in communities across the nation. They also guide in design elements that will make the playground unique to its community and provide a structured plan in order to utilize volunteer labor so that more funds can go to equipment.
Earlier KaBOOM! proponents included Vice-President Al Gore and Colin Powell, who helped KaBOOM! launch the Let Us Play Campaign in 1997 in order to build, help renovate, or provide technical assistance to 1,000 community playgrounds. KaBOOM! believes in the importance of the entire community being involved to guarantee success and that the process is as important as the final product.
In 2005, playgrounds on the Gulf Coast were hit very hard by Hurricanes Katrina and Rita. To address the critical need for fun and safe places where children could play, KaBOOM! launched Operation Playground in December of 2005. On Jan. 26, 2006, First Lady Laura Bush helped KaBOOM! build a playground at Hancock North Central Elementary School in Kiln, Mississippi. With the generous support of individuals, foundations, and large and small companies and corporations, KaBOOM! channeled almost ten million dollars and organized more than 31,000 volunteers to build 140+ playgrounds in the Gulf as of August 2011.
On June 22, 2009, California's First Lady, Maria Shriver and the First Lady, Michelle Obama teamed up with volunteers from the local community and KaBOOM! to build an intergenerational playground at Bret Harte Elementary School in San Francisco, California. "We can't underestimate the value of having safe and quality playgrounds in every single community," Michelle Obama said. "That's why this project that we're doing here today is so important…to the health of our children and the entire nation." The First Lady also joined KaBOOM! to celebrate its 15th birthday by building its 2,000th playground in Washington D.C. on June 15, 2011.
KaBOOM!, with the help of communities, corporations, and volunteers, has helped build more than 2,000 playgrounds. They are able to accomplish this because they facilitate building innovative, kid-inspired playspaces and create opportunities for the sharing of knowledge so that anyone can build a playground on their own. KaBOOM! believes it is the right of every child to have a safe and fun playspace, because it has been shown that play makes children happier, fitter, smarter, and creative and socially adept.
In 2005, KaBOOM! created an online service as a way to empower and reach more communities. Their experience and knowledge is laid out on their website in order to give thousands of people the tools needed to lead their own playground builds. KaBOOM! online tools guide people step-by-step through the process of how to go about using volunteers to build playgrounds.
KaBOOM! has also created the Map of Play, an online user-generated database of more than 80,000 places to play across North America that includes photos, ratings and comments. In July 2011, KaBOOM! released a mobile app called Playgrounds! that allows users to locate and upload places to play.
Playful City USA, an application-based recognition program, was created by KaBOOM! in 2007 in an effort to bring a unified agenda on play to local government infrastructures while leading citizens and their municipal leaders to advocate these same infrastructures. To become affiliated with Playful City USA, five commitments must be met. These parameters are: to create a local play commission, conduct an audit of the playgrounds in the community, design an action plan for play yearly, set goals for growth in spending on capital projects and maintaining play spaces, and lastly, the community must announce and celebrate an annual "Play Day."
In 2008, KaBOOM! partnered with architect David Rockwell to develop portable versions of Imagination Playground, which is based on loose parts that encourage child-directed, unstructured free play.
The KaBOOM! inspired playgrounds must meet or exceed the standards for safety for the U.S. Consumer Product Safety Commission (CPSC), the ASTM International (ASTM), and the Americans with Disabilities Act (ADA). Many of their staff are members of ASTM and have studied to be a Certified Playground Safety Inspector (CPSI) with the National Recreation and Park Association (NRPA).
An important part of planning a playground is in setting a timeline for completion. KaBOOM! initiated this in their monthly Suggested Playground Timeline. In the first month, they need to pull the community together and select a planning committee, then choose the site and discuss the pros and cons, and before beginning, assess the needs and who is served. Next, consider who will benefit from this project and select a professional playground designer. Check on all local, state, and federal codes regarding playgrounds. Plan a community designer day in order to share design ideas. Coordinate and designate roles to the volunteers, such as fundraising, logistics and media. Next is the Final Site Preparation and ironing out all the little details. Finally is the clean-up and maintenance of the playground. The motto for this to-do list is "Remember: Your work today will be child's play tomorrow!"2
One of the reasons that Darell believes the organization is successful is because of their ability to partner with corporate America. He believes, "They do it because it's the right thing to do and it's great PR and a great way to get their employees involved in the community in which either their headquarters are in or where their employees live."3
KaBOOM!, with the dedication from its founders, has received numerous awards. Starting in 1999, Darell was one of the winners of the "Making a Difference Award" from Diet Coke and was featured in People magazine. Then in 2000, he was named one of the "40 under 40" Award for his innovative leadership. Also in 2000, KaBOOM! was given the Peter F. Drucker Foundation special innovation award for KaBOOM! Playground Institute's annual training conference, and in 2001 they received the Chairman's Commendation from the U.S. Consumer Product Safety Commission for their role in playground safety. Then in 2002, they were named one of America's 100 best charities by Worth magazine, and in 2006, they received the Directors Award – Committee to Encourage Corporate Philanthropy Excellence Awards. Also, in 2006, they received the Golden Halo Award from Cause Marketing Forum. Darell and KaBOOM! received the Children's Mental Health Award – NARSAD in 2007. The Jefferson Award for Public Service was given to Darell in Washington, D.C. in 2008 for outstanding Public Service Benefiting the Disadvantaged. Darell also received the Social Entrepreneur of the Year award from New York University in 2008. In 2010 and 2011, KaBOOM! was recognized by The NonProfit Times as one of the 50 Best Nonprofits to work for. In 2010, Darell received the Lifetime Achievement Award from the President's Council on Fitness, Sports and Nutrition. In the spring of 2011, Darell released The New York Times Best Seller KaBOOM!: 4