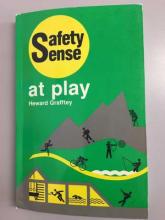 Safety Sense at Play was written by Heward Grafftey and published by Safety Sense Enterprises, Inc. in 1991. The book covers the safety issues involved with a wide range of sport recreational activities enjoyed by children and adults. The author "believes that sport and recreational injuries can be reduced through the use of adequate equipment controls, along with effective sport safety leadership, which would provide safe play areas, proper equipment and facilities, adequate supervision, and sport safety awareness information to participants, family members, and workers."1
The author suggests ways to reduce the frequency and severity of accidents in sport and recreation activities through attention to a number of issues:
By providing safety educational material about products and activities
By modifying rules by which products may be used or the activity is conducted
By banning the product or activity or substantially changing it
By modifying products to reduce the hazards associated with them
By limiting the use of the product or participation in the activity to times and places at which injuries are less likely to occur
By limiting product use or activity participation to those who are specially trained or skilled
By enforcing better control over players or participants
By changing the environment in which the product is used or the activity is pursued
By developing and using personal protective equipment.
The book is intended to be a reference book that explains why accidents occur and what steps can be taken to prevent them. For each play activity described, the risk factor involved in that activity is given along with suggestions to mitigate the risks.
The sport and recreational activities described are categorized under the following headings: Snow and Ice Sports, Court Sports, Indoor Recreation, Outdoor Recreation, Water Sports, Field Sports, Track and Field and Gymnastics, Atmospheric Sports, Fighting Sports, Arts and Crafts, Personal Protection, and Specialty Topics.
Snow and Ice Sports covers seventeen activities including alpine and cross-country skiing, hockey, ice skating, sledding, snowboarding, and speed skating. Considerations to minimize injuries while enjoying winter sports include wearing appropriate warm clothing and personal protective equipment, doing warm-up exercises prior to starting the activity, having the necessary skill to engage in the activity, knowing the rules, and using equipment in good working condition.
The activities under Court Sports include badminton, basketball, handball, racquetball, squash, tennis, and volleyball. These sports are similar in their demands for bursts of muscular activity, repetitive movements of arms and shoulders, rapid twists and changes of direction, and brief periods of rest. To minimize injuries, athletes should be in good physical condition and warm up prior to participating in these activities.
Indoor Recreation activities discussed include aerobics, bowling, dancing, darts, fencing, rifle marksmanship, roller skating, and table tennis. Some of these activities require warming up prior to playing to avoid injury. Protective equipment is also recommended for some activities.
Twenty activities are covered under Outdoor Recreation including archery, cycling, hiking, horseback riding, hunting, mountain climbing, skateboarding, and riding all-terrain vehicles, motorcycles, and recreational vehicles. While outdoor recreation deals with the use, enjoyment, and understanding of our natural environment, the dangers involved should be considered. Activities involving firearms and vehicles require caution when using them. Many outdoor activities recommend protective equipment.
The Water Sports category includes seventeen activities including canoeing, diving, kayaking, rowing, skin diving, surfing, swimming, and water skiing. Drowning is a leading risk involved in these sports. Water accidents can be significantly reduced if participants can swim well enough to get out of dangerous situations, can recognize and avoid hazardous practices, and have the knowledge and skill to help others in an emergency.
Field Sports include activities such as baseball, field hockey, football, lacrosse, rugby, soccer, and softball. Team sports can prove challenging to individual players who may play beyond their own fitness or fatigue level because of team pressure to continue playing. Amateur athletes who do not take fitness training seriously may increase their risk of injury. Protective gear, warm up exercises, and good conditioning is recommended for participants in field sports.
Track and field events, gymnastics, and trampoline are described in the Track and Field and Gymnastics category. These activities require facilities and equipment that meet national safety standards. Proper conditioning and skill training by coaches reduces the risk of injury.
Atmospheric Sports include gliders, hang gliding, hot air ballooning, kite flying, model airplanes and rockets, sky diving, and ultralight airplanes. The obvious risk factors involved in flying or sky diving can include serious injury or death. Equipment must be in good working condition and operators must be skilled in operating the equipment.
Fighting Sports include boxing, martial arts, weight lifting, and wrestling. These activities require good physical conditioning, protective equipment, and good training to reduce the risks of injury.
The Arts and Crafts section of the book outlines the risks involved in working with clay, glass blowing, lapidary arts, leather, metal work, photography, stained glass, woodworking, and other art activities. People who engage in these hobbies often do not recognize the risks involved in working with substances and chemicals that can be harmful. Inhalation of dusts, powders, toxic gases, and fumes can cause respiratory problems. Protective equipment and clothing and careful handling of substances will reduce injuries.
The Personal Protection section of the book suggests the proper use of protective gear for the body, eyes, feet, hands, and head.  It recommends buying equipment from reputable manufacturers, buying the safest equipment possible, making sure the equipment is assembled correctly, maintaining all equipment properly, and using equipment only for the purpose for which it was designed.
Specialty Topics cover the safety issues involved with topics such as alcohol, drugs, getting lost, hypothermia, play areas, and sun and heat. Activities involving those with disabilities, the elderly, pregnant women, children, and youth are considered separately.
The book concludes with a list of reference organizations such as ASTM International, Canada Safety Council, National Safety Council (USA), and the U.S. Consumer Product Safety Commission as well as numerous sports associations.
1. Grafftey, Heward. Safety Sense at Play. Ottawa, ON: Safety Sense Enterprises, Inc. 1991. p. xi.