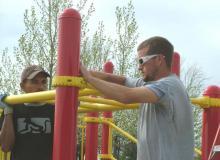 Playground installers are the individuals who assemble and build playgrounds. Installers work for contractors, the companies that contract with the owner to construct the playground. There are a wide variety of chores that must be performed for a successful playground build. A playground construction project may include excavation, concrete work, drainage systems, installation of the playground equipment, and resilient surfacing work.
Installers first prepare the playground area (jobsite) and secure it from entry by the public for safety reasons. They then unload the playground construction materials, organize them, and remove the packaging of the hundreds of parts and pieces. The installers determine the layout and elevation of the playground equipment and begin digging holes for the footings. The footings are the structural support system of the playground and usually require cement to hold the playground secure.
Once the footings are dug and elevations set, the installers begin assembly of the playground equipment. First to be installed are the uprights (posts) that hold up the playground components. The playground components (toys or activities) are then secured to the uprights. This process involves a variety of metal, plastic, and cable parts that are held together with hundreds of pieces of hardware. Installers use installation manuals supplied by the playground equipment manufacturer to determine the proper placement of the components and hardware. Installers are trained to know the current playground safety guidelines, such as safety zones, protrusions, entanglements, and entrapments.
After all the equipment is assembled, the installers will pour concrete in the footer holes, which provides the structural stability for the playground equipment. The playground is then ready for safety surfacing, which may be a loose fill or unitary surface. Sometimes specialty surfacing installers come in and install the surfacing. Once the concrete is cured and the resilient surfacing is installed, the playground is ready for public use.1