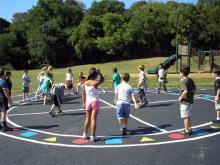 Peaceful Playgrounds started in 1995 with Dr. Melinda Bossenmeyer, Ed.D., the principal of E. Hale Curran Elementary School, who wanted more children involved with physical activity during recesses. Melinda designed a program using a variety of games in organized activities rather than the passive standing in line to use playground equipment or talking in small groups that she was seeing. With her new program she saw a reduction of conflicts, an increase in children participating, and a better use of the open playground areas, which reduced overcrowding and injuries.1
Using her 27 years as an educator including her 18 years as a physical education teacher, Melinda created the Peaceful Playgrounds Program as a low cost way for other schools to manage their playgrounds. By utilizing games, such as hopscotch, bean bag toss, four square, the newer alphabet toss, multi-use circle, and prisoner court, children that were actively involved during recess jumped from 7-15% to 90-95%. Additionally, over the three years of using the Peaceful Playgrounds Program, a study at Melinda's school, in Murrieta, California, found reported injuries decreased by 83%.2
In 1998, Melinda was manufacturing and distributing the first Peaceful Playgrounds Program to K-8 schools. In April, Family Circle featured Peaceful Playgrounds in its Editor's column, and the word and demand began to spread nationally.
Recognition of Peaceful Playgrounds reflected this widespread interest. In 1999, Peaceful Playgrounds was awarded the Sharing Success Award from New York State, and the E. Hale Curran Elementary School received the Golden Bell Award for school safety from the State of California. Melinda is also a Certified Playground Safety Inspector (CPSI) and has been on the board of the National Program for Playground Safety (NPPS), which has brought a strong focus on safety to Peaceful Playgrounds.
The following year Melinda refined the program into the Peaceful Playground Program Kit, which included grouped stencils, blueprints, activity guides, playground reports, playground injury reporting forms, and an overview of the program on the video. This kit also included a conflict resolution program of three parts:  Walk, Talk, or Rock. In this program the children are taught to walk away, talk it out, or resolve issues with the Rock-Paper-Scissors game.3
With continued growth Melinda moved Peaceful Playgrounds from Canyon Lake, California, to Los Angeles in 2003. She also started publishing their free monthly newsletter "Play Nice," which is a resource on managing playgrounds. With tips on handling bullying, childhood obesity, new activity ideas, and playground supervision, it also includes current research concerning playgrounds and physical movement, and aids in planning PE curriculums and securing grants. Currently there are 10,000 readers of "Play Nice" with an index and archive available online.4
Also in 2003, Peaceful Playgrounds received the Golden Bell Award for Excellence in Education School Safety from the California School Boards Association. The following year, after incorporating and becoming Peaceful Playgrounds, Inc., they extended their sphere of influence to include public parks and preschools. In doing so they were honored with the Friend of Recreation Award by the American Association for Leisure and Recreation.
Still expanding, Peaceful Playgrounds introduced their primary physical education program called Fundamental Movement Program in 2005. This program is a Physical Education Curriculum for preschools and grades K-2. Currently, this program includes six components:  perceptual motor development guide, motor skills task cards, staff development materials, parent newsletters, physical activity exercise cards, and an outside learning lab, which includes stencil kits. Also included is a playground equipment package with numerous items, such as 5" and 8" balls, bean bags, scoop ball sets, jump ropes, flying discs, hoops, markers, etc. The paint machine and paint needed to implement the program are also available.
That same year Peaceful Playgrounds, Inc. was awarded the 2005 Best in Class Award from Action for Healthy Kids Association.
Using the slogan "Get Fit, Don't Sit," Peaceful Playgrounds, Inc. launched the "We Count" Pedometer Walking Program Curriculum in 2006. Included in the kit are student pedometers, a teacher pedometer, progress charts, certificates, logs, newsletters, and motivational stickers. This program received the National Promising Practices Award from Promising Practices in After School (PPAS) a year later.
Again, in 2007, new products were unveiled: an Instructional Games DVD, new Recess Roll Out Stencils, the Recess Blog, online trainings, and Webinars. These new products brought further support for educators, supervisors, and parents. While Melinda remains the President and Founder of Peaceful Playgrounds, Inc., Andrea Bossenmeyer is the Sales and Marketing Director, who has used her degree in TV Film & New Media to produce the DVD's, online learning courses, video clips, Recess Doctor blog, and podcasts. The Peaceful Playgrounds website also offers pertinent articles, books, and news reports.5
In March of 2008, Peaceful Playgrounds, Inc. moved their offices to Lake Elsinore, California, where a larger facility has allowed them to expand into the home market with retail mats and games.
Over the last 15 years, Peaceful Playgrounds, Inc. has grown from 1 school to 8000 schools, which involve more than 4 million children. They offer three main programs:  the Recess Program Kit, the Physical Education Program called Fundamental Movement, and the We Count Walking Program. The Recess Program Kit includes an updated Peaceful Playgrounds Program Kit as well as the Companion Equipment Pack, Striping Machine and Paint, the Instructional Games DVD set, and a Webinar.
To combat the growing stress to academically achieve, Peaceful Playgrounds, Inc. has launched a Right to Recess Campaign and offers a kit for teachers and parents to educate the communities of the need for children to play and learn through play. Melinda has chaired the Council on Play for the American Alliance for Health, Physical Education, Recreation and Dance and draws on that expertise for Peaceful Playgrounds, Inc.'s campaign to retain recesses, which are properly organized and managed.
She has also been a member of the State Superintendent of Schools Jack O'Connell's California Task Force on Childhood Obesity, Diabetes, and Cardiovascular Disease. This has fueled their focus on eliminating childhood obesity through outdoor active play. Peaceful Playgrounds, Inc. is a Head Start Body Start vendor, and Dr. Bossenmeyer serves on the Head Start Body Start National Center for Physical Development and Outdoor Play Advisory Board.
Peaceful Playgrounds, Inc. started with and has maintained a simple mission and philosophy. As Melinda states it, "I had a simple goal that was to get more children involved in physical activity rather than waiting in line for their turn or just standing around talking. Children who burn off energy, not only reduce their risk for obesity, but they increase their focus on education when returning to class."6
1. "Company History." Peaceful Playgrounds < http://www.peacefulplaygrounds.com/media/history.htm > 30 June 2010.
2. Ibid.
3. Bennett, Greg. "The Lay of the Land, Peaceful Playgrounds Program Helps Organize School Yards." Today's Playground. Nov. 2001.
4. "Newsletter." Peaceful Playgrounds. < http://www.peacefulplaygrounds.com/newsletter.htm > 30 June 2010.
5. Ibid.
6. "Biographies." Peaceful Playgrounds. < http://www.peacefulplaygrounds.com/media/biographies.htm > 30 June 2010.