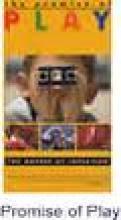 Public Broadcasting Service (PBS) is a non-profit public broadcasting television service, which was founded in 1970. The programming aired on PBS is produced and created by organizations and individuals and not by PBS. In the fall of 2000, The Institute for Play (IFP) created The Promise of Play, three one-hour documentaries to be aired on PBS as a miniseries. The IFP worked with InCA Productions of San Francisco, California. The executive producers were Dr. Stuart Brown and David Kennard. Helping with the production were Professor Brian Sutton-Smith, noted play researcher and theorist; renowned primatologist Jane Goodall; early childhood expert Alice Meckley; and the world-renowned Dr. Patch Adams.
The Promise of Play is broken into three episodes:
Episode One: The Mother of Invention - In this episode, the mystery of why humans need to play is unraveled through a series of stories. The importance of ape and chimpanzee play is shown at the Taronga Zoo in Sydney, Australia. The role of play for children in developing emotional, cognitive, and social skills is shown by fourth graders in San Francisco, California, and by inner city children in Newark, New Jersey. The next three stories cover the importance of play in the workplace. In the first story, a CEO tells why playful minds are necessary to the creative success of his company. In the second story, a Chicago real estate company sends their employees to comedy improv classes to help them develop their creativity and flexibility. And in the third, Silicon Valley executives are led through play exercises by a comedian.
Episode Two: A World of Your Own Play - This episode reveals that through a wide spectrum of play, people can enhance their personal pleasure and that there are many different types of play for everyone. The types of play explored in this episode are: sky diving, baseball memorabilia collector, watching a professional wrestling match, playing cards, partying on a cruise ship, and visiting the Festival of the Burning Man in Nevada.
Episode Three: The Heart of the Matter - Within this episode exploration of how play can give not only an individual inner confidence and strength but can also heal communities is shown through: a visit to Mardi Gras in New Orleans; a look at play deprived wolf pups in New Mexico and how they can be restored through play; play wrestling with special needs children in California; and an inner city school with a program that teaches children confidence, social skills, and self-esteem through play. The series concludes in El Salvador with Dr. Patch Adams demonstrating how play and laughter can have a positive effect on everyone.1
1. "The Promise of Play TV Series on PBS." Institute for Play. < http://www.instituteforplay.com/2promise_of_play.htm > 17 July 2004.