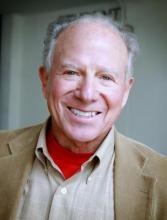 Dr. Stuart Brown grew up on the southwest side of Chicago, went to parochial high school, and received his BS from Wheaton College. He went on to medical school and took a rotating general internship and then settled on family practice. In order to strengthen his diagnostic skills, he went to the Mayo Clinic in Rochester Minnesota, for a fellowship in internal medicine. He later became the Assistant Dean of Baylor and took a residency in psychiatry.
He was asked by Governor Connelly in 1966 to be on the Fact Finding Task Force as a consulting psychiatrist for the Charles J. Whitman Texas Tower Case. This case involved Charles Whitman, who killed his wife and mother and then climbed the Texas Tower where he killed 17 more people and injured 41. Dr. Brown found that Charles Whitman's father was overbearing and had abused and deprived Charles of play throughout his childhood. He went on to discover the importance of play because of his study of young males that had committed murder. Through his continued research and interviews with 8,000 people about their play profile, he concluded that people with play in their lives were usually successful and people with play deprivation had dangerous long-term consequences.1
Upon leaving his clinical practice, he researched play in the animal kingdom with the support of the National Geographic Society and Jane Goodall. Through his observation and in collaboration with animal play experts from around the world, Dr. Brown realized that play was an evolved behavior in animals and not only necessary for survival but is "a developmentally important human process."2
After many years of his work and study with animal behaviorists, he published the cover story, Animals at Play, for the National Geographic magazine, December 1994. This is the story of play between a Canadian Eskimo dog and a polar bear on the shore of the Hudson Bay east of Churchill, Manitoba. Then in 1995, he produced Play, the Nature of the Game for Explorer television programming.
Play. How It Shapes the Brain, Opens the Imagination, and Invigorates the Soul was published in 2009. In this book Dr. Brown expounded on the significance of play in the lives of animals and humans and how free play develops the social and locomotive skills in children that are necessary for creative thinking later in life. He used his observations of animals in play as well as the latest advances in neuroscience, biology, social science, and psychology to explain the role of play in brain development and social integration.3
Dr. Brown reviewed the play-related organizations and saw that the research on play was expanding. However, he found it was disorganized, and most organizations and researchers were deficient in measuring factors that were clinically easy to observe. He founded the
National Institute for Play
, a 501c(3) non-profit organization in 2006.  
There is a diverse Board of Directors and a Council of Advisors that consists of scientists as well as play practitioners. Their commitment is to bring the benefits of play to the general public through research and projects to increase the clinical knowledge of play. And then, with this knowledge, translate it into programs and resources which deliver the power of play to the public. Dr. Brown, through the National Institute for Play, "envisions a…future where all existing scientific research related to human play…is integrated and the field of Human Play is a credentialed discipline in the scientific community.4