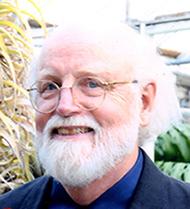 Bill Michaelis is a leading play advocate who has written, taught, and consulted extensively in the area of play and its applications to creativity, learning development, self-esteem, and healthy living for all age groups. His focus throughout his career has been "to bridge the gap between theory and practice, to inspire people, and to give them the information, skills, and insights to be good play advocates and practitioners."1
Dr. William J. Michaelis is Professor Emeritus at San Francisco State University. He was born and raised on the East Coast and completed his undergraduate studies in physical education and recreation at State University of New York, Cortland, in 1968. He moved to California after graduation to work in a variety of positions in education, youth development, and human services while completing his graduate work at the University of California Berkeley, receiving both his Masters in 1969 and a Ph.D. in Education and Anthropology emphasizing in Play and Human Development and Multicultural Education in 1980.
Dr. Michaelis has taught recreation courses for several decades at various universities, including California State Polytechnic University, Pomona, and San Francisco State University, where he was Chair of the Department of Recreation and Leisure Studies for four years and Graduate Coordinator from 1994 to 1997. For over 25 years he was also on the faculty of Marian Wright Edelman Institute for Children Youth and Families at San Francisco State University, where he taught a general education behavioral, social science course on Developmental Play Processes.
He was an early pioneer, lead trainer, and board member of the original New Games Foundation, which conducted community play events in the 1970s and 1980s. He served on the New Games Board of Directors, Advisory Board, and National Training Staff from 1975-1984, where he conducted training workshops and play events in multiple cities throughout North America.
He was a contributor to The New Games Book published in 1976 and More New Games (which he co-edited) in 1981 while on the Board of Directors of the New Games Foundation. He also co-authored The Leader's Handbook, Learning Leadership Skills by Facilitating Fun, Games, Play, and Positive Interaction with John M. O'Connell, published in 2013, which was the updated version of their original book, The Game and Play Leaders Handbook: Facilitating Fun and Positive Interaction, published in 2000. The book is geared toward training and facilitative leadership of all age groups and demonstrates how to effectively lead games play and team-building activities.
He has contributed numerous articles for a variety of national and international publications on topics such as adventure playgrounds, flow theory, childhood under siege, play leadership, youth development programs, cooperative play, positive discipline, playful teaching practices, and family leisure education. He has also authored Learning Through Noncompetitive Play Activities published in 1977 and a chapter entitled "Fantasy, Play, Creativity, and Mental Health" included in Recreation and Leisure Issues in an Era of Change, a book authored by Thomas Goodale and Peter Witt in 1985. In 2001, he co-authored the book Bewegte Spiele für die Gruppe with Alois Hechenberger and John O'Connell and in 2015 authored "The Impact of New Games: Then and Now" in Play and Playground Magazine. He has written and produced six play leadership DVDs, two of which were with Ezra Holland. He has also written a book with Ezra entitled Playful Teaching Practices: A Little Book of Leadership Resources, Techniques, and Activities.
From 1971 to 1995, Dr. Michaelis was a member of The Association for the Anthropological Study of Play, now called The Association for the Study of Play. He was also on the Board of Directors of the American Adventure Play Association from 1977 to 1981, an organization that promoted the development of adventure playgrounds in the United States.
Dr. Michaelis has been a member of International Play Association USA (IPA/USA), California School-Age Consortium (CALSAC), and the California Park and Recreation Society (CPRS) for many years and was honored with the CPRS State Merit Award in 1989. He has been involved with many city recreation departments creating programs and facilitating play events including the annual Fall Family Fun Fest in Pacifica, California since 1982, which has had 1,000+ people in attendance yearly.
In 1974, Dr. Michaelis founded Children-Together.com, who was joined by Ezra Holland of the Holland-Group.com 25 years later. Children-Together was an international play event and leadership training organization. They offered training and presentations to a wide range of organizations that serve children, youth, adults, and families. Topics included positive discipline, teambuilding, cooperative play, stress reduction, play leadership, humor in the workplace, playful teaching practices, advanced leadership, and communication essentials as well as several inspirational keynotes. Dr. Michaelis has presented over 2,000 keynote addresses, workshops, and events around the world and in over 30 states. His clients have included schools, youth development organizations, human services, recreation organizations, nonprofits, corporate and public childcare agencies, and the widest range of professional conferences including a keynote for 3,000 attendees at the National AfterSchool Association convention. His extensive event work included workshops and play events in several European cities including a 10,000-person family play festival in the Olympic Park in Munich, Germany in 1994 and an evening play celebration in Hamburg, Germany in 2014.
Dr. Michaelis has reduced his schedule to primarily being available in a consulting capacity. He continues on the playful path professionally and with his playful family, children, and grandchildren.
The Strong National Museum of Play in Rochester New York houses his entire professional library. This is the only collection-based museum in the world devoted solely to play. His contributions include hundreds of books, DVDs , old board games, teaching and workshop strategies, articles, PowerPoints, YouTube and other electronic resources, slides, quotes, cartoons, spinoff play organizations, manuals, and international materials. It also holds the most comprehensive history of the New Games movement, the New Games Foundation, and New Games in general. These are available to access for play scholars and practitioners.2