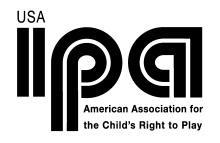 International Play Association USA is the national affiliate of International Play Association World, an interdisciplinary, international, non-governmental organization founded in Denmark in 1961. The membership of this organization is open to all persons or groups that endorse the United Nations' Declaration of the Rights of the Child (1959) which state: "The child shall have full opportunity for play and recreation which should be directed to the same purposes as education; society and the public authorities shall endeavor to promote the enjoyment of this right."1
Over forty nations became affiliates with the IPA, and the primary focus of the organization is to advocate and protect the child's right to play.2 It puts into practice projects at the local, regional, and international levels, and distributes and exchanges information about best practice in the field of play through conferences, study tours, the internet, and printed materials. IPA also hosts a World Congress every three years to promote the Child's Right to Play.
The USA affiliate of the International Play Association: Promoting the Child's Right to Play (IPA/USA) was founded in Philadelphia, Pennsylvania, in 1973. They have a ten member Board of Directors and work in close association with various international organizations. The membership includes day care workers, elementary school administrators, classroom teachers and parents, physical educators, early childhood specialists, playground designers and manufacturers, landscape architects, movement specialists, and leisure and recreation professionals.3
The IPA/USA hosts a national conference every three years and coordinates regional conferences, consultations, speakers, workshops, study tours, and also serves on committees for other international organizations and UN agencies. IPA/USA publishes a magazine, PlayRights, and produces audiovisual material and publications on all aspects of play.
The International Play Association has a declaration of a child's right to play which states:
Children are the foundation of the world's future.
Children have played at all times throughout history and in all cultures.
Play, along with the basic needs of nutrition, health, shelter, and education, is vital to develop the potential of all children.
Play is communication and expression, combining thought and action; it gives satisfaction and a feeling of achievement.
Play is instinctive, voluntary, and spontaneous.
Play helps children develop physically, mentally, emotionally, and socially.
Play is a means of learning to live, not a mere passing of time.4
The IPA/USA has developed proposals for action to government departments that have a measure of responsibility for children such as the Department(s) of:
Education – Play is a part of education.
Schools should provide opportunities for play.
Teachers should be taught about the importance of play.
Welfare – Play is an essential part of family and community life.
Provide safe play environments that protect children.
Ensure that play is an integral part of social care and development.
Leisure – Children need opportunities to play at leisure.
Provide all children, especially those with special needs, with access to a diversity of play environments, toys, and play materials.
Promote the use of fair play and cooperative games for children in all sports.
Make available natural settings, space, and programs with leaders, so that children may develop a sense of belonging, enjoyment, and self esteem through play.
Planning – A child's needs must have priority in the planning of settlements.
Reserve adequate and appropriate space for play and recreation through statutory provision.
Publicize and distribute existing knowledge about play facilities and programs to the planning professionals and the politicians.
Health – Play is essential for the physical and mental health of the child.
Create programs about the benefits of play from birth to professionals and parents.
Incorporate play as a basic part of all children's environments.
1. United Nations' Declaration of the Rights of the Child (1959), Article 7, Paragraph 3.
2. Article 31 of the Convention on the Rights of the Child 1989.
3. "An Historical Perspective Of The American Association For The Child's Right To Play." IPA USA.org. < http://www.ipausa.org/ipahistory.html > 8 Aug. 2010.
4. "The IPA Declaration Of A Child's Right To Play." IPA USA.org. < http://www.ipausa.org/ipadeclaration.html > 8 Aug. 2010.
5. Ibid.