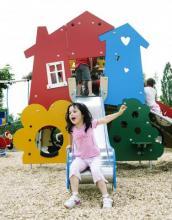 Tom Lindhart Wils thought he was creating colorful outdoor sculptures that would help the children find their correct street in a city where the buildings all looked the same. After noticing that the children enjoyed playing on the sculptures, Tom joined with Hans Mogen Frederiksen to form Multikunst Legepladser (Multiart Playgrounds) in 1970. They later changed the name to KOMPAN, which is derived from the Danish "kumpan" that means "companion."1
Two years later in 1972, Tom designed KOMPAN's first spring rider, the Hen, to enhance children's balance and language skills. They won the Jeppe Design Award that year, and in 1977 they won the Danish prize of Technology.
Starting in 1976, KOMPAN began to spread their play designs throughout Europe. Their expansion meant setting up Centres of Excellence and representatives throughout Europe and eventually North America, Asia/Pacific, and the Middle East.2
KOMPAN acquired BigToys in 1991, which fit well with their wood play designs. A decade later they were ready to expand into the metal and plastic formats with their innovative designs. The BigToys division was sold in 2004.
Meanwhile, in 1990, KOMPAN set up the KOMPAN Play Institute (KPI), a network of twelve child development specialists who guide the company's research and product innovation. KPI's findings are also shared worldwide through annual seminars, lectures, newsletters, and publications. For more on-hands research, KOMPAN opened the Four Seasons, a child development center, at their headquarters in Ringe, Denmark. Play is the main component of the center, with outdoor play involving ¾ of the children's time. KOMPAN's philosophy is to send the children home "dirty, tired, and happy."3 And while the children are playing, the research and design teams are observing and learning.
Another landmark year for KOMPAN was 1992 when they were chosen to assist with the formulating of the Americans with Disabilities Act (ADA). Besides being compliant with these guidelines, KOMPAN designs are also "inclusive" to encourage children of varying abilities to play together.
In 1998, KOMPAN introduced GALAXY play systems that was inspired by Alexander Calder's sculpture "Stabile". Designed for school aged children (ages 5-12 years), the GALAXY has mobiles to play on as well as spinning, climbing, training, and balancing components that create inventive and inclusive play possibilities without a deck format.
In 1999, GALAXY won Japan's Good Design Prize Award and the Danish Industrial Design (ID) prize. Two years later in 2001, it also won the Independent Living Award from the United Kingdom due to its inclusive design that involves ground-based components for children with disabilities. And in 2002, it won a Silver International Design Excellence Award (IDEA) from the Industrial Designers Society of America (IDSA).
Also in 1998, KOMPAN and LEGO, another Danish company, joined forces to create Playpoint, mobile play spaces for young children that involved LEGO's building blocks shapes and KOMPAN's unique designs.
By 2001, KOMPAN debuted their ELEMENTS line of play equipment. Designed for the 2-5 year old child, ELEMENTS includes play structures, solitaries, and mobile components that focus on PlayActive skills, such as imaginative play, sliding, climbing, training, socializing, and creating. Manufactured with galvanized steel core posts that are covered with black molded polyurethane rubber exterior, ELEMENTS incorporates their bright trademark colors of red, green, and blue components that are "colored through" rather than painted or coated.4
In Europe in 2003, KOMPAN launched FREEGAME Courts, an integrated court that could be used for soccer, volleyball, basketball, field hockey, tennis, badminton, or any open area sport.
For children ages 5-12 years old, KOMPAN introduced EDGE play spaces in 2005. EDGE has the unique 360 degree play design which encourages children to climb over all surfaces and in all directions, much like the mountain peaks that inspired the designers. Again they used their rubber covered steel core posts and "color through" elements, though with only one theme color for each playground. Additionally, they have nets made with Coroflex, a 31 mm spring steel core covered with braided nylon covered steel cables.
Since 2005, Nordic Capital has owned KOMPAN. To better provide playground deliveries around the world, they moved their distribution center to Brno, Czech Republic in 2005. As an international manufacturer, they require that all their worldwide suppliers abide by a strict code of ethics, a ban on child labor, a fair wage scale, and maintain high quality work conditions. The KOMPAN company was given the Top Investor Award from the Danish-Czech Business Forum in 2007.
KOMPAN added the MOMENTS Story Makers to their preschool playgrounds that same year. The MOMENTS play spaces include Toddler designs for children ages 0-2 years and the Story Makers, which are designed for children aged 2-5 years old. Story Makers play structures, mobiles, and solitaries feature bright colors and different themes.
Story Makers won the Janus de l'industrie award from the French Design Institute for its design that fosters imaginative play in 2007. The next year it won an honorable mention from the Red Dot Design committee for its successful design.
KOMPAN added two new play systems in 2008: the BLOQX mix of sculpture and geometric climbing structures and the ICON digital interactive play structures. The ICON is described as being a GALAXY play space with electronic gaming capacities, including the ability to keep track of high scores. These digital capacities also mean that owners can monitor patterns of play for future design plans.
The ICON received the GaLaBau Innovation Award during the 2008 exhibition in Nuremberg, Germany. It was also featured at the O Zone in the Richmond venue of the 2010 Olympics in Vancouver, British Columbia.
KOMPAN's FitActive products were expanded by the CORE and the X-ERCISE fitness lines in 2010. CORE products are for weight bearing exercises that will tone muscles while burning calories. X-ERCISE products aid in cardio and aerobic training. These products join the FREEGAME courts for promoting physical play.
That same year, KOMPAN acquired the Corocord products, such as their domes, arches, space nets, and Parkour play spaces. Featuring Corocord's unique cables, these web play spaces can be large like the Domes, smaller like the Arches, or more free form like the Space Nets and Parkour.
Over the last 30 years, KOMPAN has designed with the philosophy that "every human is unique and has a right to play. Play is about life. A better life." Or as Tom said in the beginning, "I want to be a round detail in a square world."5 This vision has shaped KOMPAN's innovation throughout the years.
1. "History." KOMPAN. < http://www.kompan.us/history > 17 Oct. 2010.
2. "Background." KOMPAN. < http:// corporate.kompan.com/Background > 17 Oct. 2010.
3. Op. cit., "History."
4. "Elements Products." KOMPAN. < http://viewer.zmags.com/publication/855480b9#/855480b9/90 > 17 Oct. 2010.
5. Op. cit., "History."