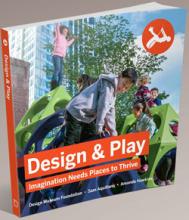 Design & Play: Imagination Needs Places to Thrive was written and edited by Sam Aquillano and Amanda Hawkins and published by Design Museum Press in 2017 as a publication to accompany the exhibition Extraordinary Playscapes, curated by Design Museum Foundation. Showing in Boston, Massachusetts, Portland, Oregon, San Francisco, California, and Chicago, Illinois, the traveling exhibition ran from June 2016 through December 2017.
The Design Museum Foundation became involved with a group of local residents of Boston who were seeking to solve the problem of a lack of access to a local playground for a particular neighborhood. With the goal of using design to solve the problem, the Foundation formed a group of designers and researchers to develop an innovative playscape. A playground resulted from the work of the community efforts, but the research exposed the lack of inspiring play environments and spurred them on to find examples of extraordinary playscapes that could inspire parents, communities, and designers to think differently about outdoor play.
This book features the research and content from the resulting traveling exhibition, including 40 case studies of outdoor play environments from around the world, a history of playgrounds, scientific research on the importance of play, and articles from play experts and designers.
"Creating Playful Cities: When Kids Play, We All Win" was written by Priya Madrecki, Senior Manager at KaBOOM! Besides building over 16,700 playgrounds in underserved communities, KaBOOM! has also challenged cities to create play in everyday spaces with their Play Everywhere Challenge.
"A Playscape for Everyone: The Story of Harper's Playground," written by G. Cody QJ Goldberg, Executive Director of Harper's Playground, describes the processes involved in making the inclusive playground accessible and welcoming to all.
"The Case for Adventure Play: Introducing a Bit of Risk Into Play Could Save Our Kids" was written by Katie Shook. Her article discusses the history of the adventure playground movement and the benefits of risky play.
"PlayCubesTM & the Creative Playground Movement" was written by Missy Benson of Playworld and Richard Dattner of Dattner Architects. The article describes the creation of PlayCubes, which began in the 1960s and are now installed around the world.
"Where Design Meets Play: A Research-Based Approach at Smale Riverfront Park" was written by Kate Tooke, Landscape Architect at Sasaki Associates. The design process is described with the four types of play incorporated into the natural playscape: functional play, constructive play, dramatic play, and games with rules.
Dr. Peter Gray of Boston College wrote the last article, "Play: The Most Powerful Vehicle for Learning." He describes play as self-chosen and self-directed, intrinsically motivated, guided by mental rules, and imaginative. He also supports the advantages of age-mixing for younger and for older participants.1
1. Aquillano, Sam and Amanda Hawkins. Design & Play: Imagination Needs Places to Thrive. Boston, MA: Design Museum Press. 2017.