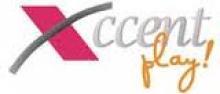 How Did xccent play begin?
Xccent Play was founded in the 1970s as Nickelson Plastics by David Nickelson. In 1978, David met Steve King from Landscape Structures, and they began using vinyl in outdoor applications. At that time most playground manufacturers were only using paint on their equipment. The use of vinyl in playground equipment completely changed the industry. Nickelson Plastics expanded their growing operations into Pennsylvania, Tennessee, and Wisconsin, servicing Tier 1, 2, and 3 commercial playground manufacturers as well as numerous home-based playgrounds. John Mathiesen bought the company from Nickelson in 2003 and changed the name to Xccent.
Introducing innovative playground equipment
In 2004, a division of Xccent, Xccent Play, was created to design and manufacture innovative playground equipment.1 Playmotion™ pieces are designed around the company philosophy that states, "motion should be what a playground is all about."2 Playmotion™ polymer systems include equipment, such as X-Wave, X-Quake, and X-Beam. The X-Wave playground structure was installed at Grove Elementary School in 2009. The Grove School Principal, Jim Goodenough said "This new equipment helps students improve their overall fitness during free play time, recess, and P.E."3
Xccent Play produces non-linear playgrounds that are unlike deck-based traditional systems. The Fusion System, an innovative structural design, has a 5-spoke system, with a footprint of 50'x62' and anywhere from 65 to 75 children, ages 5-12, can be playing on the equipment at the same time. The 3-spoke system has a 44'x52' footprint for smaller areas and on this system, as many as 55 children, ages 5-12, can play.
The Fusion system components are: Spinning Rock Poles, with square steel tubes and 42 polyurethane holds; Spinning Pogo Pods, with a spring-loaded steel shaft and handle; Sky Rider, a 10' track with sealed bearings: and Spring Pods, 3 non-skid pods with a sealed spring.
The TriaX system components include: the Glider, molded polyethylene tube built like a slide; Bounce Board Rider, a spring-loaded platform; Arch-Up Climber, coated steel with polymer rock holds; and Double Up Climber, steel tube steps and a 16mm cable net. TriaX also offers Spline Climber, Double Slide, Single Slide, Log Stepper, Clear and Solid Rock Walls, and many other innovative playground components.
They also have playground equipment geared to children from 2 to 5 years of age, which include the Teetering Tulip, 14" steel frame with recycled PVC seat; the Mulberry Bridge made of 1/2 inch HDPE and steel with molded holds; along with the Blossom Bench, the Periwinkle, and the Sweet Pea.
The environment is very important to the company, and they use lead-free PVC as well as reduced-phthalate in their playground equipment.4 The Xccent Company is a member in good standing in the ASTM International (ASTM), the International Play Equipment Manufacturers Association (IPEMA), and the National Recreation and Park Association (NRPA).
Where is Xccent located?
Xccent's main headquarters are in Wyoming, Minnesota, and they have a second facility located in Fort Payne, Alabama. Their business has three divisions: Xccent Play, Xccent Medical and Industrial, and Supplier to the Commercial Playground Manufacturers.
1. Mathiesen, John. Email to Playground Professionals. 15 July 2010.
2. Xccent Play. < http://www.xccentplay.com/index.html> 15 July 2010.
3. "Grove students enjoy new playground set-up." Milton-Freewater Unified School District. < www.miltfee.k12.or.us/pressmedia-release > 15 July 2010.
4. Op. cit., Xccent Play.