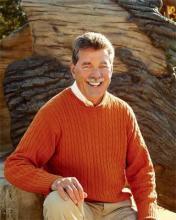 While studying Landscape Architecture at Iowa State University, Steve King was given a senior design project. He was looking for a creative way to develop a small play space in a suburban housing development. "I developed a concept of connecting various play components together to form a continuous play opportunity for kids" said King. "It was a way of saving space while encouraging decision-making and interaction among kids – an important ingredient in a child's development."1 That concept has been developed worldwide.
This led Steve and his wife Barb King to found Landscape Structures, Inc. in 1971. From this concept of "continuous play," together they created a home-based business, and that company has grown to more than 300 employees headquartered in Delano, Minnesota, and 200 world-wide representatives. The company has designed, manufactured and installed more than 75,000 playgrounds worldwide.
Steve is a Fellow in the American Society of Landscape Architects (ASLA). He is also a founding member and past President of the International Play Equipment Manufacturers Association (IPEMA) and a Certified Playground Safety Inspector (CPSI).
Steve has been Chairman of a task group for the ASTM International (ASTM) and worked with the U.S. Consumer Product Safety Commission (CPSC) to update the ASTM F1487 Specification, which is a voluntary safety and accessibility standard for public playground equipment for children ages 2 to 12. This task group was also given the responsibility of developing playground accessibility standards in order to comply with the Americans with Disabilities Act (ADA).2
The Steven G. King Play Environments Scholarship was created for undergraduate students in landscape architecture in their final two years or graduate students who demonstrate an interest and aptitude in the design of park and playground equipment. The student should also show creativity and innovation, and understand the significant social and educational value of play. The scholarship is for $5,000 and submission guidelines are available on the Landscape Architecture Foundation's website.3
Through Barb and Steve King, Landscape Structures has received many awards throughout the years including Entrepreneur of the Year in 1992 representing the north central region and sponsored by INC magazine. They also were named the 2004 Manufacturer of the Year given by the Minnesota Association of Manufacturers, and in that same year received the Christian Petersen Design Award from Iowa State University's College of Design. The environment is also a concern of the company, and they received the Minnesota Waste-Wise Leader for outstanding waste reduction and recycling efforts in 2006.
Steve King gives seminars throughout the year on risk management on the playground and has written many articles about the accessibility and safety of playgrounds.
In 2012, Steve became involved with Direct Impact Africa (DIA) when he traveled to Zambia, Africa to help plan and design a playground for the village of Chiawa, their first playground ever. He has since joined their board and continues to assist DIA's efforts "of creating sustainable food and income sources, and school improvement and health programs for local communities within Zambia." 27 Jan. 2014." href="#footnote4_no520d7">4
1. Adams, John S. "Playground Pioneer," Today's Playground, January 2003:16.
2. "Our History." Landscape Structures. < http://www.playlsi.com/Learn-About-Us/Our-History > 8 July 2010.
3. "Scholarship." Landscape Architecture Foundation. < Lafoundation.org/scholarships > 24 Sep. 2010.
4. "Company Leadership." Landscape Structures. < http://www.playlsi.com/Learn-About-Us/Our-History/LSI-Leadership/Pages/Company-Leadership.aspx > 27 Jan. 2014.