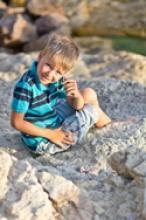 Rock climbing is a fun and challenging activity for children that can be enjoyed on natural rock features and on artificial climbing walls. Climbing walls are seen as a good way for children to begin climbing, because they offer a safe environment for learning the techniques of rock climbing before they attempt the challenges of mountain and rock climbing outdoors with their families.1
Today's playgrounds offer many types of climbing structures including artificially built rock walls with polyurethane climbing holds for children to grab and realistic-looking boulders with natural crevices to scale. Varying shapes, heights, and difficulties allow children of different ages and abilities to climb and improve their skills.2 The safety surfacing below the structures is designed to cushion any possible falls.
Climbing walls have been designed for swimming pools. Attached to the side of the pool, the wall is slanted slightly over the water to keep climbers away from the pool's edge. Children begin and end in the water as they use the poolside climbing wall.3
Indoor rock climbing on tall walls has become a fun activity for all ages. Climbing facilities offer a controlled, supervised environment where trained staff teach the necessary safety techniques and skills to scale the wall. The climber is equipped with a safety harness and attached to a climbing rope before he starts his ascent. The rope travels to a second person on the ground called a belayer. The belayer's responsibility is to control the tension of the rope as the climber ascends to the top, ensuring his safety.4 The walls can have the grips moved to change the routes and give variety to the challenges. Rock climbing has a structured grading system to help the climbers chart their progress as they advance in their climbing skills.5
Bouldering is a type of rock climbing that can be done on both natural and artificial formations. The boulder to be climbed is limited in height so the climbing can be done without a rope and any fall wouldn't risk significant injury.6 Bouldering is one of the latest innovations in physical exercise for parks and playgrounds. The artificial structures are built to look and feel like natural rock boulders. With safety surfacing and limited heights, children can enjoy the challenges of problem solving and physical exertion to get to the top of the structure.7
Climbing is an activity that children enjoy from an early age. Most children find climbing rock walls exciting and strive to accomplish reaching the highest point. They like the feeling of achievement when they test their abilities and overcome challenges, and it builds their self-confidence.8 Climbing is a great muscular and cardiovascular workout that requires good eye-hand coordination, agility, strength, and endurance.9 Rock climbing helps children develop focus and concentration. It has been found to be especially beneficial for children with disabilities like autism. Autistic children often have more sensory needs, and rock climbing helps them develop their fine motor skills.10
When climbing, children draw on a combination of cognitive skills, such as memory, visualization, and problem solving. Good visual perception helps children effectively determine foot and hand holds, also known as affordances, when climbing. The development of their perception of affordances results in a number of factors, including leg strength, limb lengths, locomotor abilities, and experience in climbing. As children have more experience in climbing, they will be better at perceiving distances and their reaching capacities.11
1. McLaughlin, Mike. "Rock Climbing for Kids." Livestrong.com. < http://www.livestrong.com/article/112254-rock-climbing-kids/ > 22 Oct. 2010.
2. Ibid.
3. AquaClimb.com. < http://www.aquaclimb.com/safety.shtml > 22 Oct. 2010.
4. Indoorclimbing.com. < http://www.indoorclimbing.com/ > 22 Oct. 2010.
5. "Why Rock Climb?" Rock-Climbing.biz. < http://rock-climbing.biz/ > 22 Oct. 2010.
6. Carpenter, Patt. "Let's Go Bouldering!" Ezine Articles. < http://ezinearticles.com/?Lets-Go-Bouldering!&id=525223 > 22 Oct. 2010.
7. RockCraft Designs. < http://www.playwalls.com/ > 22 Oct. 2010.
8. Frost, Joe L., Pei-San Brown, John A. Sutterby, Candra D. Thornton. The Developmental Benefits of Playgrounds Olney, MD: Association for Childhood Education International, 2004. pp. 55, 126-127.
9. Op. cit., "Why Rock Climb?"
10. Op. cit., McLaughlin.
11. Op. cit., Frost. pp. 127-131.