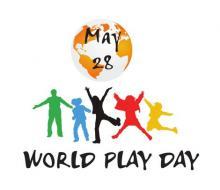 The World Play Day, sponsored by the International Toy Library Association (ITLA), is held on the 28th of May to commemorate the day the ITLA was proposed in 1987. Unlike most official "days," the World Play Day is more of an attitude of connecting generations through play than a day of scheduled or planned events.
The International Toy Library Association believes that play involves exploration, language experimentation, cognition, and the development of social skills and as such is central to children's learning and the foundation for adult achievement and creativity. Additionally, UNESCO maintains that "the encouragement of creativity from an early age is one of the best guarantees of growth in a healthy environment of self-esteem and mutual respect – critical ingredients for building a culture of peace."1
During the 8th International Toy Library Association Conference in Japan in 1999, Dr. Freda Kim, a British teacher and play advocate, suggested the World Play Day. Two years later in 2001, the date was decided during a board meeting in Florence, Italy and has been celebrated yearly since then.
Dr. Kim captures the essence of the day when she suggests, "Allow a child to play to-day. Watch a child play to-day. Play with a child to-day."2 The International Toy Library Association suggests making it a day for multiple generations to interact in playful ways in their daily lives.
In 2011, Dr. Kim expanded the need for play to especially include children in disaster and war zones. She maintains that "while adults have understanding of these disasters and are able to verbalize, children need to act out the tragedy and deal with the trauma in their lives through play . . . (they) must be encouraged and allowed to play even in their devastating conditions. By allowing children to play you are helping them to a healthy adulthood."3
1. "International Day of Play: History and Messages." Delaware Children's Museum. < http://www.delawarechildrensmuseum.org/world-play-day > 1 Aug. 2012.
2. "World Play Day Vision." International Toy Library Association. < http://www.itla-toylibraries.org/pages/world_play_day/ > 1 Aug. 2012.
3. Op.cit., "International Day of Play: History and Messages."