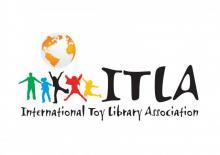 The International Toy Library Association is an association of toy library associations and individuals from around the world who serve children by giving them opportunities to experience play at their homes by lending toys and games to them as well as offering shared play opportunities at their library facilities with other children.
Toy lending libraries began in Los Angeles in 1935 during the Great Depression, but it would be nearly another thirty years before the toy library movement was born. Dr. Karin Stensland Junker, the mother of two children with severe disabilities, joined with another mother of a child with disabilities to create a play library in Sweden in 1963.1 Four years later a British toy library was established in 1967 by Jill Norris, also a mother of children with disabilities.
The toy lending library movement began to expand two years later in 1969 when a preschool teacher, Unni Boehmer, established a toy library in Norway. During the 1970s many countries joined the movement, including Australia (1971), Switzerland (1972), the Netherlands (1973), New Zealand (1974), and Canada (1975).
The Toy Libraries Association (TLA) was formed in 1972 in England, and it was to their president, Lesley Moreland, that Annetine Forell of Australia sent her the suggestion that an international toy conference be established. At that time toy libraries were opening at a rate of more than 100 a year in England and the TLA was sending toy library development packs to countries around the world.
With a volunteer staff and no budget, the 1st International Toy Library Conference convened in 1978 at the Digby Stuart College, a teaching college just outside of London, England.2 The three day conference included 180 delegates from 18 countries who attended presentations, forums, and discussions centered on the theme, "Toy Libraries are Teamwork." At the conclusion of the conference, it was unanimously decided that an international newsletter be established to maintain a network of support and that they meet again in three years.
Over the next dozen years the International Toy Library Conferences were held in Sweden (1981), Belgium (1984), Canada (1987), and Italy (1990).3 At the 4th conference in Toronto, Canada, on May 28, 1987 it was decided to form the International Toy Library Association (ITLA) and the organization was realized at the 5th conference in Torino, Italy in 1990.4
As a nonprofit under Belgium law, the ITLA is open to all who share their belief that "play, playthings and playful interaction are essential to optimal educational, physical, psychological, social and cultural development and wellbeing."5 As an organization they continue to sponsor international conferences, information exchanges, and resource sharing.
The toy libraries they assist in establishing are a community resource for play that serves all people regardless of national origin, language, race, age, sex, disability, or religion. An example of effective toy libraries are the libraries located in Seoul, Korea near or within the metro stations so parents can pick up toys and play suggestions on their way home.6
At the 8th International Toy Library Association Conference in Japan in 1999, Dr. Freda Kim, a British teacher and play advocate, proposed a World Play Day.7 The idea was adopted and two years later at a board meeting the 28th of May was chosen as the annual Play Day to commemorate the founding of the ITLA.
Dr. Kim explains that the World Play Day is more of an attitude of connecting generations through play than a scheduled or planned event. She suggests, "Allow a child to play to-day. Watch a child play to-day. Play with a child to-day."8
1. "History of Toy Libraries." Toy Library Federation of New Zealand. < http://toylibrary.co.nz/History%20of%20Toy%20Libraries.htm > 26 Aug. 2012.
2. "1st International Toy Library Conference – United Kingdom." International Toy Library Association. < http://www.itla-toylibraries.org/assets/Usenicooliocoza/1st_conference_uk_1978.pdf > 1 Aug. 2012.
3. "Conferences." International Toy Library Association. < http://www.itla-toylibraries.org/pages/conferences/ > 26 Aug. 2012.
4. "About ITLA." International Toy Library Association. < http://www.itla-toylibraries.org/pages/about_itla/ > 1 Aug. 2012.
5. "Aims & Vision." International Toy Library Association. < http://www.itla-toylibraries.org/pages/home/ > 1 Aug. 2012.
6. "International Day of Play: History and Messages." Delaware Children's Museum. < http://www.delawarechildrensmuseum.org/world-play-day > 1 Aug. 2012.
7. Ibid.
8. "World Play Day Vision." International Toy Library Association. < http://www.itla-toylibraries.org/pages/world_play_day/ > 1 Aug. 2012.