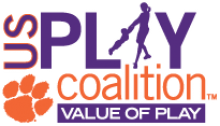 The theme of the US Play Coalition 2013 Conference on the Value of Play was "Taking Action!" Held February 17-20, 2013, at the Madren Conference Center at Clemson University, over 300 attendees from around the world including the United States, Canada, the United Kingdom, the Netherlands, Denmark, China, Costa Rica, Kenya, Burundi, and Tanzania assembled to share the latest research, trends, and news on the value of play.
This year's conference included four keynote sessions to address the need to take action in supporting play:
Dr. Michael Suk, an international leader and expert in orthopaedic surgery, spoke on "Strategic Action for Good Health – Uniting Communities Around Play." He was selected as a White House Fellow in 2003 and organized Get Fit with US and HealthierUS during his appointment to encourage healthy opportunities for play especially in the outdoors.
Kevin Carroll, author and play enthusiast, presented "The Power of Sport & Play – a BALL can change the world!" Carroll believes the spirit of play and creativity helps everyone maximize their human potential and sustain meaningful growth, and he has hosted Beyond Sport Summits and addressed the United Nations on the potential for using sports for improving human development and promoting peace.
Dr. Regina Milteer, pediatrician, author, and play advocate, answered the question, "Is It Just Play or Serious Business?" As Chief Medical Officer of the United Healthcare Community Plan, she works to ensure underserved and special needs children receive quality care. She is a champion of abused and disadvantaged children and promotes the value of play in their lives.
A keynote panel discussion was held on the topic, "Putting Play Into Action." Panel members included Fran Mainella, Co-chair of the US Play Coalition and 16th Director of the National Park Service; Dr. Michael Suk; Debora Wisneski, President of the Association for Childhood Education International and Professor at University of Nebraska at Omaha; and Jackie Epping, Lead Public Health Scientist at Centers for Disease Control and Prevention. The moderator was Brett Wright, Co-chair of the US Play Coalition and Chair of the Department of Parks, Recreation, and Tourism Management at Clemson University.
There were 16 featured speaker sessions during the conference as well as 82 educational sessions and five poster presentations. A wide range of topics were presented addressing many issues of play including nature play, physical education, healthy living, recess, playground maintenance and safety, play-based learning, play space design, play deprivation, inclusive play, and more.
Clemson University declared February 19 as their second annual Play Day joining with the conference attendees in an hour of play. During the conference there were also opportunities for experiencing three play tours: Clemson University Outdoor Lab, Clemson University World of Sport, and The Children's Museum of the Upstate.1
For the third consecutive year, the Conference awarded a research grant of $3,000 to support innovative research in the field of play. The 2013 grant went to Jeanette Gustat for her proposal "Developing a Community Play Index (CPI)."
In addition to the research grant, three additional grants were awarded under a new category: action grants. These are $1,000 grants to support community initiatives to engage and educate more individuals about the Value of Play. The 2013 winners were:
Heather Von Bank for her proposal "All My Other Classes are Boring Lectures: Play Days as Service-Learning Opportunities"
Joy Kuebler for "Buffalo's Pop-Up Adventure Playground – Community Based Free Play"
Naomi Roberson and Kate Zmich for "Play for All: Advocating Play to Vulnerable Populations"
In total, the US Play Coalition has awarded $24,000 in grant funding and plans to continue to support play through these initiatives.2
The US Play Coalition membership has grown to over 1,600 members. The volunteer-led committees of the US Play Coalition met during the conference to expand their outreach and promote the goals of the Coalition. The committees include: Coalition Building, Communication, Development, Education, Guidelines and Advocacy, Inclusive Play, and Research.