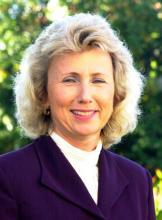 Fran Mainella earned a Bachelor of Science degree from the University of Connecticut in 1969, and began to teach Physical Education classes for grades 6-12 in Rockville, Connecticut. After seven years of teaching, coaching, designing curriculum, and earning a Master's degree from Central Connecticut State College, Fran entered the arena of recreation.1 She was first hired in 1977 as an Assistant Center Director of the Tallahassee Parks and Recreation Department in Florida. Though only there for a year, Fran worked with integrating and operating the community center programs for young children through senior citizens.
Fran then became the Director of Recreation for the Town of Lake Park in southern Florida in 1978. During the five years as director, she was responsible for all recreation programs, park maintenance, and for coordination with city and advisory boards.
Moving back to Tallahassee, Fran was named Executive Director of Florida Recreation and Park Association (FRPA) in 1983. While there she developed one of the first Drug Prevention programs in the country for park and recreation departments. She also facilitated the successful legislation of park and recreation funding, established the annual legislative forums, and increased FRPA membership by 51% and revenue by 60%.
Fran next became Director of the Division of Recreation and Parks in Florida's Department of Environmental Protection in 1989. She administered and supervised the 155 state parks, museums, preserves, historic and geological sites, botanical gardens, recreation areas, archeological sites, wildlife parks, and trails, which covered 500,000 acres. Ten years later, Florida's state park system was recognized as the best state park system in America when it received the National Sporting Goods Association's prestigious State Parks Gold Medal for 1999-2001.
As director, Fran assisted in creating 14,000 jobs, increased concessions and revenues by 27%, created the award-winning "Help Our State Parks" gift catalog, founded the public-private "Partnership in Parks" funding, reorganized and decentralized the Division, increased volunteerism by 39%, initiated publishing a magazine-styled park guide for Florida, and instituted regular meetings with user and environmental groups.2
Fran was the first woman president of the National Association of State Park Directors Board and would later, in 1999, receive their Distinguished Service Award. She was also honored with the Distinguished Service Award by the National Association of Recreation Resource Planners in 1996 and, two years later, received the highest professional honor given by the American Academy of Park and Recreation Administration, the Pugsley Medal. She was then honored in 2000 by the National Recreation and Park Association (NRPA) Southern Regional Council with their highest award, the Harold D. Meyer Professional Award.
In 2001, Fran was the first woman to be appointed Director of the National Park Service (NPS). As such she managed 390 units which entailed 84 million acres of national parks, monuments, preserves, national trails, historic sites, battlefields, scenic rivers, and wilderness areas.3 Besides representing the NPS before the public and the United States government, Fran administered programs such as the Land and Water Conservation Fund, the Historic Preservation Fund, and the Junior Ranger and Web Ranger youth programs.
Declaring that the "National Parks are the soul of America and a gift to the world," Fran assisted in creating the Great Sand Dunes and the Lewis and Clark National Parks.4 She established effective networking between the NPS and state and local officials, private institutions, and local citizens through an enhanced partnership program. Fran initiated the Joint Ventures in Stewardship conference for resource professionals, elected officials, and national conservation leaders. Over the five and on half years that Fran was Director, volunteerism increased by 14% through the volunteer program she developed.
By tripling park maintenance funding, Fran addressed more than $4.9 million in maintenance projects over five years. She assisted in creating the Natural Resource Challenge that raised $450 million and saw 6,000 park improvement projects initiated or completed. Through a partnership with the Travel Industry Association of America, Fran initiated the See America's National Parks program and saw national park visitation increase by 4%.
Fran's accomplishments continued to be recognized in 2002 when she was awarded an Honorary Doctor of Public Service degree from Central Connecticut State University. She received the Walter T. Cox Award for Sustained Achievement in Public Service also in 2002. Clemson University and the Hartzog Fund created, in 2003, the Fran P. Mainella Award to honor women distinguished in the management of North America's natural, cultural, or historic heritage.5
During her time as Director of NPS, Fran received from the American Recreation Coalition the Sheldon Coleman Great Outdoors Award in 2002, the Alice Ferguson Foundation for Appreciation and Support for the Potomac River Watershed in 2003, and the Florida Parks Department Distinguished Service Award in 2004.
After retiring from the NPS in 2006, Fran became a Visiting Scholar at Clemson University's Department of Parks, Recreation & Tourism Management. As such she teaches graduate programs, develops research programs, publishes in scholarly journals, and advises graduate and undergraduate students. Fran received the Faculty Excellence Award from Clemson University in 2007, 2008, 2009, and 2010. In 2011, she was named the Outstanding Alumni of the Year from the University of Connecticut School of Education.
Fran is a Metcalf Lecturer for SUNY – Cortland, the inaugurating Ralph Steele Lecturer for East Carolina University, and a Calhoun Lecturer for Clemson University.6
The National Society for Park Resources awarded Fran the William Penn Mott, Jr. Award for Excellence in 2006. In 2007 she was again honored with the Pugsley Medal from the American Academy for Park and Recreation Administration, a rare occurrence to be so honored twice.7
Fran sits on the Newsweek Magazine's Environmental Council and on the Board of Directors for the Children and Nature Network. She chairs the National Recreation and Park Foundation and the Public Lands Advisory Council to the National Environmental Advisory Board. She is also a Fellow of the American Academy for Park and Recreation Administration and is a member of the Board of Directors for the National Park Trust.
As a national speaker on play and as the co-chair of the US Play Coalition, Fran regularly speaks on the Nature Deficit Disorder, the title of one of her graduate courses. With Richard Louv, one of the co-founders of the Children and Nature Network, she advocates reconnecting children with nature. "Studies have shown that for the first time ever, children 10 and under are less likely to live as long as their parents," Fran notes. "Obesity is a large factor, but one way to address obesity is getting kids outdoors."8
1. "Professional Experience." Resume. Copy at Playground Professionals. 6 April 2011.
2. "Fran P. Mainella – New NPS Director." National Park Service, U.S. Department of the Interior. < http://www.nps.gov/mainella/mainella.htm > 18 April 2011.
3. Op.cit., "Professional Experience."
4. "National Park Service Director Fran Mainella Announces Resignation." Department of the Interior News Release. < http://www.doi.gov/archive/news/06_News_Releases/060726.htm > 18 April 2011.
5. Op.cit., "Professional Experience."
6. "Fran P. Mainella." Resume. Copy at Playground Professionals. 6 April 2011.
7. Note: She received her first Pugsley Medal in 1998.
8. "Clemson's Fran Mainella elected to National Park Trust Board." Clemson University Newsroom 30 September 2008. < http://www.clemson.edu/newsroom/articles/2008/september/Mainella_NPT.php5 > 18 April 2011.