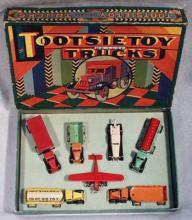 Tootsietoy brands itself as America's Oldest Toy Company, although the Tootsietoy trademark actually refers to a line of products currently owned by J. Lloyd International, Inc. The best known toys under the Tootsietoy name were a variety of die cast transportation toys made popular in the 1930s and 1940s.1
The brand name, Tootsietoy, was trademarked in 1924, but its origins date back to 1876 when two brothers, Charles O. and Samuel Dowst, began publishing a trade paper called the National Laundry Journal in Chicago. The brothers sold promotional items like thimbles and sewing kits as part of their business. While attending the Columbian Exposition of 1893 in Chicago, Samuel saw a demonstration of the Mergenthaler Linotype machine, which made metal type for printing by injecting hot lead into molds. He saw the potential of modifying the equipment to produce metal buttons and other trinkets and convinced the company to purchase one. They produced thimbles, buttons, and cufflinks to sell to their existing customer base.2
Their company name was listed in 1899 as Dowst Brothers Co., Confectioners' Supplies, and in 1904 as Metal Novelties. They produced small trinkets including whistles, rings, tiny animals, and ships which were used as prizes in Cracker Jack boxes. Among the trinkets they produced, they also made small items to be used by confectioners on wedding and birthday cakes.3 A tiny flatiron, thimble, top hat, ship, and Scottie dog would much later be used by Parker Brothers as tokens for the board game Monopoly.4
As early as 1906 the Dowst Brothers Company began working on producing die-cast cars. Their first successful die-cast toy car was a small 3-window limousine with moveable wheels they produced in 1911 and sold well into the 1920s. A replica of a Model T Ford open tourer followed in 1915, which eventually sold more than fifty million toys. The next year they manufactured a Ford truck, which outlasted the Model T Ford in popularity. These toys had no trade name until 1922, when the company applied for a registered trademark for Tootsietoy, which they received in 1924. The brand was named after a granddaughter nicknamed Tootsie. They went on to have an extensive product line of toy cars, trains, trucks, trailers, buses, and airplanes.5
One of the firm's competitors was the Cosmo Manufacturing Company, founded in Chicago in 1892 by Nathan Shure. In 1926 Cosmo bought Dowst, and merged the companies with the Dowst brothers, renaming their new company Dowst Manufacturing Company.6
Dowst worked in collaboration with some automobile companies to manufacture scale models of cars that were often given to the children of car buyers as well as sold to the general public.7 In 1933 the company introduced an all-new series of models in collaboration with the Graham-Paige automobile company. Many of Dowst's earlier models had been 1/50 scale cast in lead. Their new line of larger toy cars were produced in O-scale (1/43 scale) and had a system of locking separate castings of a body and chassis with the nail-like wheel axles that rotated independently. A separate silver or nickel plated grille that included a front bumper was riveted on the body.8 This new series introduced a complex zinc alloy called Zamak to replace casting in lead. These new models showed greater design, sophistication, accuracy, proportion, and detail than any other small toy cars produced at the time.
The 1932 Graham-Paige "Blue Streak" was the first in the Graham-Paige series they produced along with a Mack truck line. Although the Great Depression of the 1930s affected families' buying power, the Graham in its different versions became Tootsietoy's most famous model and was sold in the millions as some of the most attractive and inexpensive toys ever produced in America. The cars could be purchased for ten cents each or in a boxed set of ten vehicles for one dollar. The Graham-Paige vehicles included a 3-window sedan, coupe, roadster, town car, limousine, commercial van, and tow truck. There were also convertible models that had their roofs painted in a tan color to simulate a cloth top. Some models offered one or two spare tires. Their Mack truck line included a variety of models including stake trucks to tractors pulling various trailers, such as car carriers and milk trailers.
During the mid-1930s the company introduced sets called "Bild-a-Car" in which five chassis could be assembled with half axles and a center clip to five bodies, being two limousines, two coupes, and either a roadster or a commercial tire-supply van. They were very popular.
During World War II, many metals were devoted to the defense department, and Dowst was forced to abandon the nickel plating and zinc alloy for their vehicles. They reverted back to using lead to cast various military-oriented toys, such as the military ambulance.9 During the war the company also turned to producing detonators for grenades and mines as well as belt and parachute buckles. After the war the company returned to full-time toy production introducing western-style cap gun sets, which were very popular in the 1950s.
Also during the 1950s slot cars became popular. They were motorized plastic vehicles that could be raced against each other on an electrified track. In 1961, Dowst acquired the hobby division of manufacturer Strombeck-Becker, hired designers, and retooled its factory to produce the car-and-track sets. The company was renamed Strombecker Corporation. By 1963 their company was one of the industry's leaders in slot cars, which was the firm's main source of revenue. However, as interest waned in slot cars, the company was forced to introduce different products, such as Jam-Pac, a set of ten die-cast cars that sold for one dollar. Strombecker sold ten million sets in its first year and continued to be successful with the sales.
The Strombecker Corporation continued to acquire and develop a variety of toys over the years. Some of them included soap bubble toys, wooden toys for preschoolers, and small plastic action figures.10 J. Lloyd International acquired Strombecker in 2005.11 Under the brand name of Tootsietoy, J. Lloyd International produces jump ropes, paddle balls, jacks, marbles, play putty, play tea sets, and wooden blocks and magnetic letters for preschool play.12
1. Tootsietoy. America's Oldest Toy Company. < http://www.tootsietoy.com/tootsietoy.htm > 10 Oct. 2016.
2. Schreiber, Ronnie. "The Die It Was Cast – A Little Bit of Little Car History." The Truth About Cars. 18 July 2014. < http://www.thetruthaboutcars.com/2014/07/the-die-it-was-cast-a-little-bit-of-little-car-history/ > 10 Oct. 2016.
3. De Lespinay, Philippe. "1933 to 1941 Tootsietoy models." TSR Slot Cars. < http://www.tsrfcars.com/toys-tootsietoys_main.htm > 10 Oct. 2016.
4. Op. cit., Schreiber.
5. Seeley, Clint. Robert Newsom editor. "A History of Pre-War Automotive Tootsietoys." Tootsietoys. < http://www.tootsietoys.info/Tootsietoys-1.html > 11 Oct. 2016.
6. "Strombecker Corporation History." FundingUniverse. < http://www.fundinguniverse.com/company-histories/strombecker-corporation-history/ > 11 Oct. 2016.
7. Op. cit., Schreiber.
8. Op. cit., De Lespinay. "1933 to 1941 Tootsietoy models."
9. De Lespinay, Philippe. "Tootsietoy greatest models, 1933-1941." TSR Slot Cars. < http://www.tsrfcars.com/toys-tootsietoys_greatest_models.htm > 11 Oct. 2016.
10. Op. cit., "Strombecker Corporation History."
11. Felgner, Brent. "Strombecker parent liquidating." Gifts and Dec. 15 July 2005. < http://www.giftsanddec.com/article/353076-strombecker-parent-liquidating > 11 Oct. 2016.
12. Op. cit., Tootsietoy. America's Oldest Toy Company.