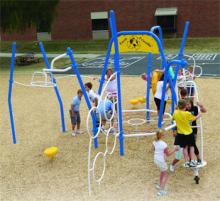 Recreation Creations, Inc. (RCI) was originally incorporated under the name of Quality Industries, Inc. in 1974. Curt Shaneour, who had already been in the playground industry, established Quality Industries as a Shane Group subsidiary that produced a "standard line of commercial playground and site and park amenities."1
As Quality Industries grew they added innovative products, a wide variety of color options, and custom designed playgrounds. With this expansion they maintained a firm policy to immediately support the emerging safety standards: the U.S. Consumer Product Safety Commission (CPSC) guidelines, the Americans with Disabilities Act (ADA) guidelines, the ASTM International (ASTM) standards, and the third party verification of ASTM standards by International Play Equipment Manufacturers Association (IPEMA).2
Headquartered in Hillsdale, Michigan, Quality Industries was renamed Recreation Creations, Inc. in 1996 to better reflect their mission "to create innovative designs for playgrounds."3 Four years later, in 2000, they acquired Next Generations Play, Inc., a manufacturer of early childhood play equipment, which expanded their commercial product line. Continuing their commitment to quality, Recreation Creations has the International Organization for Standardization (ISO) 9001 certification.
Recreation Creations offers PlayDAZE systems for ages 5-12 and Early Childhood Play Spaces for ages 0-5. Their ECCO series features "ground level play" and also continues, along with their traditional line of playgrounds, the company's commitment to environmental stewardship.4 Their free standing elements range from slides to spider web climbers, from swings to dome climbers, and from whirls to Rocky Mountain Climbers. They also have Splash Spaces for water play and Solar Sound Stations, which harness sun power for sound options.5
With a design philosophy of including educational themes and making designs unique and significant to a local area, Recreation Creations manufactures customized laminated plastic panels with their in-house CNC routing machine. Their many components and color choices are customized to play space requirements and community desires. Recreation Creations, in an effort to move beyond simply ADA guidelines, has also created their own play systems that provide "Universal Access," where children and adults of all abilities can play side by side.6
To further assist schools, parks, cities, childcare facilities, parents, churches, and government sites, Recreation Creations offers amenities, such as goal nets, basketball hoops, flag poles, benches, bike racks, tables, shade roofs, and their Edge-ineering borders.7
One facet of Recreation Creation's focus on recycling is their "Good Earth Recycling Program," which has ideas and suggestions for communities on fund raising through local recycling projects.8 And lastly, they hold the ISO 14001 international environmental standard certification.9
Recreation Creations was acquired by Kidstuff Playsystems, Inc. in May of 2015. 27 May 2015." href="#footnote10_jr8p1gy">10
1. Talbot, Pete. Personal email to Playground Professionals. 17 Jan. 2001.
2. Ibid.
3. Ibid.
4. Ibid.
5. Recreation Creations Inc. < http://www.rec-creations.com/index.php > 11 Oct. 2010.
6. "Universal Access." Recreation Creations Inc. < http://www.rec-creations.com/boundless/ > 27 Jan. 2011.
7. "Explore a New Way to Play." Recreation Creations Inc. < http://www.rec-creations.com/catalog/big/index.html > 27 Jan. 2011.
8. "Recycling." Recreation Creations Inc. < http://www.rec-creations.com/goodearthprogram/ > 27 Jan. 2011.
9. Op. cit., Talbot.
10. "Kidstuff Playsystems Announces Acquisition of Recreation Creations from Worth Investment Group." Worth Investment Group. < http://www.worth-investments.com/index.php?option=com_content&view=article&id=116 > 27 May 2015.